Recently in the comments on how to draw Miasma, tangler Suzanne asked for some tips on drawing grids: "General Question: how best to practice making grid based designs. I'm having difficulty establishing an equal base grid."
My response to Suzanne's question prompted her to suggest it would make a good tips section. Thus this post and for future reference, you can find it on the Tutorials tab in the pink alphabetic tangle menu bar.
In the Zentangle Method™ we don't use rulers or other straight edges or any other type of "mechanical aids". As soon as you get out a ruler, you're into planning and measuring – and that's not Zentangle. The small size of a Zentangle is perfect for drawing freehand and eliminates anything but a pen and pencil as the "tools" needed for tangling.
Below are the steps for creating three types of grids for your tangles. At the end I've included a link to a free 1-page PDF containing all three for you to download.
Basic Freehand Squared Grid
Here is an easy way to get a pleasing basic grid established for your tangles. Whether you want to have straight lines, or "warped" or curved lines as the basis for your grid there are just a few steps.
To establish the start of your grid, draw a horizontal line in the center of the selected section on your tile.
Add a vertical line across the center of the previous line – basically you're forming a cross in the middle of the section. (Steps 1 and 2 are interchangeable, you can start with either one.)
Then you can eyeball where you want the rest of the lines to go by evenly spacing them on either side of the vertical and horizontal baselines.
Don't worry if some of your grid lines look a little wobbly – mine often are, you can tell when I've been drinking tea. When you add the next steps of your tangle, the wobblies disappear into the tangle, much like a Zentangle string magically disappears.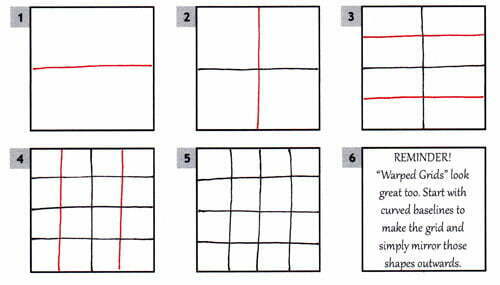 The lines can all be wavy or straight, whatever type of grid you choose. For a warped grid, start with curved baselines in Steps 1 and 2 to establish the grid and simply mirror those shapes outwards in the section.
Freehand Diamond-Shaped Grid (and Triangle variation)
On CZT® Sandy Hunter's blog in her steps for her Veezley tangle pattern, she refers to "an old cookie-decorating trick" to demonstrate a foolproof way to produce a freehand grid with diamond-shapes instead of the squares we see most frequently. It's basically the same concept but it uses an X in the chosen section instead of a cross.
When I finished the steps below for the diamond grid, I was thumbing through Saturday's Wall Street Journal and came across this reminder that there's a variation of this grid which I've added  in Step 6 below.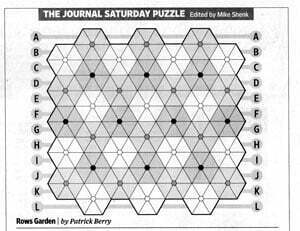 Here are the steps for the diamond grid and triangle variation.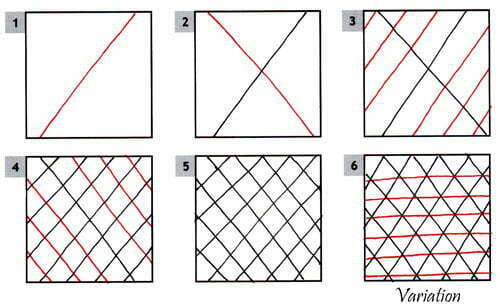 Freehand Ogee-Shaped Grid
This may be a technique that's old news to some of you but I accidentally stumbled on a cool way to draw it when I was practicing one of the tangles I was adding to the site. I think it might have been Groovy. In any case …
I was trying to figure out a way to draw a nice uniform wavy line like a sine wave, and after much trial and error I came up with this.
I'd completely forgotten about my discovery until the question of grids came up so this is a good time to share it in case it's useful to others. This grid-shape is seen less often but it's fun to draw and many cool tangles grow from it.
IMPORTANT TO NOTE: The placement of the first 4 dots determines the size of the ogee shape – you can visualize the points of a diamond that indicate where the top and bottom and endpoints of your onion shape will be. Compare Steps 1 and 4 and you'll get the idea. Increase or condense the spacing as desired, but try to be consistent unless you're going for a different (eg. graduated) effect.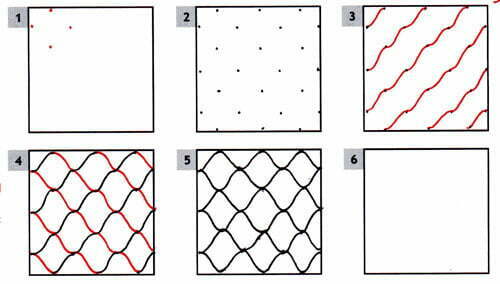 Lay out a grid of offset pen dots – make them small, like a stipple dot. In my illustrations here I've exaggerated them so you can see them, but just touch your pen tip lightly to the paper to place the dots. (Unless you want dots/orbs/pearls/beads to be prominent in your grid/tangle and that looks pretty cool too.)
Then turn your tile as needed and connect pairs of dots in the right-leaning diagonal using shallow S-shaped strokes (Step 3).
Turn your tile and connect pairs of dots in the left-leaning diagonal using shallow "backwards" S-shaped strokes (Step 4).
Voilà, Linda's Ogee Grid! The ogee shape magically appears, ready to be filled with strokes to your heart's content.
UPDATE October 2016: Tangler Jenna Black demonstrates another easy way to draw an ogee grid using "curly brackets" in her Shark Kisses tangle steps.
UPDATE March 2022:  I've added tips for drawing a dot grid here.
How about you?? What tips can you share about drawing grids that might assist your fellow tanglers?
Free PDF of these techniques
Here's a free PDF of all three freehand grids for your reference, with my compliments. Right click the link to save the file to your computer for printing. Enjoy!
.oOo.

Enhance your Zentangle experience while supporting TanglePatterns:

CURRENT EDITION!

TanglePatterns.com TANGLE GUIDE, 2023 Edition

The 12th Edition of the TanglePatterns.com TANGLE GUIDE is an instant-download 103-page (50 MB) interactive digital eBook/PDF containing almost 1,900 tangles on the site from May 2010 through December 31, 2022. It's a great resource and a must-have digital tool for using the site. Visit the STORE > E-BOOKS page and help keep TanglePatterns.com online by getting your copy now!

"Linda, Thank you! I was relying on too few and getting stuck after 3 years of daily working with Zentangle. This has inspired me to 'begin again' with renewed excitement." ~ Barbara R.

See the BOOK REVIEWS page for more details on its features and view a sample page. Note: this is a digital product you download immediately when you place your order, nothing will be physically mailed to you.
GIFT ORDERS FOR ANOTHER PERSON: To give the TANGLE GUIDE as a gift, visit this page to place your gift order.
If you're new to Zentangle® and tangling, my TanglePatterns.com BEGINNER'S GUIDE TO ZENTANGLE is just what you need to get started. Also available en Français and en Español.

---

This is the only Zentangle book you'll ever need: the fabulous Zentangle PRIMER Vol 1. It's your CZT-in-a-book by the founders of Zentangle®. Visit the STORE tab on the top menu bar or click on the image. For more about the content and to read the rave reviews, visit the BOOK REVIEWS tab.
NEW! Now available in KINDLE format for $9.99. Spanish Edition here. Japanese Edition here.
"Absolutely the best Zentangle Book yet! As an accomplished artist I used to think I did not need instruction on this art form. How wrong I was! My tangling improved by leaps and bounds after reading this book. If you think you have Zentangle down then you need this book more than ever!" ~ Kris H

---

.oOo.