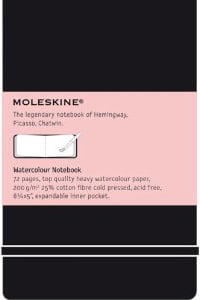 By now most of you know that I love Moleskine products, whatever size and configuration (see Organize Your Patterns). This particular one is great for adding other media to your Zentangle®-inspired art.
The Moleskine Watercolor Notebook is a 72-page note book measuring 5.2 x 0.7 x 8.3 inches, so roughly a half letter-page size. "The Moleskine Watercolour Large notebook is the portable atelier for painting and drawing with watercolours. A heavy 200-gram cold-pressed paper is identical on the both sides and was created especially for Moleskine."
But as the following reviewer attests, this notebook stands up to more than watercolor alone: "I am a mixed media artist and this little moleskine has held up to quite a bit. I use acrylic paint, watercolor, water soluble oil pastels, super heavy gesso, do impasto work, and I have even sewn fabric through the pages."
Find the Moleskine Watercolor Notebook on Amazon
Add Your Review
If you have a Moleskine Watercolor Notebook, please feel free to add your review in the comments below.
If you have recommendations for other journals, sketchbooks, or notebooks, please leave your comment on the main page at this link.
Visit more TIPS & TOOLS pages
Check out the other pages under TIPS & TOOLS at the top of the page. There are recommendations if you want to add colored ink to your Zentangle-inspired art, or watercolor, as well as ideas for strings, shading tips, recommendations for related books, and much more to come.