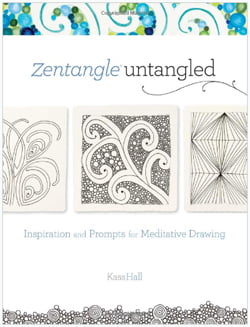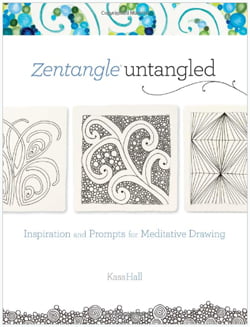 The latest new book, Zentangle Untangled: Inspiration and Prompts for Meditative Drawing, by Australian CZT® Kass Hall is now available from Amazon.
The List Price on the book is $24.95 but you can get it on Amazon right now for $16.15 – that's 35% off.
Quoting from the back cover, "In Zentangle Untangled, Kass Hall introduces you to the fun and relaxing process of Zentangle … Following an explanation of the Zentangle process, you will find 12 step-by-step demonstrations showing you how to create enticing tangle patterns, followed by several examples of how to add eye-popping color to your pieces, as well as fun ways to use tangles in your art journals. Captivating pieces from Kass and a slew of other artists will further satisfy your craving for inspiration!"
Zentangle Untangled, from North Light Books, is 128-pages plus covers – considerably larger than any other Zentangle book out there now. It introduces Zentangle and moves on from traditional tiles to focus on adding color and exploring art journaling. It is illustrated throughout by Kass and several CZTs whose names you may recognize: Sue Clark, Genevieve Crabe, Melissa Hoopes, Beckah Krahula, Nancy Miller Pinke, Chari-Lynn Reithmeier, and KathyAnne Whittemore.
Here is an overview of the chapters:
Chapter 1 – The Beginning – History of Zentangle (pages 10-14)
Chapter 2 – Tangling – covers 12 tangles and shading, with a gallery of examples (pages 16-44)
Chapter 3 – Color – covers color theory and the various types of color wheels (pages 50-62)
Chapter 4 – Art Materials – covers using various color media for Zentangle-inspired art – colored pens, pencils, inks, watercolor pencils and paint, gouache, and acrylic paint (pages 64-80)
Chapter 5 – Art Journal – is an introduction to art journaling, how to get started, and suggestions for a variety of way to incorporate Zentangle into journaling.(pages 82-104)
Tangles with How-to's included in Chapter 2 are Cabin Floor, Five-Oh, Starfish, Echo, Bronx Cheer, Cheers, Mooka, Facets, Honeycomb, Frippery, Tripoli, and Betweed. Several more official tangles appear in some of the illustrations, all of which are also identified in Sandy Bartholomew's AlphaTangle. So for identification purposes, no new "revelations" there, for those who are crazed 😉
Zentangle Untangled contains lots of ideas for more Zentangle-inspired creations. Be sure to check out the "Look Inside" feature in Amazon for a sneak peak into this latest addition to our Zentangle library.
And remember – Amazon is currently offering a 35% discount on the cover price, so act fast if you want this title for your collection!
PS – Be sure to come back here and add your review.
For Your Zentangle® Library
Visit the BOOK REVIEWS tab at the top of the page for details on any of these Zentangle® books. If you do not have access to Amazon, you can also find these on the Book Depository website and they always ship free, worldwide! Simply click this image: