What is a tangle?
A tangle has no pre-planning with pencil guidelines, grids or dots, no erased lines.
It's just pure Zentangle magic . . . one pen stroke at a time.
The Zentangle® Method was designed to remove the thinking, planning, decision-making and other obstacles that often hinder creativity or even prevent people from creating art at all.
For this reason Zentangles are intended to be as little like drawing pictures as possible. Thus patterns that are drawings of a recognizable naturalistic or actual object, figure, or scene, are not tangles. For example, floral patterns are not usually tangles.
"Keep it Non-representational. Zentangle artwork is intended to be non-representational. Zentangle's elemental strokes are also non-representational. We don't teach complex elements such as hearts, stars or flowers. Tangles are also non-representational."
"It's also why (for the most part) we give our tangles names that have little relationship with what a tangle looks like," writes co-founder Rick Roberts. "We usually choose names that don't create a preconception of how a tangle should look."
This is the heart of the Zentangle Method. By eliminating recognizable objects or scenes — and thus the associated "thinking" that goes with them — we become totally focused on each stroke of the abstract, structured pattern-making that grows organically into the usually-surprising end result. This process intentionally short-circuits the restless mind and facilitates the pleasurable calm we experience in our Zentangle practice.
Characteristics defining a tangle (aka Maria's Rules)
Maria writes that in Zentangle "a pattern is not always a tangle". Tangles are "magical, simple and easy to create. They should be easy to teach and offer a high degree of success to tanglers of all ages."
Complex patterns require thinking about how to build them and not readily allowing one to get into the "unthinking" rhythm of a Zentangle experience. Simple tangles are the Zen of Zentangle.
These are the characteristics that define a tangle: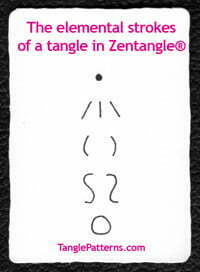 a tangle is abstract, non-objective (non-representational)
a tangle is non-directional, it has no up or down orientation — there's no "right side up"
a tangle is usually an overall pattern that grows organically, rather than a single motif. Zentangle is about "the repetition of a stroke, not the repetition of a drawing."
a tangle is at most 2 or 3 simple strokes — "Usually the number of elemental strokes needed are 3 or less. Often, you only need one or two. By 'elemental strokes' we mean a dot, a straight(-ish) line, a curve (like a parenthesis), a reverse curve (like an 'S'), and an orb or circle."
a tangle never starts with pencil. It is simple enough to draw without using a pre-printed grid, pencil guidelines or an eraser. "It also has to be done without any underlying pencil structure or preplanned grid." Inked grids or dots, however, are often part of a tangle.
a tangle never uses rulers, stencils, or any other mechanical or digital construction aids
a tangle is elegant, unique
Submit your pattern
If you have deconstructed the steps for a pattern that meets the requirements of a tangle and would like to share it on TanglePatterns, please visit the SUBMIT YOUR PATTERN tab at the top of the page for more information.
If you have submitted a pattern that has not appeared on the site, this page explains some of the reasons why: SUBMIT YOUR PATTERN > WHY HASN'T MY PATTERN BEEN PUBLISHED?
Related Links
The Importance of Strings – as important to the Zentangle Method as the tangles themselves, Strings provide structure for our Zentangles
.oOo.

Enhance your Zentangle experience while supporting TanglePatterns:

CURRENT EDITION!

TanglePatterns.com TANGLE GUIDE, 2023 Edition

The 12th Edition of the TanglePatterns.com TANGLE GUIDE is an instant-download 103-page (50 MB) interactive digital eBook/PDF containing almost 1,900 tangles on the site from May 2010 through December 31, 2022. It's a great resource and a must-have digital tool for using the site. Visit the STORE > E-BOOKS page and help keep TanglePatterns.com online by getting your copy now!

"Linda, Thank you! I was relying on too few and getting stuck after 3 years of daily working with Zentangle. This has inspired me to 'begin again' with renewed excitement." ~ Barbara R.

See the BOOK REVIEWS page for more details on its features and view a sample page. Note: this is a digital product you download immediately when you place your order, nothing will be physically mailed to you.
GIFT ORDERS FOR ANOTHER PERSON: To give the TANGLE GUIDE as a gift, visit this page to place your gift order.
If you're new to Zentangle® and tangling, my TanglePatterns.com BEGINNER'S GUIDE TO ZENTANGLE is just what you need to get started. Also available en Français and en Español.

---

This is the only Zentangle book you'll ever need: the fabulous Zentangle PRIMER Vol 1. It's your CZT-in-a-book by the founders of Zentangle®. Visit the STORE tab on the top menu bar or click on the image. For more about the content and to read the rave reviews, visit the BOOK REVIEWS tab.
NEW! Now available in KINDLE format for $9.99. Spanish Edition here. Japanese Edition here.
"Absolutely the best Zentangle Book yet! As an accomplished artist I used to think I did not need instruction on this art form. How wrong I was! My tangling improved by leaps and bounds after reading this book. If you think you have Zentangle down then you need this book more than ever!" ~ Kris H

---

.oOo.