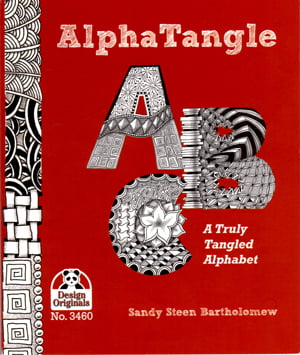 UPDATE December 2018: The tangle Sampson has been added to the site.
Good News! Sandy Bartholomew's teeny-tiny AlphaTangle – A Totally Tangled Alphabet
has just been republished by Suzanne McNeill's Design Originals publishing company. It's a fun "new and improved, revised and updated" edition.
There are several updates to the new edition, starting with its slightly larger physical dimensions, 4 5/8 x 5 1/2-inches, and a newly designed cover.
Sandy has added a list of basic supplies and simple steps for getting started, along with a few drawing tips and 6 pattern mini-how-to's: Knightsbridge, Keeko, Pearlz, Printemps, Hollibaugh and Ennies.
The rest of the charmingly tangled alphabet content is identical to Sandy's original self-published first edition, with 77 of the original 102 official Zentangle® patterns. (See my review of the first edition here for more details.)
It's no secret that I have a "thing" about people using correct terminology about Zentangle®. So I really like that Sandy points out some tangle lingo in her effort to help Zentangle Zealots keep their terms straight:
TIP: Zentangle is a noun, not a verb.

Don't say "I Zentangled my bathroom floor."

Say "I tangled my bathroom floor."

Other things to say:

"I need to create a Zentangle, right now!"

"Sorry, I didn't hear you. I was busy tangling."
If you're looking for tangle pattern drawing instructions, AlphaTangle isn't it. (TanglePatterns.com is!)
But this is one book that every fan should have in their library because it illustrates many official Zentangle® patterns in a very delightful way. And it's perfect for tucking in a pocket or bag to carry around with you for inspiration when you "Need to create a Zentangle, right now!"
You can get AlphaTangle – A Totally Tangled Alphabet
for your library now on Amazon, here
.