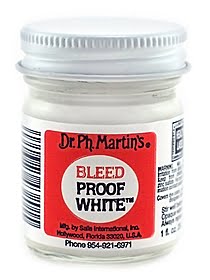 Dr. Ph. Martin's Bleed Proof White
Gentle Reader, Cindi, asked about using white ink over black in Zentangle® drawings."I've seen many tangle pics where a white pen or pencil has been used to accent on top of the black ink. It covers the black ink quite well. What do you use? I've tried a couple of 'chalk pencils' but am not thrilled with the results."
The best product I know of is Dr. Ph. Martin's Bleed Proof White
and it's used by professional calligraphers. It's an opaque watercolor for covering over dye colors and markers. Note that you can not use it for mixing.
You can also use white ink on black or dark paper in your "reverse image" Zentangles and Zentangle-inspired art. Or the gel pens noted below.
Naturally you'll want a calligraphy pen and a few nibs to go with the ink. I love my Speedball Pen
but I'm no calligrapher, just an occasional dabbler (dipper?). And I have quite a collection of Speedball nibs. There's always room for more art tools!
White Ink Gel Pens
It's becoming very popular to use white gel pens on dark paper. Here are the pens subscribers are recommending in the comments: