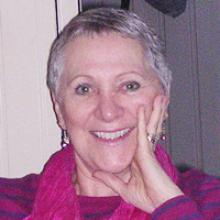 Greetings, and welcome! I'm Linda Farmer and I created TanglePatterns.com over a decade ago (May 4th, 2010) to serve and network the Zentangle® community with new tangles and great creative resources.
TanglePatterns.com offers hundreds and hundreds of tangles and loads of awesome free tutorials and many great tips for you to learn from and be inspired by.
As you can appreciate it takes a great deal of time, energy, and financial resources to run a busy site like this and keep up with the volume of daily email. TanglePatterns is a one-woman show, I run this site by myself, there is no "team".
And other than being a CZT®, I am not affiliated with Zentangle, Inc. — Zentangle does not fund TanglePatterns.
If you prefer to make a contribution by mail: you can send a check or money order (US$ money order if you are from outside the USA) and your email address printed clearly to:

Linda Farmer, TanglePatterns.com, PO Box 880386, Port St Lucie FL 34988.
TanglePatterns is free to all, including the hundreds of thousands of school children who use the site for their class assignments each year. And it is so important to me that it remains that way. But it's much more important to individuals who are not in a position to help financially, including school teachers. I am blessed to receive many grateful emails like this one –
"Thanks so much for keeping your site free to use. I am very low income, single, and disabled, and will donate when I can, but would like to know your site is available when I can't. It's such a great service you are providing. Thank you."
It is also you these folks are thanking. Without your support, TanglePatterns would not continue to exist. Your support also enables me to devote my time and energies to growing the site.
Unfortunately ad blockers and Pinterest content theft have leached advertising support that once helped, making everyone's support all the more essential.
So if TanglePatterns sparks your creative inspiration, please make a contribution to help keep it going.
When you compare the value you get from TanglePatterns for a whole year of new creative content week in and week out to the cost of an App, a workshop, a book or a magazine subscription, isn't this amazing resource is worth at least that much to you?
Simply click the big yellow PayPal button above or below. You do not have to have a PayPal account to make a contribution, see more about this below.
What your financial support helps pay for:
server costs — a dedicated server hosts the site and is constantly upgraded to handle the escalating traffic TanglePatterns receives, now over tens of thousands of page views every day.
bandwidth/data transfer charges — the more people using the site, the higher the costs of bandwidth to transfer the data and deliver pages smoothly.
ongoing site maintenance, development, enhancements and software licenses and upgrades that keep the site running smoothly and safely.
the content distribution network fees that make the site quick and reliable for a great user experience anywhere in the world.
the server backup service ensuring in the event of a catastrophic server failure that TanglePatterns will not vanish into the ether one day.
the email newsletter subscription service that brings the news and new tangles to your inbox free. The FeedBlitz newsletter delivery system is not free to me. It costs hundreds of dollars every month to deliver your daily "free" newsletters.
Your support helps me devote my time and energy to keeping the site growing (and saving you time!). And it is most sincerely appreciated.
In short, your support helps keep the site freely available to all and ensures it continues to be available online.
Here are two ways of supporting TanglePatterns and my work:
Option 1 – Contribution of Support

You can use this button to make a secure contribution through PayPal using your bank or credit card. Your financial support matters, no matter the size. Whatever the amount of your contribution, it is greatly appreciated and helps keep the site going.
This is the button to use when you simply wish to say thanks and support the site's growth and help keep it online.
If you wish to purchase any of my TanglePatterns.com GUIDES, please visit the STORE > EBOOKS page.
You do not have to open an account to use PayPal: When you click the button and update your cart with your donation, you are given the option of paying with PayPal or your credit or debit card. There is also a checkbox to make your contribution an automatic monthly "TanglePatterns club membership" payment if you wish.
Option 2 – Purchase of eBook Guides

You can visit the STORE > EBOOKS page to purchase my TanglePatterns.com TANGLE GUIDEs, TanglePatterns.com STRING GUIDEs and/or TanglePatterns.com BEGINNER'S GUIDE to Zentangle®.
When your transaction is complete your browser will immediately be redirected to a personalized secure download page. The download link will also be emailed to your PayPal email address. Links are time-sensitive so be sure to download your PDFs asap.
Zentangle® Kit and Books
As a CZT I am able to sell official Zentangle supplies. The Official Kit and or Zentangle PRIMER Vol 1 are wonderful gifts for yourself and anyone you love.
Amazon Purchases
When you click through any of the Amazon links to purchase items included on TanglePatterns, as an affiliate I earn a few pennies on the dollar. Every little bit helps, so if you're an Amazon shopper like me it would be really terrific if you'd use my links.
Thanks so much for your support! And Happy Tangling 🙂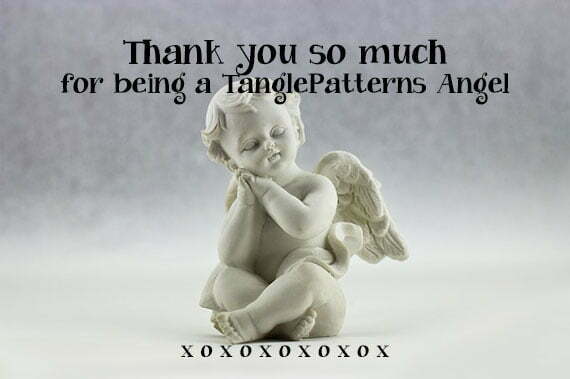 .oOo.
How to thank Linda personally
Over time I've received emails like this …
"Linda, I would love to thank you for your dedication to this indispensible zentangle resource with a personal gift instead of making a donation for the site. Before I do that, do you have a preference for a gift card?" ~ Sherry G.
My reply …
"Oh wow, thanks so much! How kind and thoughtful of you! Um … well I've been exploring mixed media lately so a joggles.com, scrapbook.com or stampinup.com gift certificate would be delightfully and gratefully received. And of course I never have any problem finding something I'd love from Amazon."
.oOo.