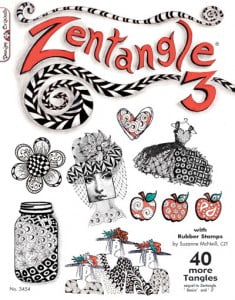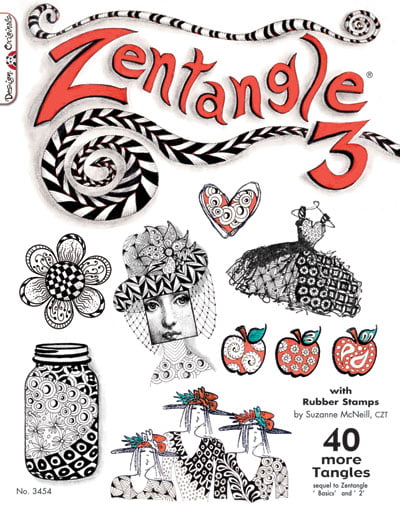 Suzanne McNeill (CZT®) has just released her third Zentangle® Book, Zentangle 3
. And it's a winner for Zentangle pattern collectors because there are dozens of new patterns in it.
All together the new book contains 41 tangle patterns, including the patterns Munchin, Nipa, Rain and Yincut created by Zentangle® originators Rick Roberts and Maria Thomas. The remaining 37 are all new patterns by Suzanne, including a variation on Pinwheels from Zentangle 2.
The book is the same size and format as the previous two titles (Zentangle Basics
and Zentangle 2
), 20 pages including covers and measuring 8.5″ x 11″.
In Zentangle 3
, Suzanne reviews the basics of creating a traditional Zentangle® and gives tips for shading them. The patterns follow with their step-by-step instructions and often the page has a showcase of patterns incorporated into rubber stamp outline images filled with tangle patterns from the book. There's also a tangled pair of the moveable paper dolls Suzanne posts about on her blog, here.
Suzanne gives a great tip for creating your own index of tangles using paper tags. You'll have to read the rest in the book!
Even if you have either of her previous books, you will certainly enjoy Zentangle 3
with all the new patterns and ideas for new items to tangle.
For Your Zentangle Library
Visit the BOOK REVIEWS tab at the top of the page for details on any of these Zentangle® books. If you do not have access to Amazon, you can also find these on the Book Depository website and they always ship free, worldwide! Simply click this image: