Welcome Zentangle Zealots and Newbies. I love Zentangle®. And I love to see what others are doing with this particular art form. Thus this site was born with the lofty goal of providing an index and guide to the best tangle patterns found online, and how to draw them. A one-stop reference if you will, for those of you who are like me and need to know "how to do it".
Please visit the How to Use this Site page if you're the type who likes to read "The Manual" (I am).
Allow me to introduce myself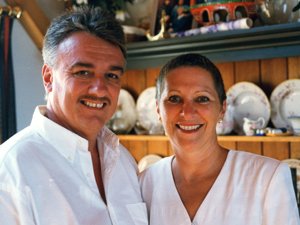 I'm Linda Farmer, and I run this site entirely by myself, I have no staff.  This is my hubby of 45-and-counting years, Robert, and this photo was taken quite a few years ago at my Mom and Dad's 50th Anniversary bash. So now we both look a tad older. But I love this photo of us so this will do until I find a better one. Expect grey hair — and yes, my hair really is that short and I've worn it like this for forever, nearly. 🙂
Join the Zentangle Zealots (it's free)
If you subscribe to the site (here's a page describing how to do that), your email will present the most recent site updates to you. Provided you confirm by clicking the link in the email you receive, FeedBlitz will do the rest quite well. You must confirm so FeedBlitz knows it's really you who signed up and not someone up to make mischief for you.
Please feel free to leave your suggestions, questions etc. in the comments on this (or any) page. I sincerely welcome them.
Check out the Submit Your Pattern page too — I invite your contributions to make this site a great resource!
Philosophy for TanglePatterns.com
I feel compelled to explain my selection process for the tangle patterns included on this site.
As more and more pattern instructions are posted online, I found myself in a dilemma. I didn't want my own preferences to affect inclusion, but neither do I want to stray from the spirit of the originators of Zentangles, Rick Roberts and Maria Thomas.
On their "Theory of Zentangle" page, here, is outlined what I am adopting as the guiding principle for TanglePatterns.com (emphasis below is mine):
Abstract
You always succeed when you do a Zentangle because you always create a pattern. A Zentangle has no up or down and is not a picture of something, so you have no worries about whether you can draw a hand, or a duck. You always succeed in creating a Zentangle.

…

Meditational Artform
Zentangle's non-verbal language of patterns and proportions can open doors to insights which seemed locked before. Creating Zentangles opens those doors, not because they were locked, but because those doors swing on non-verbal hinges. When you create a Zentangle you can enter a meditative state in which intuitive insights flow freely. Get inspirations, ideas and answers unhindered by expectations or worries.
Tangle patterns are intended to be abstract, non-objective designs that can be created in just 2 or 3 simple strokes, repeated. And as Maria has said, tangles should be easy to teach and offer a high degree of success to tanglers of all ages.
This helps me enormously in the selection process for TanglePatterns.com. While many patterns posted are creative, they are not tangle patterns because they are pictures of some recognizable natural or actual object, figure, or scene. Or they're just way too complicated and do not reflect the Zen, non-verbal, unplanned, meditative nature of the Zentangle.
And it is my intention on TanglePatterns.com to respectfully honor the original intent of this art form's creators.
Thanks so much for stopping by!