Place your order now at zentangle.com
HARDCOVER $49.95 US plus shipping. SOFTCOVER $23.95 US plus shipping.
UPDATE APRIL 2020 – the Zentangle PRIMER Vol 1 is now available as an instant-download Kindle ebook here on Amazon! Just $9.99. Be sure to get the free Kindle app too. Now available as a Kindle eBook in Spanish here, and in Japanese here.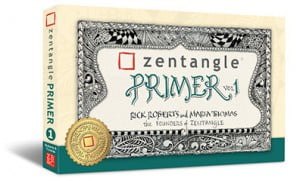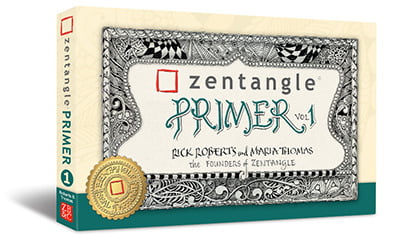 Zentangle PRIMER Vol 1 is the second book from the founders of Zentangle®, Rick Roberts and Maria Thomas, released on March 6th, 2016. It's been two years in the making and the attention to detail shows.
I just received my copy! As you might expect, it's so full of beautiful eye candy. And this time it's all in Zentangle black and white (except for the color endpapers), which to me IS Zentangle.
As Rick writes,
"Working solely on white tiles with black ink, this book digs deep into the fundamentals of the Zentangle method and teaches the techniques and tools you need to take your Zentangle practice where you want …
Our desire in creating this tome was that your copy will eventually have tattered corners, well-worn pages, and hand-drawn notes in its margins. A book that has been loved and used. It will become your go-to book of all things Zentangle.
This book is an 'old-world' instructional that is simple in its delivery but with enough information to gently guide the novice, or enlighten the master. Whoever reads this, will find what they seek. Hidden in the margins and borders and exemplars are inspirations. Each time you leaf through its folios, you will find something new to spark your creativity. Each time you study it, you may find yourself going just a bit beyond what you previously thought possible.
Working solely on white tiles with black ink, this book digs deep into the fundamentals of the Zentangle method and teaches the techniques and tools you need to take your Zentangle practice where you want."
As I leaf through the latest Zentangle gem, here's what I find …
First the basic premise:
Zentangle PRIMER Vol 1 is intended to be a companion book to The Book of Zentangle and it is the same size and coffee table format as the first book. "It is the same dimensions with 187 pages of step-outs, tangles, and text in hardbound format."
Right away I want to point out — because I've already been asked — that the tangles included in the book are established ones that are publicly available and are here on TanglePatterns.com. You can find all of these from the links on this page, or by using the pink alphabetical tangle index on any page.
Crescent Moon
Hollibaugh – "(pronounced: haul'-a'-baw')"
Printemps
Florz
Shattuck
Jetties
Bales
Bronx Cheer
Striping
Tipple
Rixty
Flux
'Nzeppel
ING
Cadent
Huggins
Paradox
Zinger
Munchin
Tripoli
Auraknot
Fengle
However, this book is not about the tangles. The tangles are an assist and an enhancement to teaching about everything Zentangle and taking your practice to new levels of creativity.
What's very different here is that Rick and Maria take you step-by-step through every tangle and give detailed instructions on how to shade each one and show a multitude of ways to vary each. They give helpful suggestions as you go along and then exercises at the end to "help you take what you've learned 'to heart'." And there's so much more …
This is "the meaty part" of the Table of Contents with my notes of each chapter's content:
Foreword – a lovely personal account by Maria's daughter, CZT Molly Hollibaugh, of her first reactions when her parents shared their discovery of Zentangle, trying to do "her own thing", and learning to let go of her need to control the process
Introduction – why this book is called a PRIMER
Zentangle Method – the beginnings of Zentangle, the elemental strokes, the Ceremony of Zentangle, the 8 basic steps, characteristics of the Zentangle Method and Artform, benefits of a Zentangle Practice
Lesson 1 – Your First Tile – entering the practice from the perspective of a "newbie", includes the first 4 tangles listed above giving a little background about the tangle itself then taking you step-by-step through its creation, giving tips and exploring various aspects of each tangle; Exercises 1 through 3
Lesson 2 – Your Next Tile – includes tangles 5-7 listed above and similar tips and guidance as included in Lesson 1, introducing the concept of drama tangles, interstices, meta-patterns, insights and exercises; Exercises 4 through 6
Lesson 3 – String Theory – origins of the Zentangle string, how to create strings, how to use strings; Exercises 7 through 10
Lesson 4 – Shading – why shade? shading tips and techniques; Zentangle's "total disregard of light source"; Exercises 11 through 13
Lesson 5 – No Mistakes – challenges, tangling techniques for the unexpected; Exercises 14 through 17
Lesson 6 – More Tangles – includes tangles 9-22 above, and all about tangle enhancements and advanced tangling concepts like linking tangles, layering tangles, and tangleations; Exercises 18 through 22
Lesson 7 – Reticula and Fragments – new terms, reticula is a new term for our underlying inked grids and there are 30 examples of new ones; fragments are what we once knew as seeds for grid tangles, with loads of examples and ways to "grow" new tangles from 4-sided, 3-sided and orb fragments used to fill reticula; Exercises 23 through 27. This is the chapter where seasoned tanglers will find plenty of food for tangle-y thought. [Addendum: the more I think about this section, the more mind-boggling it is. Oh, the tangle possibilities!]
Lesson 8 – A Zentangle Practice – tips and advice [including a mention of TanglePatterns on page 132 🙂 ], and observations from Maria and Rick, each describing their own personal Zentangle practice
Appendix A – Resources and Information
Appendix B – Glossary – Zentangle definitions from its founders
Notes – "A behind-the-scenes conversation about some of the images and stories in this book."  Fascinating!! Includes a new Zentangle-original tangle Ravel that we've yet to see steps for. And one or two more "as yet unnamed" tangles inspired by museum visits.
And in case anyone besides me notes it, tortillion is also spelled tortillon. I use the first version, R&M use the second and provide both in the Glossary.
I think it's wonderful to have all of this information about Zentangle available publicly, directly from the source. I've noticed over time many tanglers (and even some published books about Zentangle) have strayed from the fundamental concepts or perhaps they just misunderstood them in the first place.
Zentangle PRIMER Vol 1 should set the record straight so everyone, CZTs and non-CZTs alike, are communicating in the same language and a full understanding of the same basic Zentangle concepts.
And learning (or re-learning) to develop their Zentangle Practice armed with a delicious volume of beautiful images and encouraging words to take your practice to new levels of creativity.
Somehow I can't imagine myself writing notes in the margins of this beautiful book, as intended by Rick and Maria. But you never know.
Whether you're a seasoned tangler or a total novice new to the concept, you will love and treasure this book of the basics of Zentangle and much, much more.
.oOo.

Enhance your Zentangle experience while supporting TanglePatterns:

CURRENT EDITION!

TanglePatterns.com TANGLE GUIDE, 2023 Edition

The 12th Edition of the TanglePatterns.com TANGLE GUIDE is an instant-download 103-page (50 MB) interactive digital eBook/PDF containing almost 1,900 tangles on the site from May 2010 through December 31, 2022. It's a great resource and a must-have digital tool for using the site. Visit the STORE > E-BOOKS page and help keep TanglePatterns.com online by getting your copy now!

"Linda, Thank you! I was relying on too few and getting stuck after 3 years of daily working with Zentangle. This has inspired me to 'begin again' with renewed excitement." ~ Barbara R.

See the BOOK REVIEWS page for more details on its features and view a sample page. Note: this is a digital product you download immediately when you place your order, nothing will be physically mailed to you.
GIFT ORDERS FOR ANOTHER PERSON: To give the TANGLE GUIDE as a gift, visit this page to place your gift order.
If you're new to Zentangle® and tangling, my TanglePatterns.com BEGINNER'S GUIDE TO ZENTANGLE is just what you need to get started. Also available en Français and en Español.

---

This is the only Zentangle book you'll ever need: the fabulous Zentangle PRIMER Vol 1. It's your CZT-in-a-book by the founders of Zentangle®. Visit the STORE tab on the top menu bar or click on the image. For more about the content and to read the rave reviews, visit the BOOK REVIEWS tab.
NEW! Now available in KINDLE format for $9.99. Spanish Edition here. Japanese Edition here.
"Absolutely the best Zentangle Book yet! As an accomplished artist I used to think I did not need instruction on this art form. How wrong I was! My tangling improved by leaps and bounds after reading this book. If you think you have Zentangle down then you need this book more than ever!" ~ Kris H

---

.oOo.