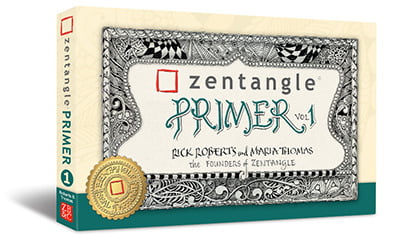 March 5, 2016 – For the last two years the founders of Zentangle, Rick Roberts and Maria Thomas, have been quietly working behind the scenes on their second book. And it's here at last!!
UPDATE APRIL 2020 – the Zentangle PRIMER Vol 1 is now available as an instant-download Kindle ebook here on Amazon! Just $9.99. Be sure to get the free Kindle app too. Now available as a Kindle eBook in Spanish here, and in Japanese here.

UPDATE JANUARY 2021 – the hardcover edition of the Zentangle PRIMER Vol 1 is no longer available.
Introducing Zentangle PRIMER Volume 1.
This much anticipated second publication is available now, and you can order yours here!
Zentangle PRIMER Volume 1 is intended to be a companion book to The Book of Zentangle and it is the same size and coffee table format as the first book. "It is the same dimensions with 187 pages of step-outs, tangles, and text in hardbound format."
Yes, you read that right, this one has step-outs and tangles!! (See the BOOK REVIEW > ZENTANGLE PRIMER VOL 1 page for more details and tangler reviews.)
Rick writes,
"This book is an 'old-world' instructional that is simple in its delivery but with enough information to gently guide the novice, or enlighten the master. Whoever reads this, will find what they seek. Hidden in the margins and borders and exemplars are inspirations. Each time you leaf through its folios, you will find something new to spark your creativity. Each time you study it, you may find yourself going just a bit beyond what you previously thought possible.
Working solely on white tiles with black ink, this book digs deep into the fundamentals of the Zentangle method and teaches the techniques and tools you need to take your Zentangle practice where you want.
Here's a look at its Table of Contents:
Dedication
Foreword
Introduction
The Zentangle Method
Lesson 1 – Your First Tile
Lesson 2 – Your Next Tile
Lesson 3 – String Theory
Lesson 4 – Shading
Lesson 5 – No Mistakes
Lesson 6 – More Tangles
Lesson 7 – Reticula and Fragments
Lesson 8 – A Zentangle Practice
Appendix A – Resources and Information
Appendix B – Glossary
Credits
Notes
Index
Colophon
In this book we introduce the terms "Reticula" and "Fragments." We think you will find this approach adds a new and exciting aspect to your Zentangle explorations.
Our desire in creating this tome was that your copy will eventually have tattered corners, well-worn pages, and hand-drawn notes in its margins. A book that has been loved and used. It will become your go-to book of all things Zentangle."
For even more detail and to read tangler reviews, visit the BOOK REVIEWS > ZENTANGLE PRIMER Vol 1 page on the top menu bar.
Place your order now
Softcover $23.95 US plus shipping. OR – order your Kindle Edition $9.99 here. US orders are shipped by USPS Priority Mail; Canada and International orders are shipped by USPS First Class Air. Mail orders are also accepted, please visit the ordering page below for prices including shipping and mailing details. A book bundle offer is available to order both Zentangle books together and save on shipping, visit the page corresponding to your order's destination below. Book sales are final.
Thanks for supporting TanglePatterns with your order!
.oOo.

Enhance your Zentangle experience while supporting TanglePatterns:

CURRENT EDITION!

TanglePatterns.com TANGLE GUIDE, 2023 Edition

The 12th Edition of the TanglePatterns.com TANGLE GUIDE is an instant-download 103-page (50 MB) interactive digital eBook/PDF containing almost 1,900 tangles on the site from May 2010 through December 31, 2022. It's a great resource and a must-have digital tool for using the site. Visit the STORE > E-BOOKS page and help keep TanglePatterns.com online by getting your copy now!

"Linda, Thank you! I was relying on too few and getting stuck after 3 years of daily working with Zentangle. This has inspired me to 'begin again' with renewed excitement." ~ Barbara R.

See the BOOK REVIEWS page for more details on its features and view a sample page. Note: this is a digital product you download immediately when you place your order, nothing will be physically mailed to you.
GIFT ORDERS FOR ANOTHER PERSON: To give the TANGLE GUIDE as a gift, visit this page to place your gift order.
If you're new to Zentangle® and tangling, my TanglePatterns.com BEGINNER'S GUIDE TO ZENTANGLE is just what you need to get started. Also available en Français and en Español.

---

This is the only Zentangle book you'll ever need: the fabulous Zentangle PRIMER Vol 1. It's your CZT-in-a-book by the founders of Zentangle®. Visit the STORE tab on the top menu bar or click on the image. For more about the content and to read the rave reviews, visit the BOOK REVIEWS tab.
NEW! Now available in KINDLE format for $9.99. Spanish Edition here. Japanese Edition here.
"Absolutely the best Zentangle Book yet! As an accomplished artist I used to think I did not need instruction on this art form. How wrong I was! My tangling improved by leaps and bounds after reading this book. If you think you have Zentangle down then you need this book more than ever!" ~ Kris H

---

.oOo.