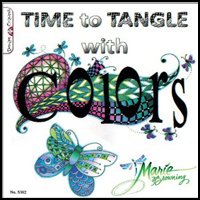 "Marie Browning pushes the envelope of Zentangle into the living dimension of color. … More than simply coloring regions of a tangle design, this book offers lessons which enable even the novice artist to use a Tombow Dual Brush pen to color delightful Zentangle animals, plants and flowers."
CZT Marie Browning's Time To Tangle with Colors
is one of the newest books to join our Zentangle libraries. Published by CZT Suzanne McNeill's company, Design Originals, it is the same physical size as Sandy Bartholomew's latest two books – 8.5″ square, 52 pages including covers. They all fit very nicely together on your bookshelf and are not too big to carry around for reference.
"This book was inspired by the techniques and patterns of Zentangle, and by my desire to play with color. I hope it encourages you to add vibrant color to your tangles," says Marie.
Time To Tangle with Colors
is a terrific introduction to color theory, colored pens and how to use them, as well as illustrating some creative techniques with specific instructions to help apply each one. It also contained 48 tangle patterns – several are official tangle patterns with interesting new border variations, and by my count 34 totally new patterns. These are all great patterns!
Here is an outline of Time To Tangle with Colors
well illustrated content:
Zentangle – 2-page introduction to Zentangle. This means you can give it as a gift to anyone who isn't already familiar with "how to"
Colored Markers – 4-page chapter with recommended supplies and an introduction to using Tombow Dual Brush Markers and a blending pen. Here Marie covers tips, instructions and examples for direct coloring, indirect coloring, and brush blending.
Color Basics – 4-page chapter with a mini course on color theory explaining the color wheel, color schemes, and using the Tombow Dual Brush Markers with examples. "Knowing how to work with the four basic color schemes will make your art look professional and appealing."
Splash – 2-page chapter on techniques for creating "Splash Backgrounds" for your tangles
Mask & Spray – 3-page chapter on using masks and sprays "to color the paper and create your 'strings' before drawing tangles"
Stamped Images – 1-page chapter including a technique for "inking" stamps with the brush point of the marker
Colored Pencil Techniques – 2 page chapter with tips on what type of pencils to look for, how to get colored pencil shading effects using various types of paper, and an "Impressed" technique using a simple embossing tool
Colored Pen Techniques – illustrated with colored bookmarks
Sparkle Gel Pens – 1 page chapter on adding more "bling" to your tangle creations
While Gel Pens – 1 page showing how white gel pens add sparkle to drawings on a colored background
Tangles – 17 pages with 48 tangle patterns including drawing instructions and tips and illustrations on how you might color them
"Time to Tangle" – project examples – 8 pages including scrapbooking, greeting cards, photo frames, and several pages of colored drawings where Marie indicates specifically which Tombow pens she uses so you can apply the same effects to your art
Index – the book wraps up with a Tangle index to the 48 patterns included in this book. "Many of the tangles in this book are new, some are variations of my favorite original patterns."
Whether you are a seasoned artist or a relative newbie, Time To Tangle with Colors
contains plenty of ideas and inspiration to improve your color sense and to help you take the plunge into coloring your art.
As Marie says, "Unleash your inner child" with color!
.oOo.

Enhance your Zentangle experience while supporting TanglePatterns:

CURRENT EDITION!

TanglePatterns.com TANGLE GUIDE, 2023 Edition

The 12th Edition of the TanglePatterns.com TANGLE GUIDE is an instant-download 103-page (50 MB) interactive digital eBook/PDF containing almost 1,900 tangles on the site from May 2010 through December 31, 2022. It's a great resource and a must-have digital tool for using the site. Visit the STORE > E-BOOKS page and help keep TanglePatterns.com online by getting your copy now!

"Linda, Thank you! I was relying on too few and getting stuck after 3 years of daily working with Zentangle. This has inspired me to 'begin again' with renewed excitement." ~ Barbara R.

See the BOOK REVIEWS page for more details on its features and view a sample page. Note: this is a digital product you download immediately when you place your order, nothing will be physically mailed to you.
GIFT ORDERS FOR ANOTHER PERSON: To give the TANGLE GUIDE as a gift, visit this page to place your gift order.
If you're new to Zentangle® and tangling, my TanglePatterns.com BEGINNER'S GUIDE TO ZENTANGLE is just what you need to get started. Also available en Français and en Español.

---

This is the only Zentangle book you'll ever need: the fabulous Zentangle PRIMER Vol 1. It's your CZT-in-a-book by the founders of Zentangle®. Visit the STORE tab on the top menu bar or click on the image. For more about the content and to read the rave reviews, visit the BOOK REVIEWS tab.
NEW! Now available in KINDLE format for $9.99. Spanish Edition here. Japanese Edition here.
"Absolutely the best Zentangle Book yet! As an accomplished artist I used to think I did not need instruction on this art form. How wrong I was! My tangling improved by leaps and bounds after reading this book. If you think you have Zentangle down then you need this book more than ever!" ~ Kris H

---

.oOo.