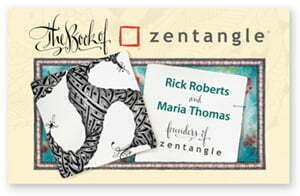 UPDATE JANUARY 2018: The hardcover edition of this book is out of print. It is now available reprinted in paperback format.
(Note from Linda: if you are debating between purchasing The Book of Zentangle or the Zentangle PRIMER, Vol 1, I highly recommend getting the PRIMER.)
The beautiful new coffee-table book, The Book of Zentangle®, created by founders Rick Roberts and Maria Thomas is now available.
This is a book that ANYONE remotely interested in Zentangle would enjoy reading while learning so much from it.
Rick and Maria have been working on this project from their hearts for many years and at long last their self-published masterpiece is here to be treasured by all. They "describe in words and images how the Zentangle method began and how it works."
This wonderful behind-the-scenes look at Zentangle includes the story of its origins, a description of the tools and the method, a discussion of the practice of Zentangle with exercises and projects, and fascinating stories and comments from Rick and Maria themselves. More than that, of course, it is filled with pages and pages of wonderful artwork for us all to be inspired by and aspire to.
For those who have been asking, The Book of Zentangle does not contain pattern how-tos with the exception of examples of steps for Rick's Paradox and Cadent.
From their introduction, "A guidebook to Paris isn't Paris; but when you visit Paris, you'll enjoy it more with a good guidebook. This is a guidebook to Zentangle. It can help you awaken your ability, nourish your awareness, and find your way to a joy that has been there with you all along."
The Book of Zentangle is a paperback coffee-table type book. It is 146 pages in a 6 x 9.5 inch horizontal format. List: $19.95 US, plus shipping.
Unless otherwise indicated in the book, the words are by Rick and the illustrations by Maria. The following are its contents and my notes.
First let me say that the illustrations in this book are magical, and there are so many of them to drool over. Not only will you get an appreciation of Maria's artistry unlike anything you've seen before, you will want to study each and every one of them to see what you can learn by observation.
Foreword – by Carole Ohl, CZT
Introduction – with a beautiful botanical illustration of Fiddleheads, with a Zentangle tucked inside, by Maria
What is Zentangle? – A description of the practice and art form, and Zentangle as a life skill and approach to mindfulness
Origins – Maria describes her artistic beginnings as a child and her career with her wholesale/retail stationery company Pendragon Ink; Rick describes his career history in a broad range of interests including flute making, and how he and Maria met. They describe how Zentangle was born.
Method – The basic steps to the Zentangle method are described in detail and guidelines are also given
Tools – 10 excuses for not creating art and how Zentangle addresses each one. Why you should use the best tools you can for your art.
Zentangle as a Practice – reviews benefits of a Zentangle practice and some results to be gained. Gives advice on your approach to various aspects of the art form. Why a tangle is not a doodle. A discussion of perfection.
Exercises and Projects – (pages 71-75) ideas for tangling fun
Stories and Comments – (pages 77-91) pages of wonderful and interesting quotes from people who have sent Rick and Maria "testimonials" about how Zentangle has affected their lives
A Note From Rick and Maria
Appendix A – Resources and Information
Appendix B – Glossary
Credits
Notes – a fascinating section where Maria gives the back story on the illustrations in the book, interspersed with comments by Rick. You will get a charming glimpse into their sense of humor and their relationship.
Bibliography – oh boy! More books to study.
Index
Place your order at zentangle.com
From the front inside dust jacket
"Rick and Maria are good company as they take you on a creative journey to a place of peace, empowerment, and unlimited potential through this introduction to Zentangle.
Novices and artists alike will be drawn to this easy art form and appreciate the effectiveness of Zentangle's mindfulness process.
Zentangle nurtures the soul and encourages life enhancing outcomes. It is a pastime, a life skill, and a simple metaphor for life in a complex and busy world.
If you can't sit on a pillow and meditate but you can hold a pen, Zentangle is the process of relaxation for you. This book is the perfect starting point to learn this relaxing method of creating beautiful artwork or to expand on what you already know.
Whether for fun, focus, meditation, or therapy, this art form has something for everyone. I tangle myself, teach it to my clients, and tangle with my family and friends."
Meredith L. Yuhas, Ph.D., LPC, NCC
Director, Counseling & Wellness Center
University of Saint Joseph
Licensed Professional Counselor and Certified Zentangle Teacher
.oOo.

Enhance your Zentangle experience while supporting TanglePatterns:

CURRENT EDITION!

TanglePatterns.com TANGLE GUIDE, 2023 Edition

The 12th Edition of the TanglePatterns.com TANGLE GUIDE is an instant-download 103-page (50 MB) interactive digital eBook/PDF containing almost 1,900 tangles on the site from May 2010 through December 31, 2022. It's a great resource and a must-have digital tool for using the site. Visit the STORE > E-BOOKS page and help keep TanglePatterns.com online by getting your copy now!

"Linda, Thank you! I was relying on too few and getting stuck after 3 years of daily working with Zentangle. This has inspired me to 'begin again' with renewed excitement." ~ Barbara R.

See the BOOK REVIEWS page for more details on its features and view a sample page. Note: this is a digital product you download immediately when you place your order, nothing will be physically mailed to you.
GIFT ORDERS FOR ANOTHER PERSON: To give the TANGLE GUIDE as a gift, visit this page to place your gift order.
If you're new to Zentangle® and tangling, my TanglePatterns.com BEGINNER'S GUIDE TO ZENTANGLE is just what you need to get started. Also available en Français and en Español.

---

This is the only Zentangle book you'll ever need: the fabulous Zentangle PRIMER Vol 1. It's your CZT-in-a-book by the founders of Zentangle®. Visit the STORE tab on the top menu bar or click on the image. For more about the content and to read the rave reviews, visit the BOOK REVIEWS tab.
NEW! Now available in KINDLE format for $9.99. Spanish Edition here. Japanese Edition here.
"Absolutely the best Zentangle Book yet! As an accomplished artist I used to think I did not need instruction on this art form. How wrong I was! My tangling improved by leaps and bounds after reading this book. If you think you have Zentangle down then you need this book more than ever!" ~ Kris H

---

.oOo.