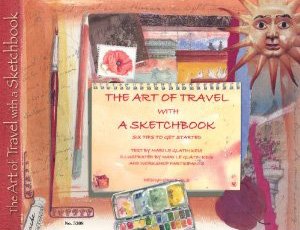 The Art of Travel With a Sketchbook
by Mari Le Glatin Keis is a lovely 100-page book published by Suzanne McNeill's company, Design Originals.
It contains "hundreds of effective tips and illustrations [that will] help launch anyone into the wonderful world of sketching.
Mari shares an intimate way to record travel experiences, allowing one to slow down and capture the moment.
The approach presented in this book is not about doing good drawing or painting. It is about letting the hand record what the eye sees with whatever tool is available, without rules or recipes. All you need is your hand, your eyes, your heart and the desire to travel differently."
Among the enthusiastic reviews, this one comments, "This is a very inspirational book that is well written! I have already accomplished personal sketches just by following the step-by-step instructions that Maria suggests. The best part is it is really written by her students!"
You can see a video about one of Suzanne McNeill's travel sketchbooks here.
Add Your Review
If you own this book, please feel free to add your review to this page!