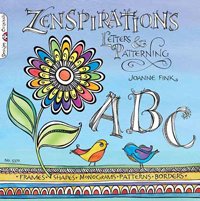 Zenspirations, Letters & Patterning
by professional calligrapher Joanne Fink is sure to be popular with everyone who loves her videos as well as anyone who enjoys paper crafts, scrapbooking, card-making, illustration and making personalized gifts.
In her introduction Joanne writes, "I fell in love with patterning in the summer of 2008 when I discovered the wonderful world of Zentangle®, an art form developed by Rick Roberts and Maria Thomas. Since then I have incorporated patterning into my work, and call my new style Zenspirations."
Joanne's new book Zenspirations
is an 8 x 8-inch, 52-page (including covers) softcover that demonstrates in much greater detail the patterning techniques in Joanne's videos and contains many examples of her colorful and whimsical illustrations.
Joanne reviews her seven basic patterns and suggests ways to add more detail to each. From there she moves on to filler patterns and vertical patterning – dangles that "hang" off the edge of a horizontal strip.
The next sections demonstrate various pattern types and examples – circles and simple circle designs, simple flower designs, wave patterns, and pattern blocks.
In the coloring tools section Joanne talks about her favorite coloring tools and paper supplies. She discusses techniques for each – working with dark and light backgrounds, watercolor paints and techniques, and the paper she chooses for water media.
The next sections are about embellished frames, creating patterned illustrations, flower and leaf designs and simple landscapes – all with many examples to spark your creativity.
The final section of the book is about lettering, embellished monograms and how to use words in shapes.
Zenspirations
will teach you how to create beautiful patterns to add a whole new dimension of interest to your favorite crafts.
"Joanne Fink's passion for beautiful patterns is contagious; her Zenspirations: Letters & Patterning
makes it easy for artists and non-artists alike to master patterning quickly and easily."
It's another great addition to enrich your imagination and your art library!