Another Monday, another easy tangle to get our week underway!
Appease is from CZT Connie Green and it's her second on the site. The very popular Liberty Fan was her first.
When I first saw Appease I knew it was familiar but it took me a minute or two to realize it's my Chianti tangle — released from a grid. As a free-form tangle, Appease can be varied in size and placement – I like it! Another tangle with a similar motif is CZT Katy Kehoe's Earjool.
Appease was not inspired by Chianti but instead by Connie's research into the art of Gustav Klimt. Klimt's artwork was explored at the CZT-only zenAgain retreat last fall.
Klimt was born in Austria in the late 1800's. Considered an avant-garde artist, he is probably most commonly recognized today for his so-called "golden phase" when he used decorative gold leaf in his paintings.
Many of Klimt's intriguingly detailed and colorful works can be purchased as posters or prints, like this "Portrait of Adele Bloch Bauer I" where you can find Klimt's typical motifs in the dress and background.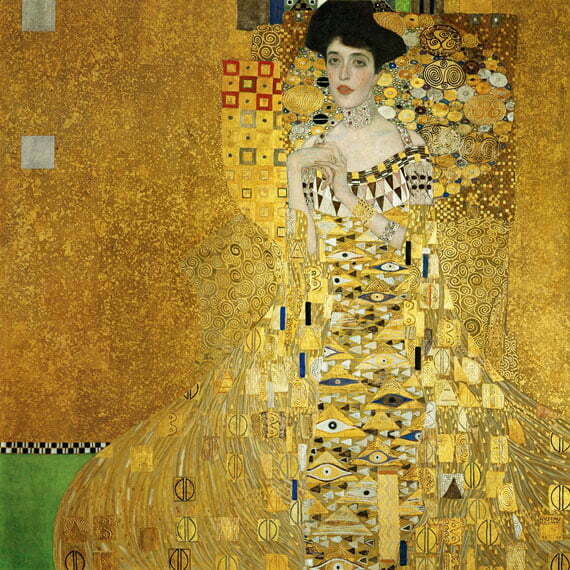 From The J. Paul Getty Museum 2012 exhibition, "Gustav Klimt: The Magic of Line":
Gustav Klimt was one of the seminal figures of international Modernism. His entire artistic enterprise was based on drawing, which he practiced every day. Approximately 4,000 of Klimt's drawings survive, and this is surely but a portion of the total number he made.
From his earliest work in the 1880s to his death, the centerpiece of Klimt's draftsmanship, indeed of his artistic creativity as a whole, was life drawing from the nude model, in particular the female nude. It was through drawing that Klimt developed his momentous themes of human suffering, longing for love and happiness, and the cycle of life from birth to death.
Wikipedia has an extensive list of Klimt's paintings if you're interested in exploring.
Connie writes she found this motif in a work from "The Yearning for Happiness finds Appeasement in Poetry" and deconstructed it for us to enjoy.
I hope folks enjoy this simple pattern as much as I do.
There are so many different ways the base shape can be enhanced.
Connie illustrates the step-by-step instructions for drawing Appease below where she explores the motif with a couple of our simple tangle enhancements. And no grid!
As you enjoy any of the tangles on the site, please leave a comment of thanks and encouragement to show the artists you appreciate them for sharing their creativity to inspire yours. Your comment helps motivate them to continue to share!
Check out the tag connieg for more of Connie's tangles on TanglePatterns.com.
.oOo.

Enhance your Zentangle experience while supporting TanglePatterns:

CURRENT EDITION!

TanglePatterns.com TANGLE GUIDE, 2023 Edition

The 12th Edition of the TanglePatterns.com TANGLE GUIDE is an instant-download 103-page (50 MB) interactive digital eBook/PDF containing almost 1,900 tangles on the site from May 2010 through December 31, 2022. It's a great resource and a must-have digital tool for using the site. Visit the STORE > E-BOOKS page and help keep TanglePatterns.com online by getting your copy now!

"Linda, Thank you! I was relying on too few and getting stuck after 3 years of daily working with Zentangle. This has inspired me to 'begin again' with renewed excitement." ~ Barbara R.

See the BOOK REVIEWS page for more details on its features and view a sample page. Note: this is a digital product you download immediately when you place your order, nothing will be physically mailed to you.
GIFT ORDERS FOR ANOTHER PERSON: To give the TANGLE GUIDE as a gift, visit this page to place your gift order.
If you're new to Zentangle® and tangling, my TanglePatterns.com BEGINNER'S GUIDE TO ZENTANGLE is just what you need to get started. Also available en Français and en Español.

---

This is the only Zentangle book you'll ever need: the fabulous Zentangle PRIMER Vol 1. It's your CZT-in-a-book by the founders of Zentangle®. Visit the STORE tab on the top menu bar or click on the image. For more about the content and to read the rave reviews, visit the BOOK REVIEWS tab.
NEW! Now available in KINDLE format for $9.99. Spanish Edition here. Japanese Edition here.
"Absolutely the best Zentangle Book yet! As an accomplished artist I used to think I did not need instruction on this art form. How wrong I was! My tangling improved by leaps and bounds after reading this book. If you think you have Zentangle down then you need this book more than ever!" ~ Kris H

---

.oOo.