Background: In the process of creating a Zentangle one begins by lightly penciling a border and a "string", generally a freeform shape, on the 3 1/2″ x 3 1/2″ (9 cm x 9 cm) tile of high quality paper, into which one then draws intricate patterns, "tangles" using a Sakura Micron Pen.
After a while you might feel like you want to get out of a "string rut" for your Zentangle® art.
While it's true there are many ways to divide that little tile into sections for your tangle patterns, sometimes you want fresh ideas other than your own. Maybe something that will provide a real challenge, or conversely, something simplified.
Here are a few to help jump-start your imagination. Please feel free to add your ideas and suggestions in the comments below.
UPDATE: There is now a separate category on the pink alphabetic menu for STRINGS with a new string added every Saturday morning.
String Block
Some time ago CZT Vicki Murray wrote a post about overcoming what she terms "String Block". Here are the ideas she suggests:
Use a letter for a string
Do a monogram
Do a name
Select a shape and repeat it then tangle the shapes
Use a pre-strung Zentangle tile
If you have a ZT partner, have them draw a string for you and you draw one for them
Use your computer
Change the scale of your work.
Check out Vicki's post for an explanation of each and a few illustrated examples.
More Ideas
Here's an idea suggested to me by my Mom (thanks Mom!) when she passed along  several of her quilting books. Quilt block patterns make great strings. If you search Google for "quilt patterns" and click on the Images option at the top left side of the search results page, you'll come up with all kinds of images and ideas you can use as the bare bones for a Zentangle string. You can even get Google to show you just Clip Art within that category.
Suzanne McNeill suggests using rubber stamp images as the starting point for a Zentangle. This idea offers a whole host of possibilities.
To that idea I'd add stencils. There are many fairly simple stencils that lend themselves well to being a Zentangle string.
Images from the Web
While spending [a lot of] hours scouring the web for this page, I came across the image below, here. According to the figure's caption, this "demonstrates the fantastic variety of standing wave patterns that can arise from a simple resonating system. A square steel plate is clamped at its midpoint and sprinkled with sand. It is then set into vibration either by bowing with a violin bow, or by pressing dry ice against it. The resultant standing wave patterns are revealed by the sand, that collects at the nodes of the oscillation where the vibration is minimal." Now isn't that a cool way to make patterns?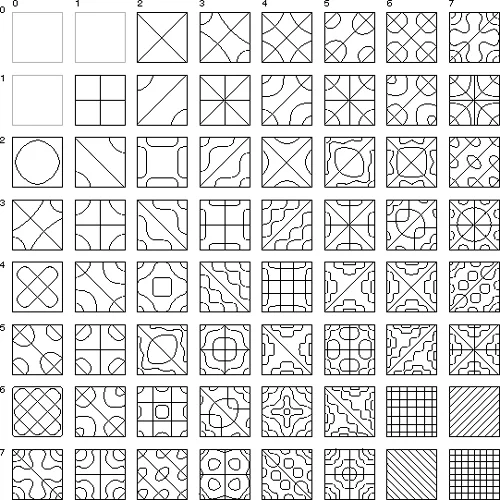 Some useful string ideas in there too, right?
Most of these suggestions are for fairly geometric strings but sometimes those are more fun to work with than abstract ones.
Let's hear your suggestions for overcoming "string block".
UPDATE:  There is now a separate category on the pink alphabetic menu for STRINGS with a new string added every Saturday morning.
.oOo.

Enhance your Zentangle experience while supporting TanglePatterns:

CURRENT EDITION!

TanglePatterns.com TANGLE GUIDE, 2023 Edition

The 12th Edition of the TanglePatterns.com TANGLE GUIDE is an instant-download 103-page (50 MB) interactive digital eBook/PDF containing almost 1,900 tangles on the site from May 2010 through December 31, 2022. It's a great resource and a must-have digital tool for using the site. Visit the STORE > E-BOOKS page and help keep TanglePatterns.com online by getting your copy now!

"Linda, Thank you! I was relying on too few and getting stuck after 3 years of daily working with Zentangle. This has inspired me to 'begin again' with renewed excitement." ~ Barbara R.

See the BOOK REVIEWS page for more details on its features and view a sample page. Note: this is a digital product you download immediately when you place your order, nothing will be physically mailed to you.
GIFT ORDERS FOR ANOTHER PERSON: To give the TANGLE GUIDE as a gift, visit this page to place your gift order.
If you're new to Zentangle® and tangling, my TanglePatterns.com BEGINNER'S GUIDE TO ZENTANGLE is just what you need to get started. Also available en Français and en Español.

---

This is the only Zentangle book you'll ever need: the fabulous Zentangle PRIMER Vol 1. It's your CZT-in-a-book by the founders of Zentangle®. Visit the STORE tab on the top menu bar or click on the image. For more about the content and to read the rave reviews, visit the BOOK REVIEWS tab.
NEW! Now available in KINDLE format for $9.99. Spanish Edition here. Japanese Edition here.
"Absolutely the best Zentangle Book yet! As an accomplished artist I used to think I did not need instruction on this art form. How wrong I was! My tangling improved by leaps and bounds after reading this book. If you think you have Zentangle down then you need this book more than ever!" ~ Kris H

---

.oOo.