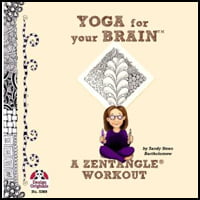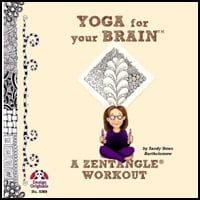 Sandy Steen Bartholomew's new book, Yoga for Your Brain: a Zentangle Workout
is now available!
OMG – let me just say that if you already have Totally Tangled
in your library you will definitely want to get Sandy's latest.
By my count there are 90 patterns in the book – and 76 of them are all brand new patterns and they're all by Sandy! The remaining patterns (14) are official patterns and others included in her two previous books, AlphaTangle
and Totally Tangled.
The book is the same physical dimensions as Totally Tangled
with 52 pages (including cover). It contains 24 chapters and an alphabetical tangle index at the end.
I am so excited about this book! It's jam-packed with extended tutorials on all the things you learned in Totally Tangled
and so much more. A few of the tips, projects and creative ideas included in the 24 chapters in Yoga for Your Brain include:
some variations of auras
tips for shading flat surfaces
tips on how to make tangles look "round"
shading with curves
how to look at pattern similarities and differences
an introduction on deconstructing patterns
how to combine patterns and their variations to come up with new patterns
lots of suggestions of easy exercises to get your creativity going
BrainTangling – using tangles with Zendala mind maps for creative problem-solving
transfer tips – and using transfers with your tangles
tangle patterns in journals
printmaking with your Zentangles
All this AND 76 brand new "Sandy Tangle Patterns"! It's a bargain – you'll thank me for encouraging you to get this one.
Please Note: This book is not geared to beginners. If you are a beginner, you should start with Totally Tangled
. Of course, you can always get both. 🙂 Or better still, support this site and get a copy of the instant download PDF, TanglePatterns BEGINNER'S GUIDE TO ZENTANGLE.
For Your Zentangle Library
Visit the BOOK REVIEWS tab at the top of the page for details on any of these Zentangle® books. If you do not have access to Amazon, you can also find these on the Book Depository website and they always ship free, worldwide! Simply click this image: