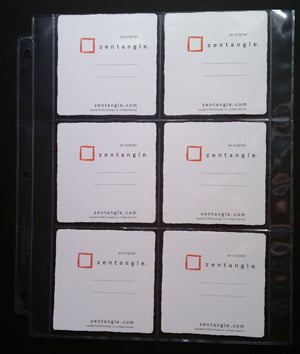 If you've been wondering how to preserve and store your collection of completed Zentangle® tiles, reader Angela Gamble from Hagerstown, Indiana, has found a solution that works for her and may just be the answer for you too.
Angela posted her find in the comments on "How to draw BOX SPIRALS", and I'm reposting them here for future reference. Photo courtesy of Angela.
* * *
"I too have been looking for a storage solution for my tiles. I'm so excited because I just found an online store that carries plastic storage sheets (they fit in a 3-ring binder) that fit 6 Zentangle tiles perfectly! I also have yet to read where everyone keeps/stores their completed Zentangles and when I came across this store with these storage sleeves, I was thrilled and called the owner immediately!!!
So here's the scoop: The online store is http://www.cropstop.com (out of Rhode Island) The owner has created a special web page within her online store just for these storage sleeves that hold the Zentangle tiles perfectly. The storage sleeves are sold: 5 sheets per package for $4.50, 10 sheets per package for $7.50, and 25 sheets per package for $14.00. Enter the word "zentangle" in the search engine on the upper right hand side of the home page and it will take you right to these storage sleeves.
When I spoke to the store owner I explained what Zentangle is, how we use the tiles, and how this particular storage sleeve she carries fits our tiles perfectly. Guess what? She agreed to give us Zentanglers 10% off our orders by using the code "zentangle" when checking out. How great is that!!! (And just so you know, I do not work for her, nor will I receive any compensation for however many of these she might sell. I just wanted to help out all the wonderful people who like me, love to create Zentangles, but just don't have a "place" to store all of our completed tiles.)"
How do you store your completed Zentangle tiles?
Please feel free share your storage ideas in the comments below so we can all benefit.