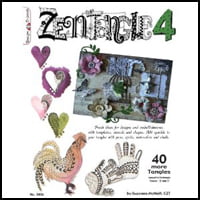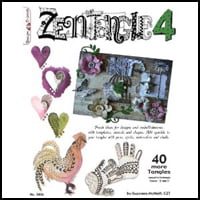 CZT® Suzanne McNeill's latest book Zentangle 4
is ready to inspire your creativity to new levels. Zentangle 4 contains "Fresh ideas for designs and embellishments with templates, stencils and shapes. Add sparkle to your tangles with pens, spritz, watercolors and chalk."
Zentangle 4
has 40 tangles with step-by-step instructions including Paradox and a "Shell Variation" so there are 38 fun new tangle patterns for you to learn. The book is the same size and format as the previous three titles (Zentangle Basics
, Zentangle 2
, Zentangle 3
), 20 pages including covers and measuring 8.5″ x 11″.
As with Suzanne's previous books, you can give this one as a gift to Zentangle newbies because the book begins with the basic instructions for getting started and suggestions for supplies and tips for shading.
If you are anything at all like me, you love browsing your local art supply store. And Zentangle 4
is the book to show you how to put into use many of those items that jump into your shopping basket.
Suzanne includes ideas for using stickers, templates of all types, stencils, while gel pens, glitter glue, watercolors and watercolor pencils, chalk, and metallic and gel pens. There a lots of illustrations and ideas for adding color to tangles, embellish scrapbook and art journal pages, collage on canvas, and creating greeting cards.
"Learn new ways to jazz up cards, scrapbook pages, art journals, and anything else you can lay your hands on. It's all fun so get inspired and tangle something! Learn to color with chalks, watercolors, pencils and pens; add bling with glitter, jewels, and sparkly inks."
Zentangle 4
is another worthy addition to your Zentangle library with its fun new tangles and fresh ideas to stretch your creativity.
For Your Zentangle Library
Visit the BOOK REVIEWS tab at the top of the page for details on any of these Zentangle® books. If you do not have access to Amazon, you can also find these on the Book Depository website and they always ship free, worldwide! Simply click this image: