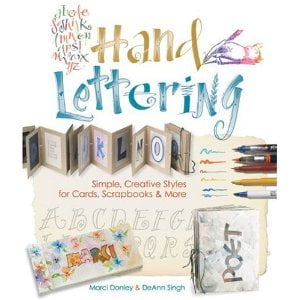 Hand Lettering: Simple, Creative Styles for Cards, Scrapbooks & More
was written by "career calligrapher" Marci Donley.
The art of calligraphy is a perfect marriage with the art of Zentangle®, and this 128-page publication from Lark Publications gets rave reviews, especially for novices.
"If you think creating beautiful and graceful calligraphy requires years of training and a closet full of fancy pens and exotic inks, think again!
Here, the authors explain how anyone can use simple tools and materials found in ordinary craft stores, as well as Q-tips, sponges, and other common items, to produce outstanding results.
They provide examples of a dozen alphabet styles, as well as many decorative details.
Color photography reveals more than merely the necessary brush and pen techniques—it also shows a vast range of ideas for using calligraphy in new and surprising ways."
One of the 5-star-rewarding reviewers writes: "This is a particularly wonderful book. I am a novice calligrapher and have been practicing italic handwriting for several years. Once I started using this book, I am writing many different kinds of alphabets, all useful in my card making hobby. The authors are excellent teachers (I wish I could take classes from them), and their instructions are easy to follow. This is the best calligraphy book I have ever seen, and I have bought it as a gift for others."
Add Your Review
If you own this book, please feel free to add your review to this page!