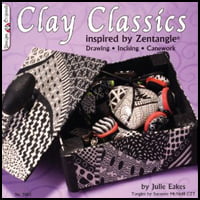 Clay Classics Inspired by Zentangle
"merges the design possibilities of Zentangle with the artistic expression of polymer clay. … Whether you are new to polymer clay or are an old hand with the medium, Julie Eakes shows you how to create exciting works of art and jewelry," writes CZT and Design Originals publisher Suzanne McNeill in her introduction.
Personally I have never worked with with polymer clay but with this fascinating guide, award-winning polymer clay artist Julie Eakes makes me want to jump right in.
Julie covers everything you need to know even if you've never created with this medium before. In the chapter "Using Polymer Clay" she goes over basic tools and supplies required, and explains the various brands of clay available and what each is best suited for. She describes how to condition the clay and how to bake it. There are many photos covering steps and additional tips.
In the "Cane-Making Basics" section, Julie demonstrates various basic procedures for stacking clay, making a butt joint wrap, reducing cylinders and square canes, and tips for avoiding and getting rid of air bubbles.
Clay Classics Inspired by Zentangle
illustrates how to make 11 different polymer clay canes which can be used in other projects in the book. The canes include dots, stripes, squiggles, spirals, triangles – starting to sound like tangle pattern shapes, right??
Projects in the book include a heart pendant, two very different bracelets, a pair of etched earrings, a carved pin, a mirror frame, several types of beautiful beads, a decorated sheet (of clay), and a trinket box.
The 14 tangles in the book include 7 official tangles, and 7 from Suzanne's previous books, as well as the basic instructions for getting started with Zentangle.
Clay Classics
is generously illustrated with photos showing stages of each project and lots of tips from an experienced polymer clay artist to guide you.
Its physical format is the same size as Sandy Bartholomew's Totally Tangled
, and Yoga for Your Brain
, (8.5″ x 8.5″) fitting together nicely on your bookshelf. Clay Classics
is 52 pages including covers.
Polymer clay offers another way to express your creativity and combine it with your passion for Zentangle®. I think you'll love this book as much as I do!