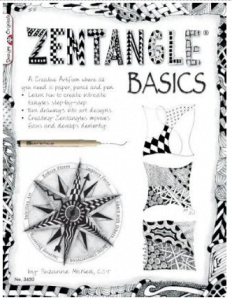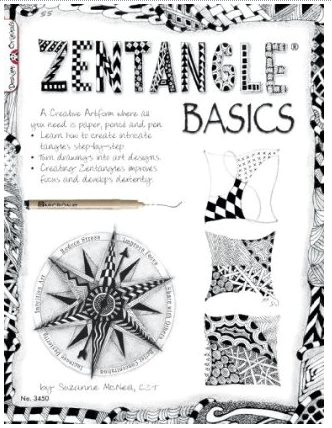 CZT® Suzanne McNeill's first Zentangle® book, Zentangle Basics
, is particularly geared for educators and their students.
In this handbook, Suzanne gives educators tips for getting children and teens started and recommends cardstock and specific pens in sizes other than those used in traditional Zentangles®. The 25 patterns demonstrated with step-by-step drawings include 8 of the "official" Zentangle® patterns. The rest are Suzanne's own creations.
The book is 20 pages including covers and measures 8.5″ x 11″. Every page is fully illustrated with tips showing "how to relate Zentangle to learn spelling, math, social studies, geometry and art."
Zentangle Basics
is ideal for educators wanting to do something different to help their students learn. Suzanne gives creative ideas on various ways to use Zentangles, for example using the outlines of the states as the strings to help "students memorize the shape and position of states on the map."
Suzanne has posted several of the tangle patterns from Zentangle Basics
on her website, but for $9 educators can get a great handbook full of tips to get their students started with Zentangles, ideas for tangling on different media, sources of inspiration, and step-by-step instructions in one handy booklet they will refer to again and again.
For Your Zentangle Library
Visit the BOOK REVIEWS tab at the top of the page for details on any of these Zentangle® books. If you do not have access to Amazon, you can also find these on the Book Depository website and they always ship free, worldwide! Simply click this image: