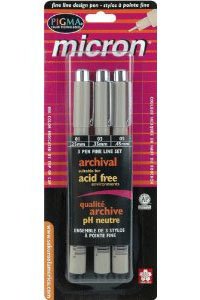 Sakura Micron Pens are the "gold standard" of pens for Zentangles and the #01 (0.25 mm) is the size not only recommended by Zentangle® originator Maria Thomas, it's included in the official kit.
Sakura Micron drawing and writing pens have "waterproof, quick-drying pigment ink. Micron pens will not clog or dry out. Ink will not feather or bleed through even the thinnest papers and is smear-proof once dry. The pigment in the ink remains colorful and will not spread when applied. It is fade proof against sunlight or UV light, and is permanent and washable on cotton fabrics."
The ink is archival, dries pretty much instantly, and the blacks are intense. Treated well, these pens do last a very long time and are well worth getting.
Tips to prolong the life of your pens: the ink dries quickly (solid areas do take a little longer) so you will want to keep these pens capped at all times even when you're just switching sizes or colors. Sakura also recommends storing them flat for best performance and longevity.

Update: Here's an excellent communication from Sakura with information on how the Microns were developed, advice on how to hold them and the amount of pressure to use, and more. Be sure to check out the comments at the end of the article for additional good tips from our community.
01 Single Pens
You can buy the #01's in singles, or get the multi packs containing a range of nib sizes, including the #01.
Black Single Sakura Micron 01 (0.25 mm) Pen > Pigma Micron Pen .25mm: Black
Red Single Sakura Micron 01 (0.25 mm) Pen (useful for drawing pattern steps) > Pigma Micron Pen .25mm: Red
3-Pack
The rest of the sizes do come in handy, the bigger nibs are especially great for making short work of larger solid fill areas.
Black: contains 1 each: #01 (0.25 millimeter), #03 (0.35 millimeter), and #05 (0.45 millimeter) > Sakura Pigma Micron Pen Set, 3-Pack, Black Ink
6-Pack
Contains 1 each: #005 (0.20 mm), #01 (0.25 mm), #02 (0.30 mm), #03 (0.35 mm), #05 (0.45 mm), and #08 (0.50 mm) > Sakura Pigma Micron Pen Set, 6-Pack, Black Ink
Sepia
Microns also come in Sepia – some like to combine sepia with black in their drawings or use it on its own. (Update: See CZT Jan Brandt's comment below about the Sepia color, you might prefer Sakura's Brown.)
Sepia Single Sakura Micron 01 (0.25 mm) Pen > Sakura Pigma Micron Pen .25mm: Sepia
Visit more TIPS & TOOLS pages
Check out the other pages under TIPS & TOOLS at the top of the page. There are recommendations if you want to add colored ink to your Zentangle-inspired art, or watercolor, as well as ideas for strings, and much more to come.
And if you have information to share on pens you enjoy using with your Zentangles, or more tips on their use, please leave a comment or email me (linda AT tanglepatterns DOT com] and let me know so I can add them to this resource for everyone's enjoyment. Thanks!