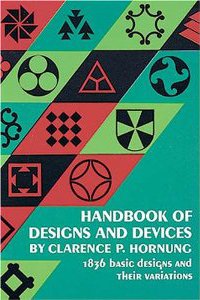 If you're intrigued by patterns, ornament and design and their variations, Clarence P. Hornung's Handbook of Designs and Devices
, "by one of America's foremost industrial and graphic designers" is a wonderful reference to have on your bookshelf.
Though originally published in 1932 by Harper Brothers, it has been revised and updated since and its contents are still contemporary. There isn't a great deal of text apart from the Introduction and the "Notes on Plates". Though you may find the writing style a bit old fashioned, I find it charming and more importantly, very informative.
The chapters are well organized and are primarily pages ("plates") of images (1,836 "figures") showing basic forms and their variants. Quoting extensively from the back cover because it details the contents of the book well:
"Representing the results of many years of patient, scholarly study by the author, along with much practical experience in using this material, the book provides large, clear reproductions of the most diverse and usable variations and combinations of such basic forms as:
The Circle (crescent, sector, segment, ring, trefoil, quatrefoil)
The Line and Band (wavy, zigzag, plaid, lattice)
The Triangle (triangular variants, the arrow head, chevron, triquetra, trisklion)
The Square (the rectangle, checker combinations, rectangular interlacements, the diamond, rhombic variants)
The Cross and Its Many Variants
The Pentagon, Hexagon and Octagon (six-pointed star, Solomon's Seal, the snow crystal)
The Scroll (spiral scroll, wave scroll, the curvilinear motif, the monad, triad, loop)
The Fret and Rectangular Motif [Note: I've previously quoted from this book about the fret, here.]
The Shield
To achieve a successful presentation of the most valuable geometric forms in the common store of decorative design, the author has drawn upon ancient Egyptian, Grecian, Roman, Arabian and Japanese as well as upon the most successful of modern motifs."
The Handbook is a soft-cover book containing 261 pages and it about 8 x 5.5  inches. As a reviewer writes, "I often use it when I go out for a café, and scribble all kinds of designs while sipping my coffee. The book really stimulates the mind, geometrically. And the black/white neat presentation makes it just right. In fact, it is perfect for the purpose of taking along to really *use* and work through, – while you keep all those shiny, glossy grand reference books at home on the bookshelf."
If you are a student of design or simply wish to have a handy resource of ideas to enhance your Zentangle creativity, I highly recommend Clarence Hornung's Handbook of Designs and Devices
.