Official Zentangle® Kit – Out of Stock
The Official Kit contains a complete DVD tutorial and all the supplies you need to get started properly and they're packaged in a beautiful portable green gift box that fits like a book on a shelf. It's a workshop in a box!
For just $49 (plus shipping, see below), it is a priceless gift to give yourself and anyone you love. Here's what's in it: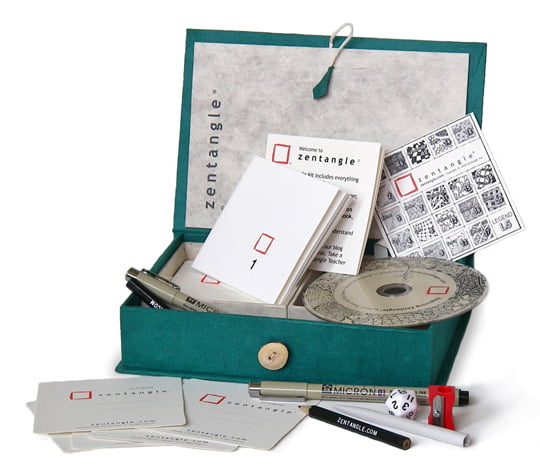 Instruction DVD and companion "Beginning Zentangle" booklet (more details below)
2 Sakura Micron 01 pens of permanent, waterproof pigment ink – a joy to use!
2 soft-leaded Zentangle-branded pencils and a high quality sharpener
34 tiles – so-called because they can be put together in a larger mosaic. These tiles are mould-made, acid-free, 100% cotton, heavy-weight fine artists' archival print-making paper with a beautiful vellum surface. This is the most responsive drawing surface for your Zentangle art, and the completed tiles make your creations frame-worthy.
a tile-sized card called a Zentangle Legend™ with 20 numbered and named Tangles and instructions on the back
an icosahedron – a 20-sided die. If you're stumped about what pattern to do next, or if you want to do a new pattern, just roll your icosahedron and do whatever pattern corresponds.
Here is what Zentangle founders Rick Roberts and and Maria Thomas have to say about the Kit:
"When we designed our Zentangle Kit, a main guideline was to use quality materials. Whenever you create something, we believe it is important to use the best materials possible – out of respect for yourself and out of respect for what you are creating. Using fine materials and tools, and caring for them, can raise your level of focus and inspiration and inspires even greater creativity in ways that you might not even imagine."
In my opinion, the most valuable item is the Tutorial on DVD – this alone is worth the cost of the Kit. You will watch Maria in action and play along with her as she takes you through drawing your first Zentangle accompanied by the soft, soothing meditative sounds of Rick's flute music.
The kit's DVD is almost 29 minutes long and is without audio except for Rick's soothing flute music as background to Maria's drawing. It begins with Maria demonstrating the simple steps to the Zentangle ceremony and then creating 3 completely different Zentangle tiles as you learn how to draw 18 tangles – quite a few of which are not published online so this is the only place to see them. She shades each tile when complete. A few of the drawing segments have fast forward bits once you get the idea of how to draw a particular tangle. Each tangle is identified by screen titles as Maria begins to draw them.
The Beginning Zentangle booklet included in the Kit contains "instructions and diagrams to let you create a Zentangle and intentionally cultivate a state of mind." It also contains 18 suggestions of strings to get you started, how-to instructions for 8 official tangles, examples of shading, and images of 16 more official tangles for you to use.
If you love Zentangle, you must have an Official Kit.
A new and improved box
May 2012 – The box containing the Official Zentangle Kit has been updated replacing the button and tie closure pictured above with a secure magnetic flap closure, and a fastener holding the DVD conveniently inside the lid. New and improved!