NEW 2021 Official Zentangle® Kits – Classic or Expanded
The Official Zentangle Kit has been revised and updated as of July 2021 and is now offered in two versions – Classic or Expanded. (The original Kit is no longer available.)
To order the Official Zentangle Kit, visit zentangle.com
Classic Zentangle Kit
This custom designed Zentangle Kit box is a revised version of the Original Zentangle Kit introduced in 2005. This updated Zentangle Kit includes all the materials needed to create art using the Zentangle Method. The new elegant design is larger with a seamless magnetic closer.
In your Zentangle Kit you will find an updated booklet complete with beginner information about the Zentangle philosophy and instructions to get started. You will also find links to video tutorials and additional online resources.
This special box is the perfect storage space for keeping your Zentangle tiles and tools and was especially designed to allow room for a growing practice.
Whenever you create something, we believe it is important to use the best materials possible – out of respect for yourself and out of respect for what you are creating. The Zentangle Kit is the perfect gift for those that are brand new to Zentangle and for those that have been tangling for years.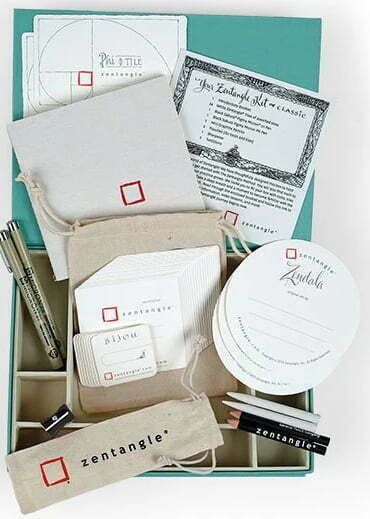 The Classic Kit includes:
1 – Instructional Booklet
34 – White Zentangle Tiles of assorted sizes
2 – Zentangle Pouches (for tools and tiles)
1 – Black Sakura Pigma Micron 01 Pen
1 – Black Sakura Pigma Micron PN Pen
2 – Mini Zentangle Graphite Pencils & Sharpener
2 – Tortillions
Expanded Zentangle Kit
If you are looking for a Zentangle Kit with a little more depth, this expanded version includes materials to log and choose tangles plus more tools and tiles for working on toned papers and exploring fun ways to develop your Zentangle practice.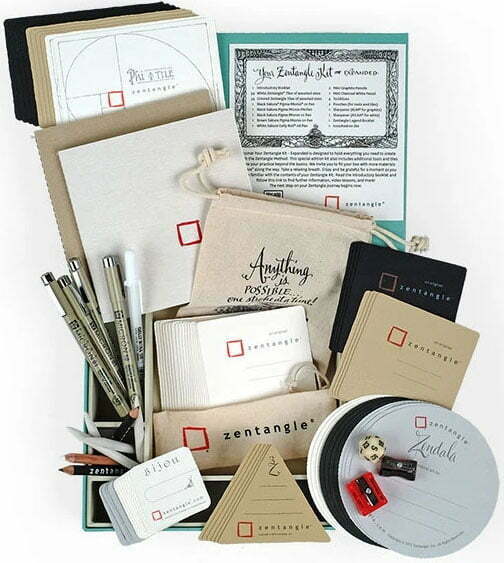 The Expanded Kit Includes:
1 – Instructional Booklet
1 – Zentangle Legend Booklet and Icosohedron Die
34 – White Zentangle Tiles of assorted sizes
34 – Black, Gray and Tan Zentangle Tiles of assorted sizes
2 – Zentangle Pouches (for tools and tiles)
1 – Black Sakura Pigma Micron 01 Pen
1 – Black Sakura Pigma Micron PN Pen
1 – Brown Sakura Pigma Micron 01 Pen
1 – White Sakura Gelly Roll® 08 Pen
1 – Black Sakura Pigma Micron 10 Pen
2 – Mini Zentangle Graphite Pencils & Sharpener
1 – Mini Zentangle Charcoal White Pencil & Sharpener
4 – Tortillions