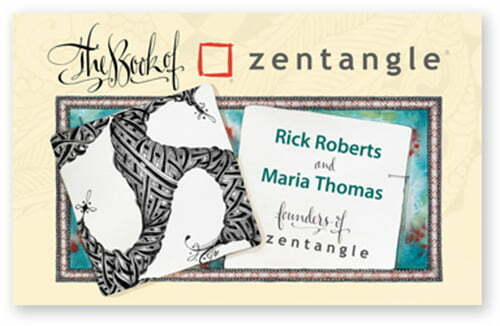 UPDATE JANUARY 2018: This book is no longer available in hard cover. It is now reprinted in paperback format.
The beautiful new coffee-table book, The Book of Zentangle®, created by founders Rick Roberts and Maria Thomas is now available and you can order it here.
Rick and Maria have been working on this project from their hearts for many years and at long last their self-published masterpiece is ready to be treasured by all.
The Book of Zentangle® will not be available on Amazon or in large bookstores. It is only available from CZTs (like me!) and from Zentangle. Rick and Maria introduced The Book of Zentangle at CZT10.
This wonderful behind-the-scenes look at Zentangle includes the story of its origins, a description of the tools and the method, a discussion of the practice of Zentangle with exercises and projects, and fascinating stories and comments from Rick and Maria themselves. More than that, of course, it is filled with pages and pages of wonderful artwork for us all to be inspired by and aspire to.
From their introduction, "A guidebook to Paris isn't Paris; but when you visit Paris, you'll enjoy it more with a good guidebook. This is a guidebook to Zentangle. It can help you awaken your ability, nourish your awareness, and find your way to a joy that has been there with you all along."
The Book of Zentangle® is a high quality paperback coffee-table type book. It is 146 pages in a 6 x 9.5 inch horizontal format.
For those who have been asking, The Book of Zentangle does not contain pattern how-tos with the exception of examples of steps for Rick's Paradox and Cadent. See the BOOK REVIEWS tab for more detail on the book content.
List price for the PAPERBACK book is $19.95. Here are the costs including shipping for a single copy of the book:
USA – $19.95 plus $12 shipping by USPS Priority Mail = $31.95
Canada – $19.95 plus $20 shipping by USPS First Class Mail = $39.95
All other Countries – $19.95 plus $28 shipping by USPS First Class Air = $47.95
Place your order now
US orders are shipped by USPS Priority Mail; Canada and International orders are shipped by USPS First Class Air. Mail orders are also accepted, please visit the ordering page below for prices including shipping and mailing details. Book sales are final.
 From the front inside dust jacket
"Rick and Maria are good company as they take you on a creative journey to a place of peace, empowerment, and unlimited potential through this introduction to Zentangle.
Novices and artists alike will be drawn to this easy art form and appreciate the effectiveness of Zentangle's mindfulness process.
Zentangle nurtures the soul and encourages life enhancing outcomes. It is a pastime, a life skill, and a simple metaphor for life in a complex and busy world.
If you can't sit on a pillow and meditate but you can hold a pen, Zentangle is the process of relaxation for you. This book is the perfect starting point to learn this relaxing method of creating beautiful artwork or to expand on what you already know.
Whether for fun, focus, meditation, or therapy, this art form has something for everyone. I tangle myself, teach it to my clients, and tangle with my family and friends."
Meredith L. Yuhas, Ph.D., LPC, NCC
Director, Counseling & Wellness Center
University of Saint Joseph
Licensed Professional Counselor and Certified Zentangle Teacher
Thanks for supporting TanglePatterns with your order!