Hi there and happy Friday everyone!
This pretty Gelis tangle is from Spanish CZT Encarna Rodríguez who shared her Naatoni with us last year.
Encarna explains her tangle's name and its family of DNA,
I have named it Gelis, as I dedicate it to my brother Eugenio. It is a diminutive of his name that my aunts invented when he was a little boy. It has no meaning, nor is it common in Spain. In fact, I don't know anyone with that name… I just like the sound of it and it reminds me of my childhood. It makes me laugh when nowadays some cousins still call it that way.
Gelis is a tangle that starts just like Da'deal, 4 Corners, Vercut, Flourish …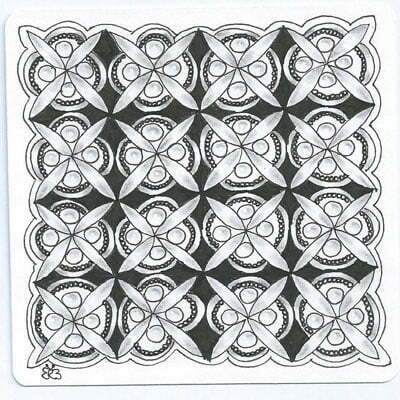 We can make the curves first in one direction and then in the other until we have all the complete blades (I call them so). They remind me of the blades of a ceiling fan. Although we can also draw the complete tangle individually.
Then I draw an orb between each of the two blades and above trying to leave enough space an arc and a narrow aura. The arc would start more or less in the middle of the blade and go to the middle of the other blade. It can be filled in or not, but in the case of filling it in I like to leave a sparkle in the middle. This step reminds me a lot of Gloria Barocio's Akebia tangle (which I love).

Finally on the inside of the arc I draw a row of small orbs. I find this last step very relaxing and meditative since there is nothing to think about, just covering all the arcs with little orbs. It certainly develops a lot of patience and is not to be rushed.
Both the orbs and the arc can be shaded leaving a gloss or filled with black… It depends on the intensity you want to give to your tile.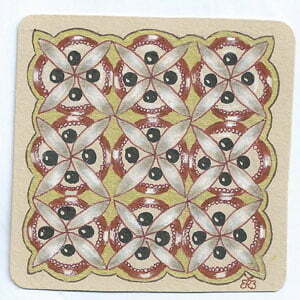 I worked with Gelis on a dot grid and it comes together easily that way. Even if your grid is a little off kilter or even if you intend it to be warped and wonky, it turns out just fine.
To create a dot grid I usually start at the top center of the section with my first dot, and then the outside edges right and left. Then visually divide the space between those in half for your next dots, and keep subdividing in that way. Once you have the first line of dots established, place similar dots vertically (turn your tile if it helps) and then use the dots you have in place as guides to fill in the rest of the section.
When making your dots, as I noted in my How to draw three types of grids for your Zentangles article (with free download),
make them small, like a stipple dot. … just touch your pen tip lightly to the paper to place the dots. (Unless you want dots/orbs/pearls/beads to be prominent in your grid/tangle and that looks pretty cool too.)
Encarna makes use of the Zentangle enhancement called sparkle on the Gellis arcs (Step 3) but for my example I filled them in completely as she suggests as an option for "intensity".
Encarna illustrates the step-by-step instructions for drawing Gelis below where her duotangle includes Gelis as a frame with the Zentangle-original Flux in a circular pattern in the center and auras around both Flux and the frame.
As you enjoy any of the tangles on the site, please leave a comment of thanks and encouragement to show the artists you appreciate them for sharing their creativity to inspire yours. Your thanks helps motivate them to continue to share! And please share a link to your favorite tangles on social media. Thanks!
Check out the tag encarnar for more of Encarna's tangles on TanglePatterns.com.
Related Links
Looking for tangles by Artist or Type? For details visit the ABOUT > HOW TO FIND TANGLES BY ARTIST OR TYPE page on the top menu bar of any page on the site.
What is a Zentangle? — if you are new to the Zentangle Method, start here for the fundamentals.
Zentangle terminology — a glossary of terms used in this art form.
Linda's List of Zentangle-Original Patterns — here is the complete list of original tangles (aka "official tangles") created and introduced by founders Rick Roberts and Maria Thomas, including those not published online. If you are new to the Zentangle Method I highly recommend learning a few of the published Zentangle classics first.
"A Zentangle has no up or down and is not a picture of something, so you have no worries about whether you can draw a hand, or a duck. You always succeed in creating a Zentangle." Thus patterns that are drawings of a recognizable naturalistic or actual object, figure, or scene, are not tangles. A pattern is not always a tangle — here's what makes a tangle. TIP: tangles never start with pencil planning.
For lots of great FREE tutorials on TanglePatterns, click on the TUTORIALS link in the pink alphabetic menu bar below the tangle images at the top of any page.
Strings! Have we got STRINGS! Click on the STRINGS link in the pink alphabetic menu bar below the tangle images at the top of any page for 250 different (free) Zentangle-starters. More than enough for any lifetime!
Never miss a tangle! FREE eMAIL NEWSLETTER - visit the SUBSCRIBE page on the top menu bar of any page on the site and sign up to get notices delivered free to your inbox.
.oOo.

Enhance your Zentangle experience while supporting TanglePatterns:

BRAND NEW!

TanglePatterns.com TANGLE GUIDE, 2023 Edition

The 12th Edition of the TanglePatterns.com TANGLE GUIDE is an instant-download 103-page (50 MB) interactive digital eBook/PDF containing almost 1,900 tangles on the site from May 2010 through December 31, 2022. It's a great resource and a must-have digital tool for using the site. Visit the STORE > E-BOOKS page and help keep TanglePatterns.com online by getting your copy now!

"Linda, Thank you! I was relying on too few and getting stuck after 3 years of daily working with Zentangle. This has inspired me to 'begin again' with renewed excitement." ~ Barbara R.

See the BOOK REVIEWS page for more details on its features and view a sample page. Note: this is a digital product you download immediately when you place your order, nothing will be physically mailed to you.
GIFT ORDERS FOR ANOTHER PERSON: To give the TANGLE GUIDE as a gift, visit this page to place your gift order.
If you're new to Zentangle® and tangling, my TanglePatterns.com BEGINNER'S GUIDE TO ZENTANGLE is just what you need to get started. Also available en Français and en Español.

---

This is the only Zentangle book you'll ever need: the fabulous Zentangle PRIMER Vol 1. It's your CZT-in-a-book by the founders of Zentangle®. Visit the STORE tab on the top menu bar or click on the image. For more about the content and to read the rave reviews, visit the BOOK REVIEWS tab.
NEW! Now available in KINDLE format for $9.99. Spanish Edition here. Japanese Edition here.
"Absolutely the best Zentangle Book yet! As an accomplished artist I used to think I did not need instruction on this art form. How wrong I was! My tangling improved by leaps and bounds after reading this book. If you think you have Zentangle down then you need this book more than ever!" ~ Kris H

---

.oOo.