Grab a coffee for today's adventure … 🙂
Today's news from The New York Times is that the northeast seaboard of the USA is bracing for a " 'potentially crippling winter storm' that could dump two feet or more of snow on the mid-Atlantic region beginning Friday afternoon … millions of people along the East Coast are bracing for a weekend of travel disruptions and possible power losses. "
And from Fort Lauderdale's Sun-Sentinel, "The blizzard menacing the Eastern United States could rank near the top 10 to ever hit the region, according to the National Weather Service."
Oh boy. This satellite imagery of the storm was taken yesterday as the storm moves to the east.
Looks like a great time to be in Mexico.
While exploring around the NASA site I couldn't help but notice this headline about the Solar Dynamic Observatory's recent images of magnetically active regions on the sun, "NASA's SDO Sees Tangled Connections" !!  If you click the image below you can watch a wonderful video from which this still image was taken to "see how the magnetic field lines are constantly connecting, breaking apart, and reconnecting among the several active regions – a robust illustration of how our dynamic sun is constantly on the move."
A nice warm contrast to the photo above, and indeed stunningly beautiful tangled images of our Sun.
While we don't wish troubles on anyone this does sound like the perfect time to cozy up in some warm comfy clothes with a hot beverage, get out the Zentangle® supplies and tangle any worries away.
With this in mind I thought today would be a perfect time to revisit the Zentangle-related advice of Tangle Refresher 84 …
"In the Zentangle® Method we often refer to the phrase "Anything is possible, one stroke at a time.™"
Through the Zentangle Method many people who thought "I'm not an artist," are surprised, delighted and sometimes overwhelmed to discover they are, "One stroke at a time."
This singular focus on each stroke is part of the deliberate process of the Zentangle Method of mindfully creating unplanned, abstract art. Mindfully … creating … unplanned … abstract … art.
In their classes CZTs will frequently encourage you to draw each and every stroke deliberately, taking time to savor and appreciate each delicate line of ink on the tile. Slowing down and focusing on each stroke is part of the "process" in the artistic meditation aspects of the Zentangle art form.
Among its many pleasurable benefits, there is another very good reason for slowing down as you draw.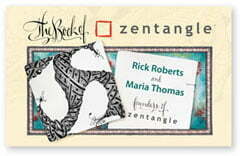 In The Book of Zentangle, Rick and Maria write: "Give yourself more time to draw each stroke. The fine motor skills you use for typing or texting are different from the ones you use to draw. Let your muscles get used to drawing."
In the relentless (dare I say mindless?) rush of our electronic world, it seems we need to be reminded to give ourselves time. Time to disconnect. To be still. To be quiet. To enjoy solitude. To be deliberate in our thoughts and actions. To be deliberate one stroke at a time.
And to be ever so grateful for this wonderful journey."
Stay safe, my friends.
* * *
The Tangle Refresher series, aka Buried Treasure, spotlights hidden tangle gems from the past. It can remind you of tangles you might not have used for a while or introduce you to some you haven't come across yet.
Here are five more tangle pattern gems and a Tangle Refresher from a year (or two) ago for your tangling pleasure. Remember to check out the "More Good Stuff" links below too.
BTW as you enjoy these tangles please do leave a comment of thanks and encouragement to show the artists you appreciate them for sharing their creativity for you to enjoy. And please share a link to your favorite tangles with your followers on all your social media.
Zenful tangling!
More good stuff …
.oOo.

Enhance your Zentangle experience while supporting TanglePatterns:

BRAND NEW!

TanglePatterns.com TANGLE GUIDE, 2023 Edition

The 12th Edition of the TanglePatterns.com TANGLE GUIDE is an instant-download 103-page (50 MB) interactive digital eBook/PDF containing almost 1,900 tangles on the site from May 2010 through December 31, 2022. It's a great resource and a must-have digital tool for using the site. Visit the STORE > E-BOOKS page and help keep TanglePatterns.com online by getting your copy now!

"Linda, Thank you! I was relying on too few and getting stuck after 3 years of daily working with Zentangle. This has inspired me to 'begin again' with renewed excitement." ~ Barbara R.

See the BOOK REVIEWS page for more details on its features and view a sample page. Note: this is a digital product you download immediately when you place your order, nothing will be physically mailed to you.
GIFT ORDERS FOR ANOTHER PERSON: To give the TANGLE GUIDE as a gift, visit this page to place your gift order.
If you're new to Zentangle® and tangling, my TanglePatterns.com BEGINNER'S GUIDE TO ZENTANGLE is just what you need to get started. Also available en Français and en Español.

---

This is the only Zentangle book you'll ever need: the fabulous Zentangle PRIMER Vol 1. It's your CZT-in-a-book by the founders of Zentangle®. Visit the STORE tab on the top menu bar or click on the image. For more about the content and to read the rave reviews, visit the BOOK REVIEWS tab.
NEW! Now available in KINDLE format for $9.99. Spanish Edition here. Japanese Edition here.
"Absolutely the best Zentangle Book yet! As an accomplished artist I used to think I did not need instruction on this art form. How wrong I was! My tangling improved by leaps and bounds after reading this book. If you think you have Zentangle down then you need this book more than ever!" ~ Kris H

---

.oOo.