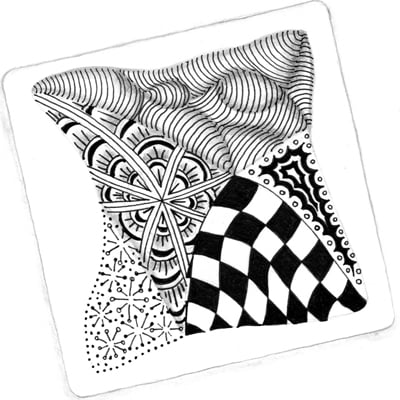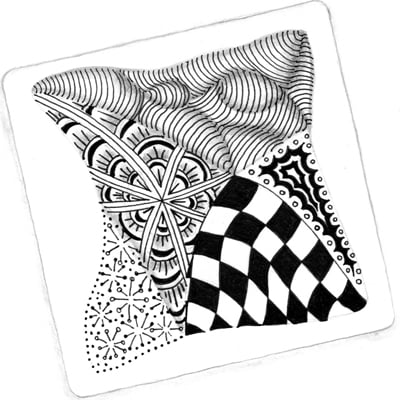 Recently CZT® Laura Harms started a fun weekly Zentangle® challenge and it's open to everyone to participate. To date these are the topics she's posted:
Here's my own challenge for you: tangle your name.
First pencil a border and a string on your tile. Preferably using the Zentangle® tile format of 3.5″ x 3.5″ (9 cm x 9 cm) square – I traced an actual tile into my sketchbook. Make sure to divide it so you have the same number of enclosed sections as there are letters in your name. I needed 5 sections in my tile for my first name.
Then, using "official" patterns only for this challenge (click on the tag "zentangle" in the left sidebar), fill each section with a pattern whose initial letter begins with the letters of your name.
I used:
L = Lace (with a little embellishment – no instructions online, I used Sandy Bartholomew's AlphaTangle for my guide) (UPDATE – this is one of Sandy Bartholomew's tangles, it is not an official tangle)
I = Isochor (no instructions online, ditto re AlphaTangle and without the little black pearls)
N = Nightsbridge (which I later learn is correctly spelled Knightsbridge. I used the Legend in my Official Kit as my reference but it was incorrectly spelled on the Legend.)
D = Drupe, and
A = Ahh
This is one you can do over and over again, choosing different patterns and strings each time.
There are all kinds of possibilities with this concept because you can tangle any inspirational word you like … hmmm, think I'll start with LOVE. And of course you can choose any tangle pattern you like, not only the official ones.
Now that I've finished my own challenge, I'm off to tackle Weeks 1-4.
Related Links
Enhance your Zentangle experience ...

Over 1,000 tangles! TanglePatterns.com TANGLE GUIDE, 2017 Edition

The newest Edition of my TanglePatterns.com TANGLE GUIDE. This instant-download 54-page digital eBook contains all the tangles on the site from May 2010 through December 31, 2016. With over 1,000 tangles, it's a must-have tool for using the site.
Visit the BOOK REVIEWS page for more details on its features and to view a sample page.
Visit the STORE > E-BOOKS page for more information and support TanglePatterns.com by getting your copy now!
GIFT ORDERS: To give the TANGLE GUIDE as a gift, visit this page to place your gift order.
If you're new to Zentangle® and tangling, my TanglePatterns.com BEGINNER'S GUIDE TO ZENTANGLE is just what you need to get started. Also available en Français and en Español.

---

Remember you can get your official Zentangle supplies here too, including the fabulous new Zentangle PRIMER Vol 1. It's your CZT-in-a-book by the founders of Zentangle®! Visit the STORE tab on the top menu bar or click on the image. For more about the content and to read the rave reviews, visit the BOOK REVIEWS tab.
"Absolutely the best Zentangle Book yet! As an accomplished artist I used to think I did not need instruction on this art form. How wrong I was! My tangling improved by leaps and bounds after reading this book. If you think you have Zentangle down then you need this book more than ever!" ~ Kris H

---

Another great jump-starter for new tanglers is the original Official Zentangle Kit. The Kit includes all the supplies you'll need to get started properly: Sakura Micron Pens, Zentangle Tiles, pencil, sharpener, tortillion, a booklet and an instructional DVD by co-founder Maria Thomas. Click on the image for more information about the Kit and its contents.
---
You might also like: