A very warm welcome to all the new tanglers joining us as a result of your fabulously addictive Christmas gift of Zentangle®. Whether you were introduced by a friend, though a Zentangle book, or received a gift of the Official Zentangle Kit, we invite you to introduce yourself and say "Hi" in the comments.
This series of occasional Tangle Refreshers, aka Buried Treasure, is all about highlighting hidden tangle gems from the past. It can remind you of patterns you haven't used for a while or introduce you to tangles you might not have learned yet.
This week I thought I'd do something a little different and use the Refresher's tangles in the same Zentangle. As it turned out, three of the five tangles were border patterns. When I finished drawing those along my string, the tile seemed to tell me to stop right there. So instead of all five tangles, here is what I ended up with.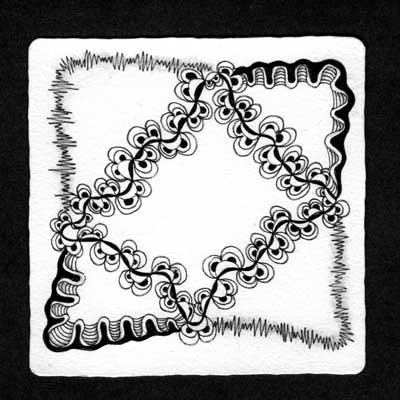 For me, simple is good.
Different strings produce different results, so I'm curious to see what you might come up with using all five tangles. If you post your creation online, you are invited to share with us by leaving a link in the comments.
Here's what was new in the Zentangle® world a year (and sometimes longer) ago – five tangle pattern gems for your tangling pleasure.
More good stuff …
Related Links: