The lovely new tangle Fife, named for the Flower of Life sacred geometry symbol, was created by Maria's daughter CZT® Molly Hollibaugh. As Molly is an integral part of the Zentangle® family I've included this pattern in our list of Zentangle®-original tangles.
"It's a little bit like bales. It's reminiscent of tripoli. It uses hollibaugh's principle of 'drawing behind'," writes Rick in the Zentangle newsletter.
Fife looks intricate but consistent with the abstract Zen of Zentangle and true tangle patterns, it is simply one repeated stroke.
I really like this one and I discovered if you don't feel like doing it in rice-shapes, it's possible to draw the whole tangle using the same )-shaped curve while turning your tile. I found I got more consistent shapes doing it that way. There are all kinds of possibilities for variations on Fife.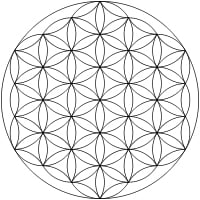 Maria illustrates the steps for drawing Molly's tangle and includes two beautiful Zentangle tiles exploring Fife here. There you'll also find a variation using offset rows which relates to how the pattern got its name. Here's a look at the Flower of Life, courtesy of Wikipedia.
For several beautiful Zentangle tiles Molly created while exploring variations on her new tangle, visit the blog here.
.oOo.
Update 02/18/2016: In this 14-minute video courtesy of Sakura of America, CZT Molly Hollibaugh demonstrates how to draw Fife on Renaissance Tan tiles and gives some excellent tips on using these great tiles.
You can find the Sakura Micron pens here on Amazon:
.oOo.
UPDATE March 4, 2020 – Project Pack #8. As part of the Dancing in the Moonlight project pack, with Rick keeping her company, Maria tangles Well, Mooka, Tripoli, a "Kite on a String" motif, Printemps, Gourdgeous, and Fife on several different black prestrung Zendala tiles:
.oOo.
UPDATE December 15, 2020 – Project Pack #12. As part of the 12 Days of Zentangle, 2020 Zentangle Renaissance project pack, Maria tangles Fife on a square Renaissance tan tile.
.oOo.
Check out the tag mollyh for more of Molly's tangles on TanglePatterns.com.
Related Links
Looking for tangles by Artist or Type? For details visit the ABOUT > HOW TO FIND TANGLES BY ARTIST OR TYPE page on the top menu bar of any page on the site.
What is a Zentangle? — if you are new to the Zentangle Method, start here for the fundamentals
Zentangle terminology — a glossary of terms used in this art form
Linda's List of Zentangle-Original Patterns — here is the complete list of original tangles (aka "official tangles") created and introduced by founders Rick Roberts and Maria Thomas, including those not published online. If you are new to the Zentangle Method I highly recommend learning a few of the published Zentangle classics first.
A pattern is not always a tangle — here's what makes a tangle. TIP: a tangle NEVER starts with pencil planning.
For lots of great FREE tutorials on TanglePatterns, click on the TUTORIALS link in the pink alphabetic menu bar below the tangle images at the top of any page
Strings! Have we got STRINGS! Click on the STRINGS link in the pink alphabetic menu bar below the tangle images at the top of any page for 250 different (free) Zentangle-starters. More than enough for any lifetime!
.oOo.

Enhance your Zentangle experience while supporting TanglePatterns:

BRAND NEW!! TanglePatterns.com TANGLE GUIDE, 2022 Edition

The 11th Edition of the TanglePatterns.com TANGLE GUIDE is an instant-download 96-page interactive digital eBook/PDF containing more than 1,700 tangles on the site from May 2010 through December 31, 2021. It's a great resource and a must-have digital tool for using the site. Visit the STORE > E-BOOKS page and help keep TanglePatterns.com online by getting your copy now!

"Linda, Thank you! I was relying on too few and getting stuck after 3 years of daily working with Zentangle. This has inspired me to 'begin again' with renewed excitement." ~ Barbara R.

See the BOOK REVIEWS page for more details on its features and view a sample page. Note: this is a digital product you download when you place your order, nothing will be physically mailed to you.
GIFT ORDERS FOR ANOTHER PERSON: To give the TANGLE GUIDE as a gift, visit this page to place your gift order.
If you're new to Zentangle® and tangling, my TanglePatterns.com BEGINNER'S GUIDE TO ZENTANGLE is just what you need to get started. Also available en Français and en Español.

---

This is the only Zentangle book you'll ever need: the fabulous Zentangle PRIMER Vol 1. It's your CZT-in-a-book by the founders of Zentangle®. Visit the STORE tab on the top menu bar or click on the image. For more about the content and to read the rave reviews, visit the BOOK REVIEWS tab.
NEW! Now available in KINDLE format for $9.99. Spanish Edition here. Japanese Edition here.
"Absolutely the best Zentangle Book yet! As an accomplished artist I used to think I did not need instruction on this art form. How wrong I was! My tangling improved by leaps and bounds after reading this book. If you think you have Zentangle down then you need this book more than ever!" ~ Kris H

---

.oOo.