Hi everyone, Happy Friday!
AND, we wish happiness and prosperity to all our tangling friends celebrating Chinese New Year, Spring Festival or the Lunar New Year. Today is the beginning of several days of joyful festivities celebrating a brand new year, the Year of the Ox.
And now for our first Zentangle Apprentice Project Pack …
While this video series caters to teaching "our youngest generation" the basics of the Zentangle Method™, it is truly meant for all ages.
"We believe that all of us have a child inside us which makes all of these videos great for tanglers of all ages."
Anyone can do this!
Each of the video lessons cover important Zentangle concepts and principles in a way everyone can easily grasp and feel confident in their progress. Because each video contains these lessons within, I'm not including my usual detailed Project Pack breakdown. I feel it's better instead to watch and listen to each one through to fully absorb the concepts and information being shared.
From the introduction to the video series from the Zentangle newsletter:
Zentangle Apprentice™ brings the Zentangle method and experience to our youngest generation. Children as young as four across the globe are creating amazing pieces of art using the Zentangle Method. What is fascinating about Zentangle is that it stretches across cultures, religions, media and ages without having to alter the content of the method. The Zentangle Method itself changes very little whether artists are children or adults. However, we thought that it would be fun to create some lessons and materials that would cater to and be more suitable for the children out there that are eager to create with the Zentangle Method.
SUPPLIES: The Apprentice Project Pack is available here ($32.95) in the zentangle.com store. However, "If you do not have the materials, we encourage you to follow along with what you have available."
---
Day 1 – Introduction
A brief video (03:21) with Zentangle co-founders Rick Roberts and Maria Thomas introducing this series.
---
Day 1
In Day 1's video (41:54) – in the first lesson of the series we tangle along on our first Zentangle tile with CZT Molly Hollibaugh and her daughter Mazzy.
Together they tangle Crescent Moon, Hollibaugh, Bales and Printemps. while learning the basic concepts of the Zentangle Method: Gratitude and Appreciation; Dots, Border, String, as well as techniques like aura and drawing behind.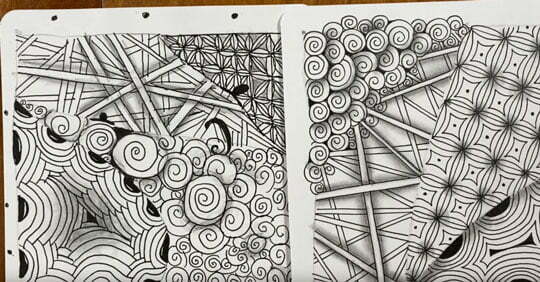 ---
Day 2
In Day 2's video (27:30) – Molly and Sierra tangle on a black Zentangle tile using Sakura Gelly Roll colored pens.
Together they tangle Crescent Moon, Pokeroot, Hollibaugh and Printemps.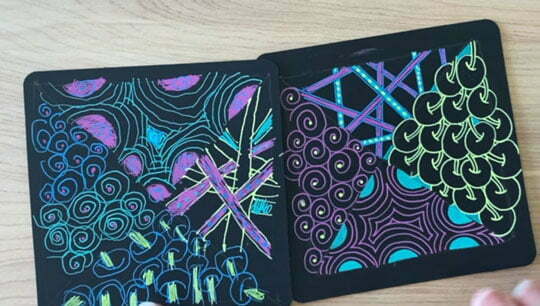 ---
Day 3
In Day 3's video (38:03) – Maria and special guests, daughters of "a Zentangle employee", Apprentice tanglers Abby and Charley guide us through the third lesson in this series.
Together they tangle Pepper, Crescent Moon and Printemps.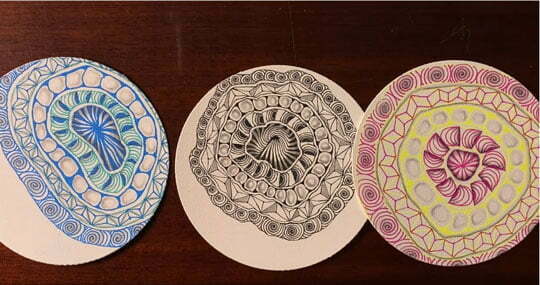 ---
Day 4
In Day 4's video (37:26) – Tangle along with Molly and special guest Apprentice tanglers Gwen, Alex, Indy and Mazzy, as they guide you through the fourth lesson in this series. In this lesson they tangle Pokeroot, 'Nzeppel, Knightsbridge and Printemps.
Assembling all four tiles at the end of the video shows how different each Apprentice's tile turns out although they all followed the same instructions.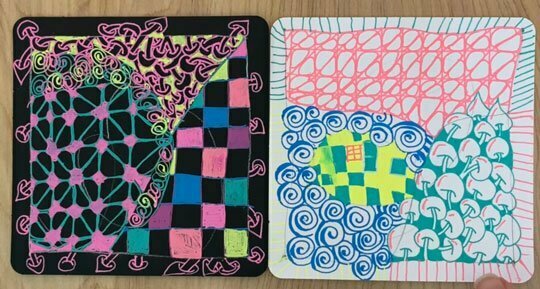 Using different color tiles and colored pens makes delightful and dramatically different end results from the same set of instructions.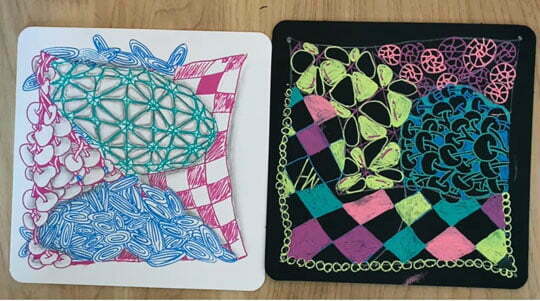 ---
Day 5
In Day 5's video (26:06) – Tangle along with Molly and special guest Apprentice tanglers, Alex, Indy, Mazzy, Gwen, Charlie and Abby, as they guide you through the fifth lesson in this series.
In this video Molly uses 3Z (triangular) tiles. After instructions on how to add the string in pencil, Molly divides the triangle into bands and adds tangles into each. They tangle Crescent Moon, Printemps, Purk, Bales and an outer border of perfs. After showing what all the tiles look like together at this stage, at 20:39 Molly demonstrates how to shade each of the tangles and add white highlights before signing her work at the end.
Gathering the six Apprentices' finished tiles at the end: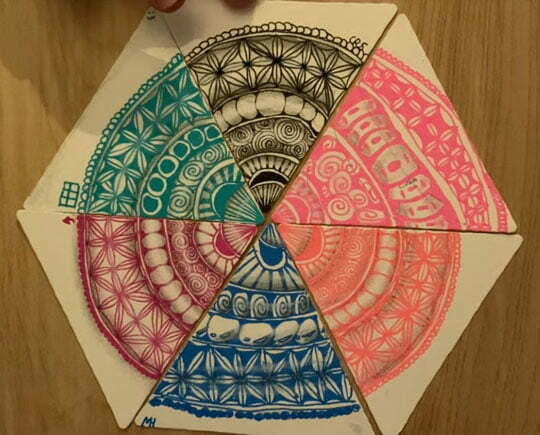 ---
Day 6
In Day 6's video (29:11) – Tangle along with Maria and special guests, Landon and his Mom Lauren, as they guide you through the sixth lesson in this series. Maria and Landon tangle on a white Zendala with a black pen, and Lauren tangles on a black Zendala. They work with the tangle Dream Catcher – aka the Zentangle-original Cubine in the round.
---
Day 7
In Day 7's video (27:49) – Tangle along with Molly and special guests, Abby, Alex, Charlie, Indy and Mazzy, as they guide you through the seventh lesson in this series. In the first half of the video hey tangle Munchin on a selection of Zentangle tiles using various colors of Gelly Roll pens. In the second part of the video (beginning at 13:37) they tangle Paradox on
---
Day 8
In Day 8's video (18:29) – In the eighth and final lesson in this series, tangle along with Molly and special guests, Abby and Gwen. Molly tangles on a black Zentangle square with a white Gelly Roll pen, Abby and Gwen use different tiles and pens. They begin tangle a variation of Strircles using hearts in place of circles and add a band of Crescent Moon and other embellishments to complete their heart tiles. At the end of the video Molly shares a variety of tiles done with the heart string and other tangles.
---
.oOo.
Zentangle Project Pack Summaries on TanglePatterns
For your convenience here are the links to all of my
Zentangle Project Pack
summaries:
November 2017: Introducing Sakura's White Gelly Roll Pens
December 2017: The Twelve Days of Zentangle, 2017 Edition - A Stroll Down Memory Lane
June 2018: A Zentangle Ensemble
December 2018: The Twelve Days of Zentangle, 2018 Edition – Making a Zentangle Spinner
April 2019: Zentangle Cartouches
August 2019: No Mistakes
December 2019: The Twelve Days of Zentangle, 2019 Edition – Light and Shade
March 2020: Dancing in the Moonlight
April 2020: Spring has Sprung
July 2020: The Legend of Zentangle
September 2020: Fee-PHI-Fo-Fun!
December 2020: The Twelve Days of Zentangle, 2020 Edition - Zentangle Renaissance
April 2021: Layers and Transitions
May 2021: Accessing the Artist Within
September 2021: Alphaborders, Letter Forms, Alphabets and the Birth of Zentangle
December 2021: The Twelve Days of Zentangle, 2021 Edition - Keeping Score
March 2022: The Kaleidoscope of Our Lives
August 2022: Introducing Zentangle's new Translucen-Z Tiles
December 2022: The Twelve Days of Zentangle, 2022 Edition - Zentomology
March 17, 2023: Blossoming Tangles
August 4, 2023: Organic Tangles: Tangles of a Botanical Nature
December 1, 2023: The Twelve Days of Zentangle, 2023 Edition
.oOo.
These are the links to my
Zentangle Apprentice Project Pack
summaries:
January - February 2021: The Basics of the Zentangle Method
NOTE: You can always find the Project Pack Summaries by clicking on PROJECT PACKS on the pink alphabetic tangle menu bar. OR by looking in the left sidebar under TANGLES BY TYPE for the tag
projectpack
. OR on the ZENTANGLE PROJECT PACKS page on the ZENTANGLES tab on the top menu bar of any page on the site.
.oOo.

Enhance your Zentangle experience while supporting TanglePatterns:

CURRENT EDITION!

TanglePatterns.com TANGLE GUIDE, 2023 Edition

The 12th Edition of the TanglePatterns.com TANGLE GUIDE is an instant-download 103-page (50 MB) interactive digital eBook/PDF containing almost 1,900 tangles on the site from May 2010 through December 31, 2022. It's a great resource and a must-have digital tool for using the site. Visit the STORE > E-BOOKS page and help keep TanglePatterns.com online by getting your copy now!

"Linda, Thank you! I was relying on too few and getting stuck after 3 years of daily working with Zentangle. This has inspired me to 'begin again' with renewed excitement." ~ Barbara R.

See the BOOK REVIEWS page for more details on its features and view a sample page. Note: this is a digital product you download immediately when you place your order, nothing will be physically mailed to you.
GIFT ORDERS FOR ANOTHER PERSON: To give the TANGLE GUIDE as a gift, visit this page to place your gift order.
If you're new to Zentangle® and tangling, my TanglePatterns.com BEGINNER'S GUIDE TO ZENTANGLE is just what you need to get started. Also available en Français and en Español.

---

This is the only Zentangle book you'll ever need: the fabulous Zentangle PRIMER Vol 1. It's your CZT-in-a-book by the founders of Zentangle®. Visit the STORE tab on the top menu bar or click on the image. For more about the content and to read the rave reviews, visit the BOOK REVIEWS tab.
NEW! Now available in KINDLE format for $9.99. Spanish Edition here. Japanese Edition here.
"Absolutely the best Zentangle Book yet! As an accomplished artist I used to think I did not need instruction on this art form. How wrong I was! My tangling improved by leaps and bounds after reading this book. If you think you have Zentangle down then you need this book more than ever!" ~ Kris H

---

.oOo.