Hi everyone, thanks so much for keeping me company again 🙂
Today's Belted tangle is from Texas CZT Suzanne McNeill, and it's her 86th! on the site.
A little Zentangle®-related history … before her retirement Suzanne was well known in the crafts industry and she's one of the first to publish books about Zentangle way-back-when, through her own Design Originals company. She published a series of still-available, very affordable Zentangle booklets that combine Zentangle art and various types of ZIA projects including quilting and fabric arts. In that series she published two of what are still, after all these years, my very favorite "not-ZTHQ" books of all the books you can find out there: CZT Sandy Bartholomew's Totally Tangled, and CZT Marie Browning's Time to Tangle with Colors.
Several years later Suzanne sold Design Originals to Fox Chapel Publishing who now hold the copyright to Design Originals titles. (You can read more about Suzanne's Zentangle titles on the BOOK REVIEWS page on the top menu bar of any page on the site.) It's been a few years now that Suzanne published steps on her now-defunct website, so with many thanks for her blessing and the kind permission of Fox Chapel Publishing, occasionally I'll be adding tangles from her Zentangle series …
Starting with Belted which was published in Suzanne's Zentangle 8 – Monograms and Alphabets.

As explained in the page capture, Zentangle 8 was inspired by illuminated letters and features lovely letters and monograms on a Zentangle tile, each one created and contributed by a different Zentangle artist. Suzanne includes tips for adding watercolor or watercolor pencil to ZIAs.
As I wrote in my publication review in November 2012,
For this 20-page (including covers) publication Suzanne asked guest artists and CZTs to submit a tangled alphabet letter. (My "L" tile is included – I drew the "L" freehand, then tangled the tile.) "These letters feature a variety of styles shapes, forms, and details that range from simple to intricate. Similar to our handwriting, each person drew from the same set of instructions, but each has their own individual style." These lovely tiles are the main content of Zentangle 8.
This example Zentangle of the letter "K" is by invited artist Joanne Fink. Her Zenspirations series was also published by Design Originals and you'll no doubt recognize Joanne's style.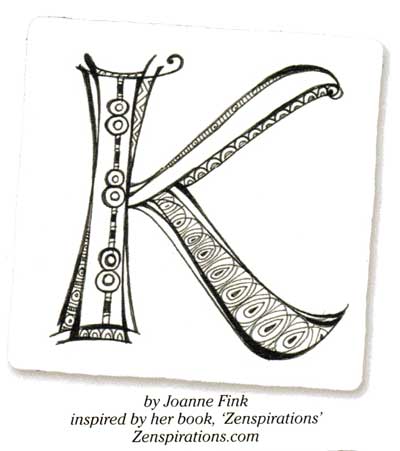 For today's tangle I felt the urge for a grid-type of tangle and Belted popped to mind because it's a little unusual. The underlying grid is made up of "channels" spaced far enough apart to squeeze little orbs into. I found the inking in process in this one very soothing. Although it's hard to see in my example, I added a little graphite to the center variation of Belted for a bit of dimension. I needed a little "clean up on aisle 3" so I used my Sakura White Gelly Roll pen to touch up the white orbs that were inked in a little too much. This would make a very fun colorful ZIA too.
Suzanne illustrates the step-by-step instructions for drawing Belted below:
As you enjoy any of the tangles on the site, please leave a comment of thanks and encouragement to show the artists you appreciate them for sharing their creativity to inspire yours. Your thanks helps motivate them to continue to share! And please share a link to your favorite tangles on social media. Thanks!
Check out the tag suzannem for more of Suzanne's tangles on TanglePatterns.com.
.oOo.
Free Download: How to draw four basic grids (reticula) for your Zentangles
Like some help drawing grids? (In the Zentangle PRIMER Vol 1, Zentangle HQ is now referring to grids as reticula and give 30 examples.)
Here is a free TanglePatterns PDF download showing how to ink a basic Freehand Squared Grid, Freehand Diamond-Shaped Grid with a Triangle variation, and a Freehand Ogee-Shaped Grid.
You can always locate this tutorial again by visiting the TUTORIALS tab on the pink alphabetic tangle menu bar.
.oOo.
Related Links
Looking for tangles by Artist or Type? For details visit the ABOUT > HOW TO FIND TANGLES BY ARTIST OR TYPE page on the top menu bar of any page on the site.
What is a Zentangle? — if you are new to the Zentangle Method, start here for the fundamentals.
Zentangle terminology — a glossary of terms used in this art form.
How to use the site — an excellent free video tutorial showing how to use the site as well as pointing out lots of useful features you might have missed.
Linda's List of Zentangle-Original Patterns — here is the complete list of original tangles (aka "official tangles") created and introduced by founders Rick Roberts and Maria Thomas, including those not published online. If you are new to the Zentangle Method I highly recommend learning a few of the published Zentangle classics first.
"A Zentangle has no up or down and is not a picture of something, so you have no worries about whether you can draw a hand, or a duck. You always succeed in creating a Zentangle." Thus patterns that are drawings of a recognizable naturalistic or actual object, figure, or scene, are not tangles. A pattern is not always a tangle — here's what makes a tangle. TIP: tangles never start with pencil planning.
For lots of great FREE tutorials on TanglePatterns, click on the TUTORIALS link in the pink alphabetic menu bar below the tangle images at the top of any page.
Strings! Have we got STRINGS! Click on the STRINGS link in the pink alphabetic menu bar below the tangle images at the top of any page for 250 different (free) Zentangle-starters. More than enough for any lifetime!
Never miss a tangle! FREE eMAIL NEWSLETTER - visit the SUBSCRIBE page on the top menu bar of any page on the site and sign up to get notices delivered free to your inbox.
.oOo.

Enhance your Zentangle experience while supporting TanglePatterns:

CURRENT EDITION!

TanglePatterns.com TANGLE GUIDE, 2023 Edition

The 12th Edition of the TanglePatterns.com TANGLE GUIDE is an instant-download 103-page (50 MB) interactive digital eBook/PDF containing almost 1,900 tangles on the site from May 2010 through December 31, 2022. It's a great resource and a must-have digital tool for using the site. Visit the STORE > E-BOOKS page and help keep TanglePatterns.com online by getting your copy now!

"Linda, Thank you! I was relying on too few and getting stuck after 3 years of daily working with Zentangle. This has inspired me to 'begin again' with renewed excitement." ~ Barbara R.

See the BOOK REVIEWS page for more details on its features and view a sample page. Note: this is a digital product you download immediately when you place your order, nothing will be physically mailed to you.
GIFT ORDERS FOR ANOTHER PERSON: To give the TANGLE GUIDE as a gift, visit this page to place your gift order.
If you're new to Zentangle® and tangling, my TanglePatterns.com BEGINNER'S GUIDE TO ZENTANGLE is just what you need to get started. Also available en Français and en Español.

---

This is the only Zentangle book you'll ever need: the fabulous Zentangle PRIMER Vol 1. It's your CZT-in-a-book by the founders of Zentangle®. Visit the STORE tab on the top menu bar or click on the image. For more about the content and to read the rave reviews, visit the BOOK REVIEWS tab.
NEW! Now available in KINDLE format for $9.99. Spanish Edition here. Japanese Edition here.
"Absolutely the best Zentangle Book yet! As an accomplished artist I used to think I did not need instruction on this art form. How wrong I was! My tangling improved by leaps and bounds after reading this book. If you think you have Zentangle down then you need this book more than ever!" ~ Kris H

---

.oOo.