June 2020. Sigh. What an annus horribilis this has been and somehow our woes just keep getting compounded in the most heartbreaking ways.
I sincerely hope we can lighten our collective mental anguish to some degree with another week of relaxing tangles — together with fervent prayers for "peace, love and happiness".
That's exactly what German tangler Indrani Novello writes about her hope for her Ikat tangle.
Ikat is Indrani's 11th tangle on the site and she describes how it came about:.
 To distract myself I have been doing various little art projects.
Today I am sending you a new pattern called "Ikat", because it was inspired by the Indonesian woven fabric of that name.
I think it is simple, offers a few possibilities for variation, and it has a bit of a 70s vibe.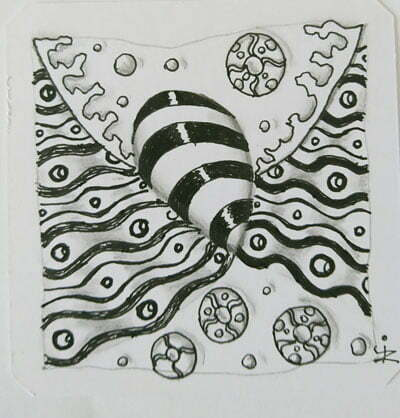 And right now I think we could all do with a bit of peace, love and happiness. 🙂
Amen to that.
According to Wikipedia,
Ikat (literally means tie and in the Malay language it means "to bind") is a dyeing technique used to pattern textiles that employs resist dyeing on the yarns prior to dyeing and weaving the fabric.
In ikat the resist is formed by binding individual yarns or bundles of yarns with a tight wrapping applied in the desired pattern. The yarns are then dyed. The bindings may then be altered to create a new pattern and the yarns dyed again with another colour. This process may be repeated multiple times to produce elaborate, multicolored patterns.
When the dyeing is finished all the bindings are removed and the yarns are woven into cloth.
In other resist-dyeing techniques such as tie-dye and batik the resist is applied to the woven cloth, whereas in ikat the resist is applied to the yarns before they are woven into cloth.
Because the surface design is created in the yarns rather than on the finished cloth, in ikat both fabric faces are patterned.
…
As textiles do not last well through history, scholars have so far been unable to determine where the technique of ikat originated. Nevertheless, some parts of Asia demonstrate strong ikat traditions which suggest its possible origin; they are Maritime Southeast Asia, the Indian subcontinent and Central Asia. However, it probably developed in several different locations independently.
The term "ikat" has Indonesian origin, and it was introduced into European textile vocabulary back in the early 20th century, when Dutch scholars begin to study the rich textile traditions of the East Indies archipelago (today Indonesia).
The dot grid method of drawing a regular curved line makes Ikat so much fun to tangle. A thin aura inside the finished curves is then inked in and embellishments added. Ikat is easy and soothing to tangle so I join with Indrani in saying, "I hope you enjoy it."
Indrani illustrates the step-by-step instructions for drawing Ikat below where she features it in a tile with the Zentangle®-originals Crescent Moon, Fescu and Pokeroot.
As you enjoy any of the tangles on the site, please leave a comment of thanks and encouragement to show the artists you appreciate them for sharing their creativity to inspire yours. Your thanks helps motivate them to continue to share! And please share a link to your favorite tangles on social media. Thanks!
Check out the tag indranin for more of Indrani's tangles on TanglePatterns.com.
Related Links
Looking for tangles by Artist or Type? For details visit the ABOUT > HOW TO FIND TANGLES BY ARTIST OR TYPE page on the top menu bar of any page on the site.
What is a Zentangle? — if you are new to the Zentangle Method, start here for the fundamentals.
Zentangle terminology — a glossary of terms used in this art form.
Linda's List of Zentangle-Original Patterns — here is the complete list of original tangles (aka "official tangles") created and introduced by founders Rick Roberts and Maria Thomas, including those not published online. If you are new to the Zentangle Method I highly recommend learning a few of the published Zentangle classics first.
"A Zentangle has no up or down and is not a picture of something, so you have no worries about whether you can draw a hand, or a duck. You always succeed in creating a Zentangle." Thus patterns that are drawings of a recognizable naturalistic or actual object, figure, or scene, are not tangles. A pattern is not always a tangle — here's what makes a tangle. TIP: tangles never start with pencil planning.
For lots of great FREE tutorials on TanglePatterns, click on the TUTORIALS link in the pink alphabetic menu bar below the tangle images at the top of any page.
Strings! Have we got STRINGS! Click on the STRINGS link in the pink alphabetic menu bar below the tangle images at the top of any page for 250 different (free) Zentangle-starters. More than enough for any lifetime!
Never miss a tangle! FREE eMAIL NEWSLETTER - visit the SUBSCRIBE page on the top menu bar of any page on the site and sign up to get notices delivered free to your inbox.
.oOo.

Enhance your Zentangle experience while supporting TanglePatterns:

BRAND NEW!

TanglePatterns.com TANGLE GUIDE, 2023 Edition

The 12th Edition of the TanglePatterns.com TANGLE GUIDE is an instant-download 103-page (50 MB) interactive digital eBook/PDF containing almost 1,900 tangles on the site from May 2010 through December 31, 2022. It's a great resource and a must-have digital tool for using the site. Visit the STORE > E-BOOKS page and help keep TanglePatterns.com online by getting your copy now!

"Linda, Thank you! I was relying on too few and getting stuck after 3 years of daily working with Zentangle. This has inspired me to 'begin again' with renewed excitement." ~ Barbara R.

See the BOOK REVIEWS page for more details on its features and view a sample page. Note: this is a digital product you download immediately when you place your order, nothing will be physically mailed to you.
GIFT ORDERS FOR ANOTHER PERSON: To give the TANGLE GUIDE as a gift, visit this page to place your gift order.
If you're new to Zentangle® and tangling, my TanglePatterns.com BEGINNER'S GUIDE TO ZENTANGLE is just what you need to get started. Also available en Français and en Español.

---

This is the only Zentangle book you'll ever need: the fabulous Zentangle PRIMER Vol 1. It's your CZT-in-a-book by the founders of Zentangle®. Visit the STORE tab on the top menu bar or click on the image. For more about the content and to read the rave reviews, visit the BOOK REVIEWS tab.
NEW! Now available in KINDLE format for $9.99. Spanish Edition here. Japanese Edition here.
"Absolutely the best Zentangle Book yet! As an accomplished artist I used to think I did not need instruction on this art form. How wrong I was! My tangling improved by leaps and bounds after reading this book. If you think you have Zentangle down then you need this book more than ever!" ~ Kris H

---

.oOo.