The new year always brings many new people to Zentangle® and then come the emails asking "which tangles should I start with?". Which ones are good for Beginners?
While it's true there's a mind-boggling array of great tangles on the site, as Rick and Maria say "Anything is possible … one stroke at a time.™" This applies to drawing tangles and the mindful practice of deliberate stroke-making.
My personal advice to beginners is to start with what are sometimes referred to as "the official tangles" — the official tangles are the Zentangle-originals (from Zentangle HQ) that are listed and linked on the top menu bar under ZENTANGLES > LINDA'S LIST OF OFFICIAL TANGLES.
You could create Zentangles for the next year with just a few of the Zentangle-originals with instructions available from that list and never get bored playing with them and variations you come up with yourself.
And from that list, here are few that are perfect to get everyone tangling:
To my CZT colleagues: you are welcome to chip in with your favorite tangles for beginners in the comments!
Another little tip … for best results try to use up to 3 or 4 tangles at most in a tile, more than that and your Zentangle will probably look very busy. Monotangles are also very popular, this is where you use one tangle (with or without variations) for a Zentangle. For explanations of these unfamiliar terms, see the ZENTANGLES > ZENTANGLE TERMINOLOGY page.
My TanglePatterns BEGINNER'S GUIDE to Zentangle also contains a longer list of tangles that are good for beginners but these few are a great start.
Just jump in and draw! Zentangle tiles are designed to be small and manageable so you're not overwhelmed. And as you do more and more of them you'll be delighted to see your art improve with each one.
Want proof? These are my own examples of Printemps. The one on the left is the one I first posted for Printemps when I started TanglePatterns almost six years ago as a complete novice at drawing. The example on the right is one I drew to replace my original after a couple of years of drawing of any kind. Practice improves your fine motor skills and thus your pen control.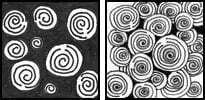 Keep all of your tiles! Sign and date the back. In a few weeks you can look back at your first tiles and see just how far you've come.
And once you get going, remember to have a go at more of the Zentangle-originals on LINDA'S LIST.
I leave you with a quote from the article "Brené Brown on the Physics of Vulnerability and What Resilient People Have in Common" on brainpickings.org,
Creativity embeds knowledge so that it can become practice. We move what we're learning from our heads to our hearts through our hands. We are born makers, and creativity is the ultimate act of integration — it is how we fold our experiences into our being… The Asaro tribe of Indonesia and Papua New Guinea has a beautiful saying: 'Knowledge is only a rumor until it lives in the muscle.'
* * *
The Tangle Refresher series, aka Buried Treasure, comes to you every two weeks and it spotlights hidden tangle gems from the past. It can remind you of tangles you might not have used for a while or introduce you to some you haven't come across yet.
Here are five more tangle pattern gems and a Tangle Refresher from a year (or two) ago for your tangling pleasure. Remember to check out the "More Good Stuff" links below too. Zenful tangling!
BTW as you visit these tangles it would be great if you'd take a moment to leave a comment of thanks and encouragement for the tangler who's shared with us, and please share the tangles with your followers on all your favorite social media. Thanks!
More good stuff …
.oOo.

Enhance your Zentangle experience while supporting TanglePatterns:

CURRENT EDITION!

TanglePatterns.com TANGLE GUIDE, 2023 Edition

The 12th Edition of the TanglePatterns.com TANGLE GUIDE is an instant-download 103-page (50 MB) interactive digital eBook/PDF containing almost 1,900 tangles on the site from May 2010 through December 31, 2022. It's a great resource and a must-have digital tool for using the site. Visit the STORE > E-BOOKS page and help keep TanglePatterns.com online by getting your copy now!

"Linda, Thank you! I was relying on too few and getting stuck after 3 years of daily working with Zentangle. This has inspired me to 'begin again' with renewed excitement." ~ Barbara R.

See the BOOK REVIEWS page for more details on its features and view a sample page. Note: this is a digital product you download immediately when you place your order, nothing will be physically mailed to you.
GIFT ORDERS FOR ANOTHER PERSON: To give the TANGLE GUIDE as a gift, visit this page to place your gift order.
If you're new to Zentangle® and tangling, my TanglePatterns.com BEGINNER'S GUIDE TO ZENTANGLE is just what you need to get started. Also available en Français and en Español.

---

This is the only Zentangle book you'll ever need: the fabulous Zentangle PRIMER Vol 1. It's your CZT-in-a-book by the founders of Zentangle®. Visit the STORE tab on the top menu bar or click on the image. For more about the content and to read the rave reviews, visit the BOOK REVIEWS tab.
NEW! Now available in KINDLE format for $9.99. Spanish Edition here. Japanese Edition here.
"Absolutely the best Zentangle Book yet! As an accomplished artist I used to think I did not need instruction on this art form. How wrong I was! My tangling improved by leaps and bounds after reading this book. If you think you have Zentangle down then you need this book more than ever!" ~ Kris H

---

.oOo.