Greetings friends, Linda here with another great resource for your drawing skills — everything you need to know about shading your Zentangle® art. Grab a cup of coffee or tea and sit yourself down for a spell, you're going to learn some great stuff today.
Part 1 of the TanglePatterns Shading Mini-Clinic two-part series is by guest contributor, former Social Worker and Art Therapist and now Certified Zentangle Teacher Marizaan van Beek of Pretoria, South Africa.
Marizaan created the lovely Angel Fish tangle and recently one of her students, Carla du Preez, referred to her as "a master shader" with Carla's tangle Aura-Leah. I invited Marizaan to share her thoughts on shading with you and she's done a master-ful job.
Each artist will have their own thoughts on and techniques for this subject and Marizaan shares hers with us today. Although in Zentangle our supplies include just one pencil, drawing artist Marizaan takes it a step further and explains how — if we choose to — we can use a range of pencils to enhance our Zentangle art.
She reviews shading tools, gives her personal guidelines, and demonstrates her method of shading Zentangles, step-by-step. I think you'll find Marizaan's article a wonderful reference and I have no doubt you will find tips that will greatly improve your enjoyment of Zentangle and the art you create.
And now, here she is …

* * *
Thank you Linda, it is an honor to be here on TanglePatterns. Let's get right to it.
Shading Tools
The Pencil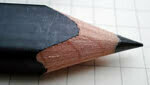 First we have to know our tools. It is important to understand the pencils you work with. Pencils are all marked on a European system called the degree scale where H is hardest and B is blackest. We all know the HB pencil with which we draw. The 'lead' in pencils is graded — 9H is generally the hardest one finds and this grades downwards to 1H and H. Softness is graded upward from B, 1B, all the way to 9B.
H pencils have a higher concentration of clay than graphite, whereas B pencils have a much lower percentage of clay. B pencils make soft, dark marks, whereas the H pencils have a much harder, lighter line.
In Zentangle we use a 2B pencil to shade. This is also a standard tool in the Zentangle Kit. The soft graphite pencil is good for fine detail and perfect for shading your tangles.
The higher the number on the B, the softer the graphite, and the darker it becomes. This is important because when you put graphite to paper, you put pigments on the paper. When shading, these pigments are moved around on the paper, so the blacker the pencil, the darker the shade or tone would be.
The Blender
Also included as a standard tool in the Zentangle Kit is the Tortillion, also known as a Tortillon or Blending Stump. We use this to blend our shading. You can also use a Q-tip, your finger or invent your own blending tool. Why not ?

And now for the shading
Shading is an enhancer we use in Zentangle, along with Aura, Perfs, Dewdrop, Sparkle and Rounding. Shading adds dimension and depth to your tangles and just makes it come alive.
As an artist, I know you look at light – the way it falls and where it reflects. And normally if I draw, I will keep this in mind.
But in Zentangle "I DON'T HAVE TO". In Zentangle there is no right or wrong, and no up or down on your tile, so no fast rules as in art when it comes to shading.
However, there are guidelines I like to follow and that I teach my students as well. First, look at your finished tile.
Is there any pattern that is underneath another pattern?
Have you used the string?
Do you have a pattern that as a whole looks almost round in your string? For instance, Bales.
Did you use a lot of black lines?
Did you use a lot of detail?
What pattern stands out?
Now decide what you want to stand out. Remember shading is about light and dark, and shadows. We see them all the time just like patterns. So don't be afraid. You can do it.
Stage 1
I tangled a tile to show my method of shading. I used Rick's Paradox, Mooka, Nzeppel and Flux. Normally I would use my 2B and then my 5B pencil. The 5B is blacker so it gives more depth.
Stage 2
After tangling my tile, I added Rounding to Paradox. It is like putting butter on your bread, just because you can.
Stage 3
I want my Mooka to stand out on this tile, so lets begin.
If you used tangles with round lines, like Flux, Pokeleaf or Pokeroot, or Mooka for example, you will do your shading only on the one side of the rounding not the whole.
Note the lines I did with my 2B pencil. Only on the one side. I also made a pencil mark on the edges of Paradox to emphasize the curve.
Use a soft touch. You can always add more graphite if you want more shading. Please note that I am not working with light at all but with the shapes of the patterns.
Stage 4
Now with your tortillion move in small circles over the pencil marking towards the inside of the shape. This makes it look round.
Awesome, isn't it? You can repeat any line if you want it to stand out more. Remember, to make it darker you can use a softer pencil like 3B, 4B etc.
Stage 5
I want the Mooka to stand out even more, so I used my 5B pencil to make a line around the edge of every round shape to create a drop shadow.
Remember anything that is on top of something else will always cast a shadow. I want the shadow to be darker than the inside shading. To achieve this I used the 5B.
Again, don't press too hard, just a little bit goes a long way.
Stage 6
Again with your blender, make small circle movements towards over the pencil line to the outside or the space you want to shade.
I used Nzeppel as a background, not shading it at all.
Stage 7
The finished Zentangle. I wanted to emphasize the round shapes of Mooka and used my Micron 01 to draw a line underneath every round shape (rounding). Just giving it a bit of weight. (Note: Only on the one side.)
And lastly I added my signature "chop" to complete my Zentangle.
My Final Guidelines
So to review, my final Guidelines are as follows:
Have a look at your tile.
What do you want to stand out? A single pattern, or every pattern on its own?
Smaller patterns look better if shaded inside the completed string. Ahh, the "elegance of limits "
Are there any rounded lines you want to emphasize?
Shade only on one side of a rounded pattern through your whole tile. It gives it a play of light and dark. This is not a fast rule, you can alter sides as well.
Is there a pattern on top of another pattern? Remember something on top will cast a shadow.
Did you use a lot of black lines? The more pen the less pencil.
Start with your 2B pencil.
Use a sharp pencil and blender, it just gives you more control.
Don't press too hard, you can always add more.
Move your blender in small circles across the tile to the area you want to shade. You are literally spreading pigment around, so the harder you pressed on your pencil the more pigment you have on your tile.
Make your shading darker with blacker pencils. 5B is to be recommended.
Have FUN!
"Anything is possible one stroke at a time."TM
* * *
Thank you, Marizaan for your hard work and sharing your knowledge with us, excellent tutorial.
I don't think Marizaan will mind me sharing she was a little nervous when she sent her article, but didn't she do a great job?! Please be sure to leave her your thanks and feedback in the comments. And share your own shading tips there too if you'd like.
In Part 2 of the TanglePatterns Shading Mini-Clinic coming up on Friday, CZT® Sandy Steen Bartholomew (author of Totally Tangled and more) answers your shading questions with her personal suggestions and illustrates her recommendations using tiles submitted to TanglePatterns for this series.
PS – Please remember to share on your favorite social networking sites using the icons below to "vote" and show Marizaan how much you appreciate what you learned today. Thanks!
* * *
For more tutorials on TanglePatterns, visit the TIPS & TOOLS > TUTORIALS page. There are more excellent articles there about shading art in general by Sandra Strait and CZT® Geneviève Crabe. Check it out!