---
Scroll down the page to find all the articles posted on the site with the most recent listed first. Enjoy!!
---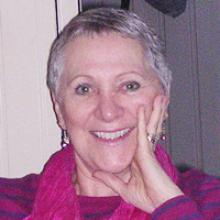 Greetings! I'm Linda Farmer, a Certified Zentangle Teacher (CZT®). TanglePatterns.com was created over a decade ago in May of 2010 to serve and network the Zentangle® community with new tangles and great creative resources.
A very warm welcome to you, you are certainly among friends. Tanglers are a wonderful, generous and sharing community. I hope you enjoy the site and are inspired by the tangles and many useful resources you find here. Please feel free to add your thoughts in the comments on any page and join in the community.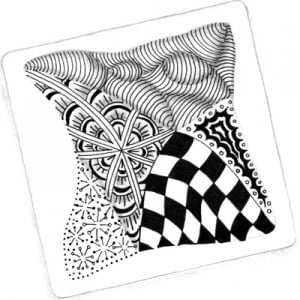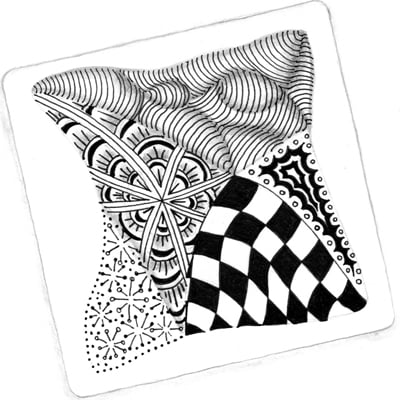 If you are new to the Zentangle art form, I suggest first you visit the ZENTANGLES > WHAT IS A ZENTANGLE page on the menu bar at the top of every page to get an idea of the focus of TanglePatterns. On the ABOUT > HOW TO USE THIS SITE page you'll find helpful suggestions for using the site.
For a Zentangle jump-start this excellent free video series for beginners by Zentangle founders Maria Thomas and Rick Roberts guides you through the basics of the Zentangle Method™ while you tangle and learn at the same time.
Here's another resource that's handy for newcomers — Exploring TanglePatterns. Be sure to check out the rest of the pages on the top menu bar — there's a wealth of information there you'll want to see.  Also, don't miss the TUTORIALS tab on the pink alphabetic tangles menu bar.
The FAQ page on the "ABOUT" menu might answer any other questions you might have.
Never miss a tangle
It's free. I never sell or give out your address. You can unsubscribe anytime. Sign up to get new tangle posting notices delivered free to your inbox by email in these easy steps:
Use the CLICK TO SUBSCRIBE BUTTON near the top of the left sidebar, or use this link: Subscribe to TanglePatterns by Email and
Enter your email address. Double check you haven't made a typo. It happens more often than you'd think.
If you entered your email address correctly you will immediately receive a "Thank you for subscribing" email from FeedBlitz on my behalf.
Have a good look around, there are lots of great tangles here … and … happy tangling!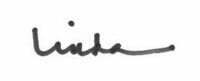 NOW AVAILABLE in PAPERBACK or as a KINDLE EBOOK!

The fabulous hardcover, and now softcover or digital ebook by Zentangle's co-founders, Zentangle PRIMER Vol 1.

"Absolutely the best Zentangle Book yet! As an accomplished artist I used to think I did not need instruction on this art form. How wrong I was! My tangling improved by leaps and bounds after reading this book.

If you think you have Zentangle down then you need this book more than ever!" ~ Kris H
---