Hello again my lovely tangling friends 🙂
Today we have a very pretty tangle from Italian CZT Susanna Redaelli and it's her fourth on the site. Most recently we explore her tangleation of Tipple and Fescu she named Tipplescu. To learn more about Susanna's background check out her first tangle on the site, Rosone.
I rediscovered Orciolo on one of my recent excursions through the tangle archives. As I've noted in the past, occasionally a submission will arrive too close in time to something very similar that's been posted recently. So in the interests of keeping a fresh variety of tangles going on the site, it probably lands in a holding pattern until I rediscover it in my regular reviews. Or it can be rediscovered when a new tangle submission reminds me of one I think I've seen pass through my inbox in the past, requiring a dig through the archives to find it.
Susanna writes,
Every autumn I propose meetings to raise awareness of the Zentangle Method, dedicating some sessions specifically to the black, gray and beige support. By discovering the Method you can simultaneously discover important aspects of the world of art: the history of the great masters, the techniques, the cultural traditions in the various eras linked to the decorations of everyday objects.
… [the year] 2020 celebrated the 500th anniversary of the death of Raphael, the Renaissance master, with a series of events and major exhibitions throughout Italy and abroad. 
… Among the innovations of the period, the use of light and color in painting was of particular importance. And it was precisely with this in mind that I thought about and developed the designs of the tiles for the afternoon session, the theme of which was specifically our Italian Renaissance linked to decoration.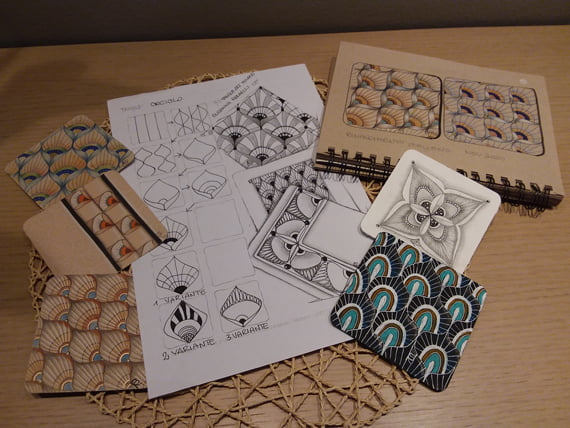 The occasion also suggested a new pattern which I am now officially presenting.
The name Orciolo comes from the Italian word for a vase with two handles.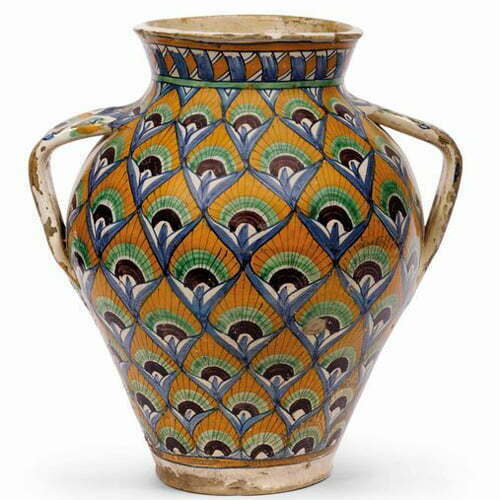 I deconstructed an Italian pattern from the Renaissance Art of ceramic. It has the perfect shape for the Zentangle Method™.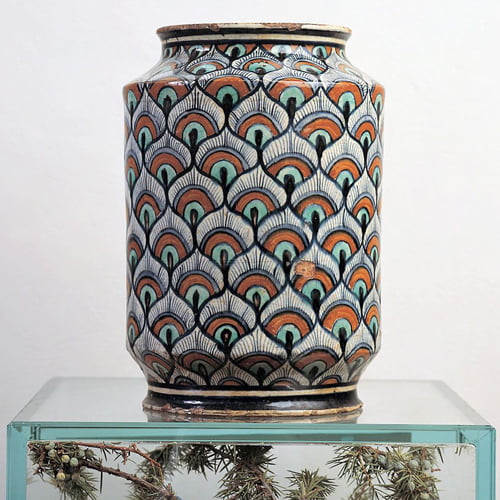 Susanna illustrates the step-by-step instructions for drawing Orciolo here on her blog and her steps include several ways to vary the basic tangle with different fills.
Once you reach her blog post, scroll WAY down the page (pausing to admire her tiles) to locate the steps for Orciolo. Unless you speak Italian, to read Susanna's post look for the Translate button on the page, or visit Google Translate and use it to translate into your preferred language.
As you enjoy any of the tangles on the site, please leave a comment of thanks and encouragement to show the artists you appreciate them for sharing their creativity to inspire yours. Your thanks helps motivate them to continue to share! And please share a link to your favorite tangles on social media. Thanks!
Check out the tag susannar for more of Susanna's tangles on TanglePatterns.com.
.oOo.
And a gentle reminder: It's that time of year: Please help me keep TanglePatterns online for another year?
Related Links
Looking for tangles by Artist or Type? For details visit the ABOUT > HOW TO FIND TANGLES BY ARTIST OR TYPE page on the top menu bar of any page on the site.
What is a Zentangle? — if you are new to the Zentangle Method, start here for the fundamentals.
Zentangle terminology — a glossary of terms used in this art form.
How to use the site — an excellent free video tutorial showing how to use the site as well as pointing out lots of useful features you might have missed.
Linda's List of Zentangle-Original Patterns — here is the complete list of original tangles (aka "official tangles") created and introduced by founders Rick Roberts and Maria Thomas, including those not published online. If you are new to the Zentangle Method I highly recommend learning a few of the published Zentangle classics first.
"A Zentangle has no up or down and is not a picture of something, so you have no worries about whether you can draw a hand, or a duck. You always succeed in creating a Zentangle." Thus patterns that are drawings of a recognizable naturalistic or actual object, figure, or scene, are not tangles. A pattern is not always a tangle — here's what makes a tangle. TIP: tangles never start with pencil planning.
For lots of great FREE tutorials on TanglePatterns, click on the TUTORIALS link in the pink alphabetic menu bar below the tangle images at the top of any page.
Strings! Have we got STRINGS! Click on the STRINGS link in the pink alphabetic menu bar below the tangle images at the top of any page for 250 different (free) Zentangle-starters. More than enough for any lifetime!
Never miss a tangle! FREE eMAIL NEWSLETTER - visit the SUBSCRIBE page on the top menu bar of any page on the site and sign up to get notices delivered free to your inbox.
.oOo.

Enhance your Zentangle experience while supporting TanglePatterns:

CURRENT EDITION!

TanglePatterns.com TANGLE GUIDE, 2023 Edition

The 12th Edition of the TanglePatterns.com TANGLE GUIDE is an instant-download 103-page (50 MB) interactive digital eBook/PDF containing almost 1,900 tangles on the site from May 2010 through December 31, 2022. It's a great resource and a must-have digital tool for using the site. Visit the STORE > E-BOOKS page and help keep TanglePatterns.com online by getting your copy now!

"Linda, Thank you! I was relying on too few and getting stuck after 3 years of daily working with Zentangle. This has inspired me to 'begin again' with renewed excitement." ~ Barbara R.

See the BOOK REVIEWS page for more details on its features and view a sample page. Note: this is a digital product you download immediately when you place your order, nothing will be physically mailed to you.
GIFT ORDERS FOR ANOTHER PERSON: To give the TANGLE GUIDE as a gift, visit this page to place your gift order.
If you're new to Zentangle® and tangling, my TanglePatterns.com BEGINNER'S GUIDE TO ZENTANGLE is just what you need to get started. Also available en Français and en Español.

---

This is the only Zentangle book you'll ever need: the fabulous Zentangle PRIMER Vol 1. It's your CZT-in-a-book by the founders of Zentangle®. Visit the STORE tab on the top menu bar or click on the image. For more about the content and to read the rave reviews, visit the BOOK REVIEWS tab.
NEW! Now available in KINDLE format for $9.99. Spanish Edition here. Japanese Edition here.
"Absolutely the best Zentangle Book yet! As an accomplished artist I used to think I did not need instruction on this art form. How wrong I was! My tangling improved by leaps and bounds after reading this book. If you think you have Zentangle down then you need this book more than ever!" ~ Kris H

---

.oOo.