"The times they are a'chaingin" — SO long overdue and, we hope and pray, for the better. So many extra prayers being said this year …
Happy Monday and thanks for joining me again for another new week of tangle explorations.
Today's lovely organic Zante tangle is from South African CZT Milde Weiss.
Milde and her husband traveled from South Africa to the USA in March to visit her daughter in South Carolina. As a result of the worldwide pandemic, their return flights to South Africa were cancelled and she has been finding lots of time to tangle while enjoying bonus time with her family.
Milde writes,
We are blessed to be able to spend some extra time with the family. Our flights back to South Africa have been cancelled numerous times, so we might be here for a while!
Zante is a tangle that I created a while ago. It was inspired by the Arum lily of my country, and is also called Zantedeschia.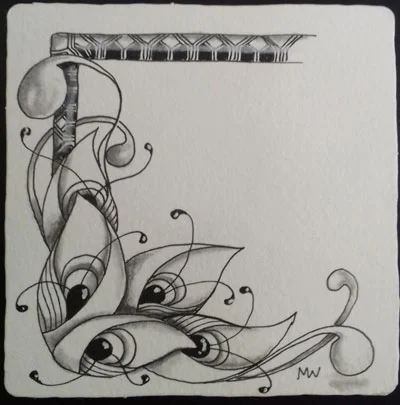 I love to see these white lilies in springtime where they grow in masses in the veld, usually in wet areas, surrounded by their dark green leaves.
Smaller versions are available as potplants or for suburban gardens in yellow, pink and burgundy.
Milde's lovely Zentangle® tile includes CZT Hanny Waldburger's Ypsmi together with some Mooka tendrils.
Native to South Africa, Zantedeschia might be more familiar to you as the Calla Lily. This is a particularly lovely image from the Wikipedia entry:
Zantedeschia is a genus of eight species of herbaceous, perennial, flowering plants in the family Araceae, native to southern Africa from South Africa north to Malawi. The genus has been introduced on all continents except Antarctica.
Common names include arum lily for Z. aethiopica and calla and calla lily for Z. elliottiana and Z. rehmannii, although members of the genus are neither true lilies of Liliaceae, true Arums, nor true Callas (related genera in Araceae).
The colourful flowers and leaves of both species and cultivars are greatly valued and commonly grown as ornamental plants.
Milde describes her Zante tangle and how it is formed by simple elemental strokes,
The basic element of this tangle is a 'bud', formed by a C-curve, an S-shape and 2 more curved lines.
Add a central black spot with 2 auras, few 'tendrils', and voila!
Zante can be used as a ribbon tangle or a filler, and can also be done in the round from the inside out.
Milde illustrates the simple step-by-step instructions for drawing Zante below where her minimalist example features touches of graphite and General's White Charcoal pencil to give dimension to the lovely cup shape. Be sure to check out the rest of Milde's tangles on the site!
As you enjoy any of the tangles on the site, please leave a comment of thanks and encouragement to show the artists you appreciate them for sharing their creativity to inspire yours. Your thanks helps motivate them to continue to share! And please share a link to your favorite tangles on social media. Thanks!
Check out the tag milde_w for more of Milde's tangles on TanglePatterns.com.
Read the lyrics to The Times They Are A-Changin' on Bob Dylan's website.
The order is rapidly fadin'
And the first one now will later be last
For the times they are a-changin'
Related Links
Looking for tangles by Artist or Type? For details visit the ABOUT > HOW TO FIND TANGLES BY ARTIST OR TYPE page on the top menu bar of any page on the site.
What is a Zentangle? — if you are new to the Zentangle Method, start here for the fundamentals.
Zentangle terminology — a glossary of terms used in this art form.
How to use the site — an excellent free video tutorial showing how to use the site as well as pointing out lots of useful features you might have missed.
Linda's List of Zentangle-Original Patterns — here is the complete list of original tangles (aka "official tangles") created and introduced by founders Rick Roberts and Maria Thomas, including those not published online. If you are new to the Zentangle Method I highly recommend learning a few of the published Zentangle classics first.
"A Zentangle has no up or down and is not a picture of something, so you have no worries about whether you can draw a hand, or a duck. You always succeed in creating a Zentangle." Thus patterns that are drawings of a recognizable naturalistic or actual object, figure, or scene, are not tangles. A pattern is not always a tangle — here's what makes a tangle. TIP: tangles never start with pencil planning.
For lots of great FREE tutorials on TanglePatterns, click on the TUTORIALS link in the pink alphabetic menu bar below the tangle images at the top of any page.
Strings! Have we got STRINGS! Click on the STRINGS link in the pink alphabetic menu bar below the tangle images at the top of any page for 250 different (free) Zentangle-starters. More than enough for any lifetime!
Never miss a tangle! FREE eMAIL NEWSLETTER - visit the SUBSCRIBE page on the top menu bar of any page on the site and sign up to get notices delivered free to your inbox.
.oOo.

Enhance your Zentangle experience while supporting TanglePatterns:

CURRENT EDITION!

TanglePatterns.com TANGLE GUIDE, 2023 Edition

The 12th Edition of the TanglePatterns.com TANGLE GUIDE is an instant-download 103-page (50 MB) interactive digital eBook/PDF containing almost 1,900 tangles on the site from May 2010 through December 31, 2022. It's a great resource and a must-have digital tool for using the site. Visit the STORE > E-BOOKS page and help keep TanglePatterns.com online by getting your copy now!

"Linda, Thank you! I was relying on too few and getting stuck after 3 years of daily working with Zentangle. This has inspired me to 'begin again' with renewed excitement." ~ Barbara R.

See the BOOK REVIEWS page for more details on its features and view a sample page. Note: this is a digital product you download immediately when you place your order, nothing will be physically mailed to you.
GIFT ORDERS FOR ANOTHER PERSON: To give the TANGLE GUIDE as a gift, visit this page to place your gift order.
If you're new to Zentangle® and tangling, my TanglePatterns.com BEGINNER'S GUIDE TO ZENTANGLE is just what you need to get started. Also available en Français and en Español.

---

This is the only Zentangle book you'll ever need: the fabulous Zentangle PRIMER Vol 1. It's your CZT-in-a-book by the founders of Zentangle®. Visit the STORE tab on the top menu bar or click on the image. For more about the content and to read the rave reviews, visit the BOOK REVIEWS tab.
NEW! Now available in KINDLE format for $9.99. Spanish Edition here. Japanese Edition here.
"Absolutely the best Zentangle Book yet! As an accomplished artist I used to think I did not need instruction on this art form. How wrong I was! My tangling improved by leaps and bounds after reading this book. If you think you have Zentangle down then you need this book more than ever!" ~ Kris H

---

.oOo.