Whoo hoo, it's Friday and this weekend we have the semi-finals of the 2019 Rugby World Cup!
Anyone else watching the qualifying matches from Japan for the last month or so? As with all the other major sports' World Cups, the RWC also takes place once every four years. This year the participating RWC national teams managed to continue through Typhoon Hagibis and now four teams have reached the semis.
Ranked second in world rugby, England have their work cut out for them tomorrow because they meet the legendary and world first-ranked New Zealand All Blacks. On Sunday, 3rd-ranked Wales meets 4th-ranked South Africa's Springboks. Interesting how the teams ranked as the top four in the world have all made it through the qualifying rounds to the semi-finals. Rugby titans clash all weekend long.
As you may know my hubbie Robert was born in England — and his youngest brother Stuart is a legend in the world of rugby statistics ("Rugby statistician for the 6 Nations, Lions, Premiership, PRO14, scrum.com and Leicester Tigers") — at least one of us 😉 is keeping a close eye on this year's Rugby World Cup. At this stage of the competition, I'll be enjoying these matches too.
Ah, you came here to find a new tangle so let's get on with it …
Leef-ish is from Ohio CZT Lee Kay, and it's her first on the site.
In her first sample tile Lee combines Leef-ish with the Zentangle®-original Crescent Moon.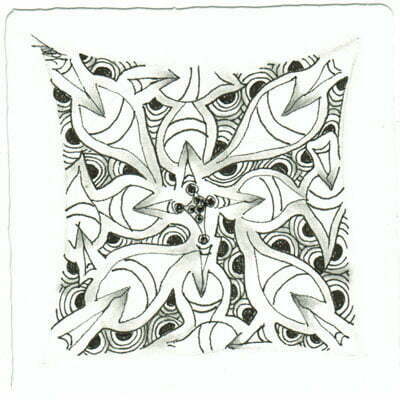 Lee tells us a little about herself and how Leef-ish came about,
In addition to loving everything Zentangle, I am an avid gardener and love all tangles organic and plant-like.
Two of my favorites are Pokeroot and Pokeleaf. Pokeroot was one of the first tangles I learned; I use it regularly and love that it shows up in so much of what Maria and Rick share in their work. It feels like gardening and Zentangle merging!
This was a tangle I created while playing with and reimagining Pokeleaf even before I showed up to a class with Judy Montgomery, CZT. During the class I had some of my tiles lying out on the table and she took a look at it. She asked me the name, and I had no answer! I told her I had made it up.
It is through encouragement from Judy and Joan Stark (another TanglePatterns contributor) that I am offering up this tangle I call Leef-ish.
I named it because it can look like a leaf, or a fish.
In my mind it lends itself well to tangleation and as reticula to hold fragments and get filled with other kinds of patterns. I hope folks enjoy it.
For my example of Lee's Leef-ish I didn't have room to create the random look she achieved to my satisfaction, and besides I need a little order in my life right now. So I created a simple "orderly" ribbon-style version of this fun tangle. Lee's lovely examples show a range of ways to explore her tangle.
Lee illustrates the step-by-step instructions for drawing Leef-ish below and her example tile includes some interesting fill variations to explore. As she notes, you can fill them with pretty much anything your heart desires.
As you enjoy any of the tangles on the site, please leave a comment of thanks and encouragement to show the artists you appreciate them for sharing their creativity to inspire yours. Your comment helps motivate them to continue to share!
Check out the tag leek for more of Lee's tangles on TanglePatterns.com.
Have a wonderful weekend, and I'll see you back here on Monday!
Related Links
Looking for tangles by Artist or Type? For details visit the ABOUT > HOW TO FIND TANGLES BY ARTIST OR TYPE page on the top menu bar of any page on the site.
What is a Zentangle? — if you are new to the Zentangle Method, start here for the fundamentals.
Zentangle terminology — a glossary of terms used in this art form.
How to use the site — an excellent free video tutorial showing how to use the site as well as pointing out lots of useful features you might have missed.
Linda's List of Zentangle-Original Patterns — here is the complete list of original tangles (aka "official tangles") created and introduced by founders Rick Roberts and Maria Thomas, including those not published online. If you are new to the Zentangle Method I highly recommend learning a few of the published Zentangle classics first.
"A Zentangle has no up or down and is not a picture of something, so you have no worries about whether you can draw a hand, or a duck. You always succeed in creating a Zentangle." Thus patterns that are drawings of a recognizable naturalistic or actual object, figure, or scene, are not tangles. A pattern is not always a tangle — here's what makes a tangle. TIP: tangles never start with pencil planning.
For lots of great FREE tutorials on TanglePatterns, click on the TUTORIALS link in the pink alphabetic menu bar below the tangle images at the top of any page.
Strings! Have we got STRINGS! Click on the STRINGS link in the pink alphabetic menu bar below the tangle images at the top of any page for 250 different (free) Zentangle-starters. More than enough for any lifetime!
Never miss a tangle! FREE eMAIL NEWSLETTER - visit the SUBSCRIBE page on the top menu bar of any page on the site and sign up to get notices delivered free to your inbox.
.oOo.
Never miss a tangle - FREE newsletter subscription!
Sign up to get new tangle posting notices delivered
free
to your email inbox in a few easy steps:
Click here: Subscribe to TanglePatterns by Email and enter your email address. OR, sign up from the SUBSCRIBE page on the top menu bar.
Double check that you've entered the correct email address — typos occur more often than you'd think.
If you entered your email address correctly you will immediately receive a "Thank you for subscribing" email from FeedBlitz on behalf of TanglePatterns.
Add linda@tanglepatterns.com to your address book/whitelist so the email isn't blocked by spam filters. Gmail is particularly brutal about deciding everything important is spam.
If you subscribe to all three lists (Daily, Comments, Weekly Digest) you may receive a separate email for each subscription.
How to manage your TanglePatterns subscriptions
You can change your email address, temporarily pause your subscription while you're on vacation, or unsubscribe at any time by using the subscription management links at the bottom of any of your TanglePatterns emails. Whether you subscribe to the daily TanglePatterns email, the Comments email, or the Weekly Digest email, each one is a separate subscription so use the links in the relevant email to make your changes. For more information see ABOUT > HOW TO CHANGE YOUR EMAIL SUBSCRIPTION on the menu bar at the top of any page.
.oOo.
.oOo.

Enhance your Zentangle experience while supporting TanglePatterns:

CURRENT EDITION!

TanglePatterns.com TANGLE GUIDE, 2023 Edition

The 12th Edition of the TanglePatterns.com TANGLE GUIDE is an instant-download 103-page (50 MB) interactive digital eBook/PDF containing almost 1,900 tangles on the site from May 2010 through December 31, 2022. It's a great resource and a must-have digital tool for using the site. Visit the STORE > E-BOOKS page and help keep TanglePatterns.com online by getting your copy now!

"Linda, Thank you! I was relying on too few and getting stuck after 3 years of daily working with Zentangle. This has inspired me to 'begin again' with renewed excitement." ~ Barbara R.

See the BOOK REVIEWS page for more details on its features and view a sample page. Note: this is a digital product you download immediately when you place your order, nothing will be physically mailed to you.
GIFT ORDERS FOR ANOTHER PERSON: To give the TANGLE GUIDE as a gift, visit this page to place your gift order.
If you're new to Zentangle® and tangling, my TanglePatterns.com BEGINNER'S GUIDE TO ZENTANGLE is just what you need to get started. Also available en Français and en Español.

---

This is the only Zentangle book you'll ever need: the fabulous Zentangle PRIMER Vol 1. It's your CZT-in-a-book by the founders of Zentangle®. Visit the STORE tab on the top menu bar or click on the image. For more about the content and to read the rave reviews, visit the BOOK REVIEWS tab.
NEW! Now available in KINDLE format for $9.99. Spanish Edition here. Japanese Edition here.
"Absolutely the best Zentangle Book yet! As an accomplished artist I used to think I did not need instruction on this art form. How wrong I was! My tangling improved by leaps and bounds after reading this book. If you think you have Zentangle down then you need this book more than ever!" ~ Kris H

---

.oOo.