Here we are zipping through July and the back-to-school ads are showing up already! Egads.
In another couple of weeks the English Premier League starts its season followed quickly by our American college football … and the height of hurricane season. So far, so good this year.
CaligraV is a lovely grid-based tangle from Carnegie PA tangler Mary D'Angelo and it's her first on the site. Mary is a student of Pittsburgh CZT Sue Schneider (sues) and is looking forward to becoming a CZT herself in October. She writes,
After graduating early from high school I completed a traditional apprenticeship with a Stained Glass Master in New York City. Designing and building in this art form was my business until well into my 40's. I gradually found that due to the progression of Lupus I could no longer sustain the physicality required for the craft and reluctantly sold my business.
That created a new opportunity to study at Paier College of Art. I majored in color theory and illustration. Those days were some of the most joyful of my life!
In Northern California for 17 years I partnered with my friend and created our company Emma George. We published numerous how-to craft articles in national publications such as Family Circle and Woodstrokes. Now, just for fun, occasionally I paint semi-abstract water color portraits.
My focus at this time is primarily Zentangle®. I eagerly anticipate the wonderful gift of a scholarship to the October Certified Zentangle Teacher Training #32 in Providence. I plan to use my training at various Churches to teach children and their parents, or grandparents, in order to promote less "screen time" and better communication. I also plan to teach senior caregivers in my community of over 420 homes who have so little time to care for themselves. It is my intent to offer these classes at no cost except for the necessary supplies.
Mary describes how she came up with CaligraV,
As an amateur calligrapher I love to look at various style of alphabets. The name and inspiration came from an illustration of "Italic Swash Capital" letters. I often practice lettering as a warm-up line exercise. I find it helps to calm shaky hands.
Mary included two lovely tiles featuring CaligraV and "in each of these tiles I have varied the thickness of the lines, played with scale and used auras. …
Since CaligraV utilizes auras I thought it would be fun to combine it with other tangles that also employ auras. The lines are enhanced with rounding at the tips simulating serifs. I incorporated "Bumpkens" by Beth Snoderly, "CC" by Mina Hsiao CZT, "Dugwud" by Anita Roby-Lavery CZT, and "Ta-da" from Margaret McKerihan.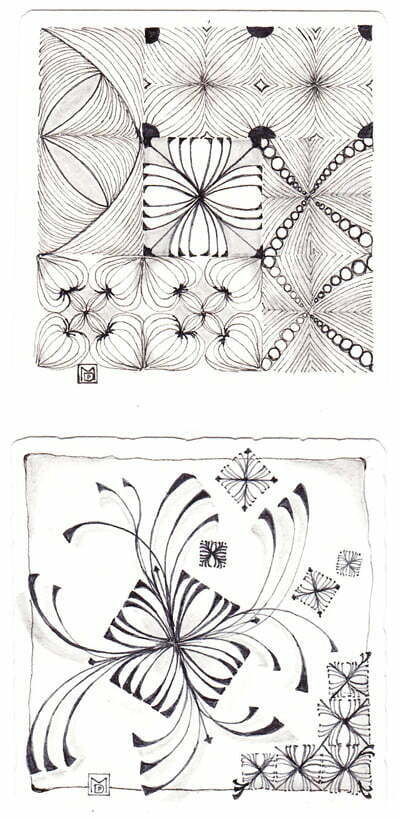 I particularly love the second tile where Mary has liberated CaligraV and created a free-form floating version. The calligraphic weighted serifs give it some great movement.
Mary illustrates the step-by-step instructions for drawing CaligraV below where she features it in a pretty duotangle with the Zentangle-original Mooka.
As you enjoy any of the tangles on the site, please leave a comment of thanks and encouragement to show the artists you appreciate them for sharing their creativity to inspire yours. Your comment helps motivate them to continue to share!
Check out the tag maryda for more of Mary's tangles on TanglePatterns.com.
Related Links
Looking for tangles by Artist or Type? For details visit the ABOUT > HOW TO FIND TANGLES BY ARTIST OR TYPE page on the top menu bar of any page on the site.
What is a Zentangle? — if you are new to the Zentangle Method, start here for the fundamentals.
Zentangle terminology — a glossary of terms used in this art form.
How to use the site — an excellent free video tutorial showing how to use the site as well as pointing out lots of useful features you might have missed.
Linda's List of Zentangle-Original Patterns — here is the complete list of original tangles (aka "official tangles") created and introduced by founders Rick Roberts and Maria Thomas, including those not published online. If you are new to the Zentangle Method I highly recommend learning a few of the published Zentangle classics first.
"A Zentangle has no up or down and is not a picture of something, so you have no worries about whether you can draw a hand, or a duck. You always succeed in creating a Zentangle." Thus patterns that are drawings of a recognizable naturalistic or actual object, figure, or scene, are not tangles. A pattern is not always a tangle — here's what makes a tangle. TIP: tangles never start with pencil planning.
For lots of great FREE tutorials on TanglePatterns, click on the TUTORIALS link in the pink alphabetic menu bar below the tangle images at the top of any page.
Strings! Have we got STRINGS! Click on the STRINGS link in the pink alphabetic menu bar below the tangle images at the top of any page for 250 different (free) Zentangle-starters. More than enough for any lifetime!
Never miss a tangle! FREE eMAIL NEWSLETTER - visit the SUBSCRIBE page on the top menu bar of any page on the site and sign up to get notices delivered free to your inbox.
.oOo.

Enhance your Zentangle experience while supporting TanglePatterns:

CURRENT EDITION!

TanglePatterns.com TANGLE GUIDE, 2023 Edition

The 12th Edition of the TanglePatterns.com TANGLE GUIDE is an instant-download 103-page (50 MB) interactive digital eBook/PDF containing almost 1,900 tangles on the site from May 2010 through December 31, 2022. It's a great resource and a must-have digital tool for using the site. Visit the STORE > E-BOOKS page and help keep TanglePatterns.com online by getting your copy now!

"Linda, Thank you! I was relying on too few and getting stuck after 3 years of daily working with Zentangle. This has inspired me to 'begin again' with renewed excitement." ~ Barbara R.

See the BOOK REVIEWS page for more details on its features and view a sample page. Note: this is a digital product you download immediately when you place your order, nothing will be physically mailed to you.
GIFT ORDERS FOR ANOTHER PERSON: To give the TANGLE GUIDE as a gift, visit this page to place your gift order.
If you're new to Zentangle® and tangling, my TanglePatterns.com BEGINNER'S GUIDE TO ZENTANGLE is just what you need to get started. Also available en Français and en Español.

---

This is the only Zentangle book you'll ever need: the fabulous Zentangle PRIMER Vol 1. It's your CZT-in-a-book by the founders of Zentangle®. Visit the STORE tab on the top menu bar or click on the image. For more about the content and to read the rave reviews, visit the BOOK REVIEWS tab.
NEW! Now available in KINDLE format for $9.99. Spanish Edition here. Japanese Edition here.
"Absolutely the best Zentangle Book yet! As an accomplished artist I used to think I did not need instruction on this art form. How wrong I was! My tangling improved by leaps and bounds after reading this book. If you think you have Zentangle down then you need this book more than ever!" ~ Kris H

---

.oOo.