Zentangle's Project Pack #03 "takes multiple tiles and pieces them together to create one collaborative piece.
The theme we're working with is ribbon-like strings and we're going to bring focus to border tangles, fragments and reticula.
We're also going to finish off with a fun way to add color and dimension."
SUPPLIES: This Project Pack is available here ($26.95) in the zentangle.com store and it's certainly a convenient way to get all the supplies for the project. However for those of us whose budgets are tight, the preparation video reviews the items in the Project Pack and you might discover you have suitable alternatives in your own Zentangle supplies.
This Project Pack includes two sets of 9 tiles each, a set of Renaissance Tan and a set of regular White Zentangle tiles together with the remaining tools needed for the project. The tiles can be used mix and match or as one color, as you desire your Ensemble to be.
The following chronology is a summary of the videos for this Project Pack with links to the individual videos. Either click the Day #'s title link or the image itself to view the full video on YouTube.
It isn't necessary to watch the videos in sequence, but it will be very helpful for you to watch the Preparation video first.

---
In Day 1's video (10:13) – Maria's daughter CZT Molly Hollibaugh demonstrates how to prepare a set of 9 Zentangle tiles to get them ready for tangling in the remaining videos. She places the tiles face down and uses masking tape to assemble into a 3 x 3 square of tiles. She then tapes together the 3 pencils included in the Pack to create a tool to make the ribbon-like strings on the ensemble of tiles.
Again, as I noted above, It isn't necessary to watch the videos in sequence, but it will be very helpful for you to watch this video first.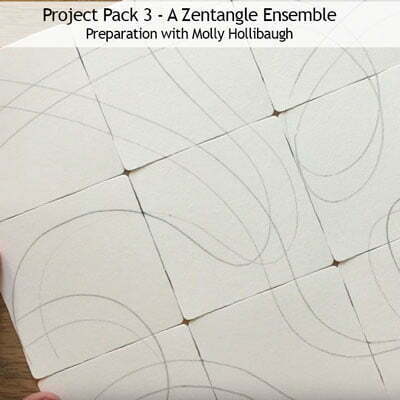 ---
In Day 2's video (8:25) CZT Molly Hollibaugh returns to demonstrate how to tangle using the ribbons created in the introductory video. Molly begins (2:10) by choosing a section and breaking the band down into square-shaped sections using double lines with her black Micron 01 pen. When the section is complete, Molly adds (4:04) a fragment to each square she's just created in the ribbon.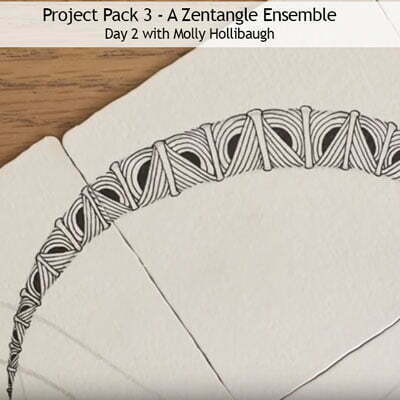 ---
In Day 3's video (7:20) Maria's daughter CZT Martha Huggins tangles Diva Dance – Rock 'n' Roll in a section of the ribbon on her Renaissance tan tile ensemble.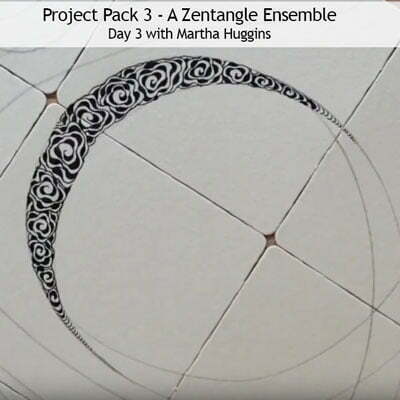 ---
In Day 4's video (5:14) CZT Julie Willand of Zentangle HQ tangles another section of the ribbon using Hollibaugh "with a little bit of a dramatic flair".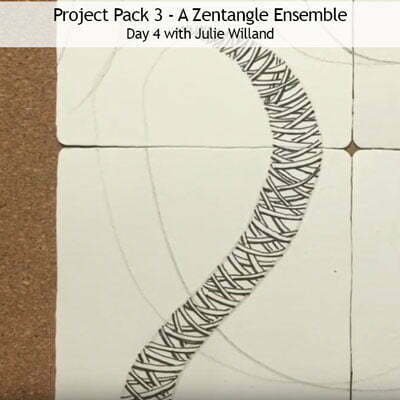 ---
In Day 5's video (6:33), Zentangle co-founders Rick Roberts and Maria Thomas comment together as Maria tangles another section of the ensemble's ribbon. Maria fills the section with Toodles and complements it with auras to fill the spaces between the leaves and around the outer edge of the entire section.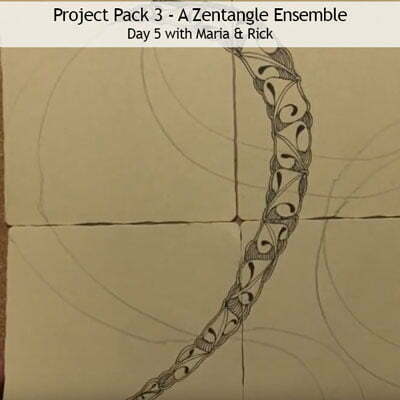 ---
In Day 6's video (8:46) Rick again keeps Maria company as she tangles another ribbon section of the ensemble. Maria begins with simple orbs and makes a line of them down the center of the section. Next she "stitches" the orbs together with 4 strokes of the pen. Once that is completed she nestles another orb next to the original ones making it appear "almost like beadwork". Once those have been added she again stitches them together with the 4 strokes. She then fills each orb on one side with a crescent shape.
Maria carries on to fills another section of the ribbon (4:45) which is "the back side of the of the ribbon where it twists and goes under" with larger orbs centered in the space. She ties them together in a similar fashion using 2 strokes, "like a little necklace of pearls". She adds an aura around the outside of the string of pearls, then a triangle shape between each, and rounding along the edges of the triangle shapes. "And then at the end you just do your aura!"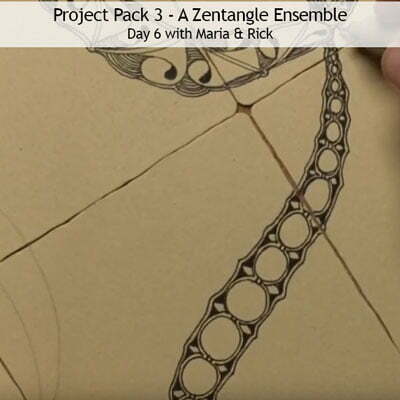 ---
In Day 7's video (6:40) this time Maria keeps Rick company as he tangles Paradox in a section of the ribbon. First he outlines the ribbon section with ink then fills it with triangles in preparation for adding Paradox. Rick fills the length of the ribbon with Paradox alternating in opposite directions creating a beautiful meta-shape.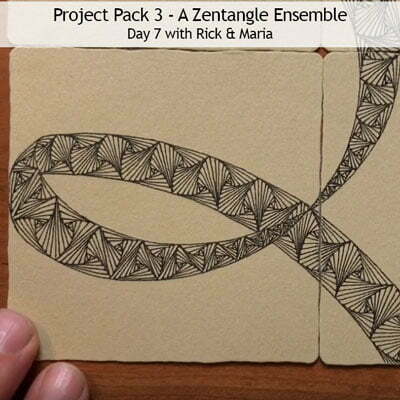 ---
In Day 8's video (11:46) Maria joins her daughter Molly in a session to add color to the ensemble with General's Kimberly watercolor pencils.
Using an orange and a yellow watercolor pencil and a damp watercolor brush, Molly shows various ways to use the two colors together in the different bands of ribbon for a variety of colorful blends and effects using just the two colors.
Pointing out it's important to make sure the watercolor is completely dry before adding shading, she says "I waited a whole day before I added my graphite!" Molly adds graphite shading (7:36) to the ribbons and then highlights with a white charcoal pencil.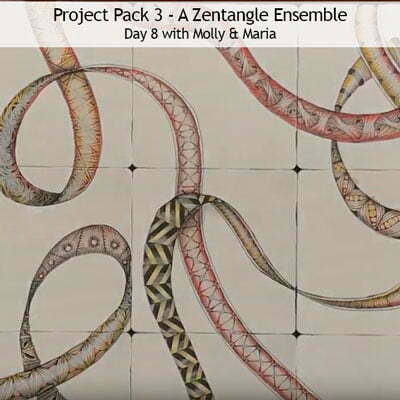 ---
In the final video in the Project Pack 6 Series (8:14) Rick and Maria wrap up this series with Maria applying color to their ensemble. She notes, "all of these different techniques we're showing you are just just different ways of applying the color, different ideas."
Maria uses a turquoise General's Kimberly watercolor pencil and a red one to add color to the ribbons, then — as Molly noted — Maria allows the entire page to thoroughly dry before proceeding to add graphite shading (4:30) and white charcoal highlights.
Then Maria, being Maria, adds a wonderful background across the entire ensemble: "You know I couldn't leave leave well enough alone. I had to just add a little bit of something and so I went in with a pencil, of all things just a pencil, and I tangled and in pencil and then added a little white afterwards."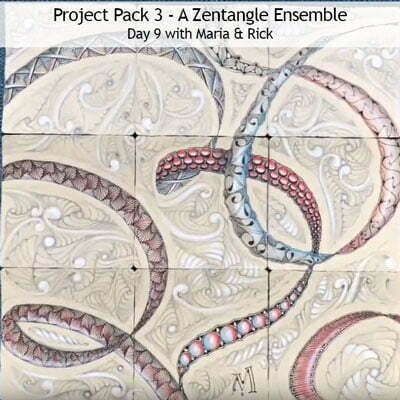 ---
And there you have it. This recap of Zentangle's Project Pack #03 will make it easy for you to find all the related videos.
Remember the images above are linked to their YouTube video, simply click the image to go to the video.
For future reference you can locate this post on the TUTORIALS and the VIDEO tabs in the pink alphabetic tangle menu bar. You can also locate it in the TANGLES BY TYPE section in the left sidebar with the tag projectpack.
.oOo.
Zentangle Project Pack Summaries on TanglePatterns
For your convenience here are the links to all of my
Zentangle Project Pack
summaries:
.oOo.
These are the links to my
Zentangle Apprentice Project Pack
summaries:
January - February 2021: The Basics of the Zentangle Method
NOTE: You can always find the Project Pack Summaries by clicking on PROJECT PACKS on the pink alphabetic tangle menu bar. OR by looking in the left sidebar under TANGLES BY TYPE for the tag
projectpack
. OR on the ZENTANGLE PROJECT PACKS page on the ZENTANGLES tab on the top menu bar of any page on the site.
.oOo.

Enhance your Zentangle experience while supporting TanglePatterns:

CURRENT EDITION!

TanglePatterns.com TANGLE GUIDE, 2023 Edition

The 12th Edition of the TanglePatterns.com TANGLE GUIDE is an instant-download 103-page (50 MB) interactive digital eBook/PDF containing almost 1,900 tangles on the site from May 2010 through December 31, 2022. It's a great resource and a must-have digital tool for using the site. Visit the STORE > E-BOOKS page and help keep TanglePatterns.com online by getting your copy now!

"Linda, Thank you! I was relying on too few and getting stuck after 3 years of daily working with Zentangle. This has inspired me to 'begin again' with renewed excitement." ~ Barbara R.

See the BOOK REVIEWS page for more details on its features and view a sample page. Note: this is a digital product you download immediately when you place your order, nothing will be physically mailed to you.
GIFT ORDERS FOR ANOTHER PERSON: To give the TANGLE GUIDE as a gift, visit this page to place your gift order.
If you're new to Zentangle® and tangling, my TanglePatterns.com BEGINNER'S GUIDE TO ZENTANGLE is just what you need to get started. Also available en Français and en Español.

---

This is the only Zentangle book you'll ever need: the fabulous Zentangle PRIMER Vol 1. It's your CZT-in-a-book by the founders of Zentangle®. Visit the STORE tab on the top menu bar or click on the image. For more about the content and to read the rave reviews, visit the BOOK REVIEWS tab.
NEW! Now available in KINDLE format for $9.99. Spanish Edition here. Japanese Edition here.
"Absolutely the best Zentangle Book yet! As an accomplished artist I used to think I did not need instruction on this art form. How wrong I was! My tangling improved by leaps and bounds after reading this book. If you think you have Zentangle down then you need this book more than ever!" ~ Kris H

---

.oOo.