What fun, and our last one for January!
Spanish CZT Pilar Pulido's delightful Roloflex tangle is her first on the site.
Pilar introduces herself,
I live in Madrid (Spain) with my family and I fell in love with Zentangle® in my first contact with it. I'm one of the lucky students of María Tovar, the 1st CZT here in Spain. I'm also a CZT since April 2017. Although I'm not fully dedicated to teach it, I hope being able to collaborate to spread it.
Regarding "Roloflex" story, it came to me from an exercise with "S" shape string at the same time that my son was studying something related with tangencies at school. So, I named it in to honour him with this funny word he uses a lot in his personal vocabulary but which has no meaning: Roloflex.
Roloflex is simplicity itself, composed elegantly of S shapes and inner auras. It can easily work as an individual motif, in a row as a ribbon or border, or as an all-over pattern as Pilar demonstrates here in a pretty ZIA on a Renaissance Tan Tile where it appears almost shell-like.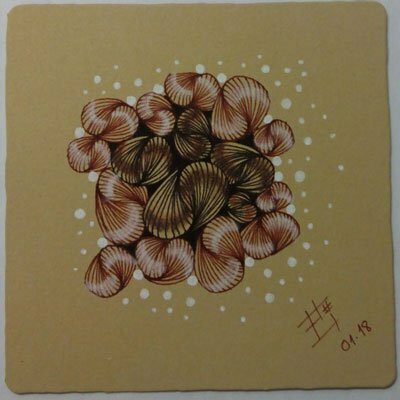 Here Pilar features Roloflex with the Zentangle-originals Pokeleaf and Tipple on a white Zentangle tile with a spot of color and beautiful shading.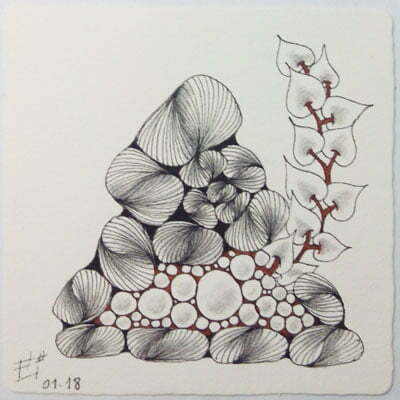 And Roloflex fashioned in white ink and white charcoal pencil on a black Zentangle tile with Henna Drum motifs sprouting from its aura.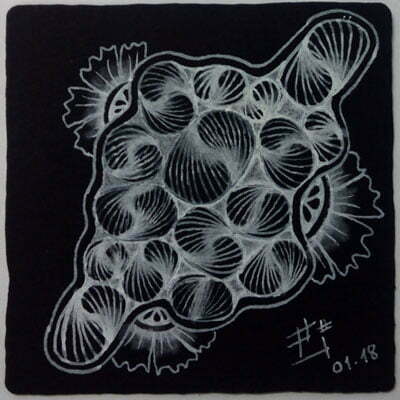 Pilar illustrates the step-by-step instructions for drawing Roloflex below and features it in a simple monotangle. Shading is a definite bonus for this tangle, and as with most: turn, turn, turn your tile so your hand is comfortably doing the strokes in a constant direction …
Pilar writes that her website is still under construction.
As you enjoy any of the tangles on the site, please leave a comment of thanks and encouragement to show the artists you appreciate them for sharing their creativity to inspire yours.
Check out the tag pilarp for more of Pilar's tangles on TanglePatterns.com.
Related Links
Looking for tangles by Artist or Type? For details visit the ABOUT > HOW TO FIND TANGLES BY ARTIST OR TYPE page on the top menu bar of any page on the site.
What is a Zentangle? — if you are new to the Zentangle Method, start here for the fundamentals.
Zentangle terminology — a glossary of terms used in this art form.
Linda's List of Zentangle-Original Patterns — here is the complete list of original tangles (aka "official tangles") created and introduced by founders Rick Roberts and Maria Thomas, including those not published online. If you are new to the Zentangle Method I highly recommend learning a few of the published Zentangle classics first.
"A Zentangle has no up or down and is not a picture of something, so you have no worries about whether you can draw a hand, or a duck. You always succeed in creating a Zentangle." Thus patterns that are drawings of a recognizable naturalistic or actual object, figure, or scene, are not tangles. A pattern is not always a tangle — here's what makes a tangle. TIP: tangles never start with pencil planning.
For lots of great FREE tutorials on TanglePatterns, click on the TUTORIALS link in the pink alphabetic menu bar below the tangle images at the top of any page.
Strings! Have we got STRINGS! Click on the STRINGS link in the pink alphabetic menu bar below the tangle images at the top of any page for 250 different (free) Zentangle-starters. More than enough for any lifetime!
Never miss a tangle! FREE eMAIL NEWSLETTER - visit the SUBSCRIBE page on the top menu bar of any page on the site and sign up to get notices delivered free to your inbox.