Happy Monday, and Happy October! Time flies …
Today tangler Jenna Black is back with her lovely Delys tangle and this is her seventh tangle on the site. Jenna writes,
I started out trying to develop a new pattern based off of a V shape, and this is what I came up with.
The shape reminds me of a fleur-de-lis, and that's where the name Delys came from.
I like the way the Vs can fit together to form a border or a bloom–or even stand alone, with a little extra embellishment.
About the fleur-de-lis Wikipedia informs,
The fleur-de-lis/fleur-de-lys (plural: fleurs-de-lis) or flower-de-luce is a stylized lily (in French, fleur means "flower", and lis means "lily") that is used as a decorative design or symbol. Many of the saints are often depicted with a lily, most prominently St. Joseph.
Since France is a historically Catholic nation, the Fleur de lis became commonly used … especially in French heraldry.
… While the fleur-de-lis has appeared on countless European coats of arms and flags over the centuries, it is particularly associated with the French monarchy in a historical context, and continues to appear in the arms of the King of Spain (from the French House of Bourbon dynasty) and the Grand Duke of Luxembourg and members of the House of Bourbon. It remains an enduring symbol of France that appears on French postage stamps, although it has never been adopted officially by any of the French republics.
According to French historian Georges Duby, the three petals represent the medieval social classes: those who worked, those who fought, and those who prayed.
There are lots of great examples and a wealth of background information about the fleur-de-lis on the Wikipedia page. Another tangle on the site with a similar motif is Taiwan CZT Hsin-Ya Hsu's Croscro. Delys is best in a bit of a larger scale and for my example I added a simple aura to set it off.
Jenna illustrates the step-by-step instructions for drawing Delys below and features it in a lovely monotangle as a border or ribbon, as an individual element, and "in the round".
With this beautiful colorful Zentangle-inspired tile Jenna writes "I especially love how they look in color, which is why I include an extra color tile just to show it off."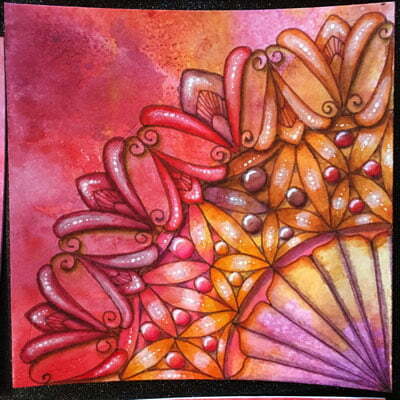 As you enjoy any of the tangles on the site, please do leave a comment of thanks and encouragement to show the artists you appreciate them for sharing their creativity to inspire yours.
Check out the tag jennab for more of Jenna's tangles on TanglePatterns.com.
.oOo.
Guidelines for creating Zentangle®-inspired art and products
Thinking about creating Zentangle-related products for sale? Please see these pages:
You'll find all sorts of great tips and useful information by visiting the TUTORIALS tab on the pink alphabetic tangle index menu bar.
It's all there!
.oOo.
.oOo.

Enhance your Zentangle experience while supporting TanglePatterns:

CURRENT EDITION!

TanglePatterns.com TANGLE GUIDE, 2023 Edition

The 12th Edition of the TanglePatterns.com TANGLE GUIDE is an instant-download 103-page (50 MB) interactive digital eBook/PDF containing almost 1,900 tangles on the site from May 2010 through December 31, 2022. It's a great resource and a must-have digital tool for using the site. Visit the STORE > E-BOOKS page and help keep TanglePatterns.com online by getting your copy now!

"Linda, Thank you! I was relying on too few and getting stuck after 3 years of daily working with Zentangle. This has inspired me to 'begin again' with renewed excitement." ~ Barbara R.

See the BOOK REVIEWS page for more details on its features and view a sample page. Note: this is a digital product you download immediately when you place your order, nothing will be physically mailed to you.
GIFT ORDERS FOR ANOTHER PERSON: To give the TANGLE GUIDE as a gift, visit this page to place your gift order.
If you're new to Zentangle® and tangling, my TanglePatterns.com BEGINNER'S GUIDE TO ZENTANGLE is just what you need to get started. Also available en Français and en Español.

---

This is the only Zentangle book you'll ever need: the fabulous Zentangle PRIMER Vol 1. It's your CZT-in-a-book by the founders of Zentangle®. Visit the STORE tab on the top menu bar or click on the image. For more about the content and to read the rave reviews, visit the BOOK REVIEWS tab.
NEW! Now available in KINDLE format for $9.99. Spanish Edition here. Japanese Edition here.
"Absolutely the best Zentangle Book yet! As an accomplished artist I used to think I did not need instruction on this art form. How wrong I was! My tangling improved by leaps and bounds after reading this book. If you think you have Zentangle down then you need this book more than ever!" ~ Kris H

---

.oOo.