Last one for September! And it's a goodie …
Judy Okawa's Cee tangle is so easy it could be saved for a Monday tangle. But it's so much fun I know you'll really enjoy exploring it – and learning about American artist Edwin Mieczkowski (pronounced: Mitch-KOW-skee) – this weekend.
Judy explains how Cee came about …
I had a chance to go to the Cleveland Museum of Art recently, and was really intrigued by an Op Art type painting by Edwin Mieczkowski, so I did a quick sketch of the shapes he used, and played around with them when I got home – (Isn't it interesting how we see Zentangle patterns wherever we look!)
Naturally I had to find out about Pittsburgh-born Edwin Mieczkowski. As you'll see by the links I've included, I went down several very enjoyable and educational rabbit holes and I hope you enjoy them too.
A leader in the hard-edged, geometric abstractionist movement that arose in the U.S. and Europe in the late 1950s, Edwin Mieczkowski is regarded as one of the earliest proponents of Optical Art, a style that rivaled Abstract Expressionism for dominance in the mid-1960s.
Born in Pittsburgh in 1929, he received his BFA from the Cleveland Institute of Art in 1957 and his MFA from Carnegie Mellon in 1959. He taught at the Cleveland Institute of Art for 39 years, even while maintaining a home and studio for a number of years in New York City.
Together with Frank Hewitt and Ernst Benkert, he formed an artist group called Anonima. Sharing studio space in New York and other locations, they followed a rigorous, self-imposed program of painting exercises to explore the effects of color, brightness and form on visual perception, prefiguring and becoming part of the Op Art movement. ~ from the bio at the LewAllen Galleries
Mieczkowski was the 1996 winner of the Cleveland Arts Prize For Visual Arts and this is an excerpt from this page on the organizations's site. It's well worth a read but the type is very tiny so remember to use the Windows "CTRL" + Mouse Wheel trick to enlarge the page for human eyes! The page includes several examples of Mieczkowski's fascinating works.
Fame and material success, Mieczkowski and his friends agreed, was not their goal. They called themselves the Anonima group. But just five years later, in 1964, they were being heralded by Time magazine as the beginning of something called "Op [for Optical] Art",  with Mieczkowski's mesmerizing Adele's Class Ring as Exhibit A.
The following year saw his work featured—along with that of fellow CIA faculty members Julian Stanczak and Frank Hewitt and alumnus Richard Anuszkiewicz—in a history-making show at New York's Museum of Modern Art (MOMA), The Responsive Eye.
In contrast to the raw, freewheeling feel of Abstract Expressionism, their work was geometrically elegant, layered, carefully planned and often deliciously complex. It made the viewer aware of his/her own participation in the act of creation at a visceral level.
As for our Op Art Cee, Judy writes,
I discovered that when the basic "Cee" shape is lined up in rows, an arrow shape appears in the empty spaces – And when 4 "Cee" shapes are arranged in a square, a rather complex looking pattern can be formed, but it's actually just simple rows of Cees….  (For the arrangement in box 4, I started with the 4 Cees in the center, and then just extended each row – )
The fun part then is adding embellishments and details!

When I was working on my example of Cee, I wanted to use the version Judy illustrates in her first tile example and I came up with this. When I looked at it again I realized I missed a step where the curved strokes are added inside the Cee's before adding the "veins". So I decided to start again and when I got the C strokes inside the Cee shapes, so to speak, I liked the dynamic look of where I was at without going any further. I restated some strokes and added a bit of solid graphite and that's where my main example ended up. This is a really fun tangle to play with.
Judy illustrates the step-by-step instructions for drawing Cee here and she demonstrates how rotating, repeating, mirroring and alternating the elements of Cee produce different results. This rotating, repeating, mirroring and alternating is the basic philosophy behind Zentangle's fragments but in Judy's case the "reticula" (grid) is created by the fragments of Cee.
Embellishment possibilities are plentiful and in her lovely tile Judy includes a couple of sprigs of the Zentangle-original Zinger.
In her second tile Judy adds some Dex dimension and pearly suggestions for another Op Art look.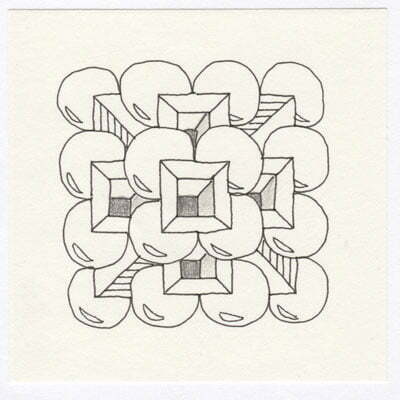 Thanks for the fascinating Op Art history journey and a really fun tangle, Judy!
BTW, you can find 50+ more Op Art tangles on TanglePatterns by clicking on the "live" op art tag in the date bar just above the Comments section farther down the page.
As you enjoy any of the tangles on the site, please do leave a comment of thanks and encouragement to show the artists you appreciate them for sharing their creativity to inspire yours.
Check out the tag judyo for more of Judy's tangles on TanglePatterns.com.
.oOo.

Enhance your Zentangle experience while supporting TanglePatterns:

CURRENT EDITION!

TanglePatterns.com TANGLE GUIDE, 2023 Edition

The 12th Edition of the TanglePatterns.com TANGLE GUIDE is an instant-download 103-page (50 MB) interactive digital eBook/PDF containing almost 1,900 tangles on the site from May 2010 through December 31, 2022. It's a great resource and a must-have digital tool for using the site. Visit the STORE > E-BOOKS page and help keep TanglePatterns.com online by getting your copy now!

"Linda, Thank you! I was relying on too few and getting stuck after 3 years of daily working with Zentangle. This has inspired me to 'begin again' with renewed excitement." ~ Barbara R.

See the BOOK REVIEWS page for more details on its features and view a sample page. Note: this is a digital product you download immediately when you place your order, nothing will be physically mailed to you.
GIFT ORDERS FOR ANOTHER PERSON: To give the TANGLE GUIDE as a gift, visit this page to place your gift order.
If you're new to Zentangle® and tangling, my TanglePatterns.com BEGINNER'S GUIDE TO ZENTANGLE is just what you need to get started. Also available en Français and en Español.

---

This is the only Zentangle book you'll ever need: the fabulous Zentangle PRIMER Vol 1. It's your CZT-in-a-book by the founders of Zentangle®. Visit the STORE tab on the top menu bar or click on the image. For more about the content and to read the rave reviews, visit the BOOK REVIEWS tab.
NEW! Now available in KINDLE format for $9.99. Spanish Edition here. Japanese Edition here.
"Absolutely the best Zentangle Book yet! As an accomplished artist I used to think I did not need instruction on this art form. How wrong I was! My tangling improved by leaps and bounds after reading this book. If you think you have Zentangle down then you need this book more than ever!" ~ Kris H

---

.oOo.