Croscro is an elegant tangle pattern from Taiwan's Hsin-Ya Hsu, and it's her first on the site. I believe this is also a first on the site for a mother-daughter combo of back-to-back tangles.
Hsin-Ya is Damy's (Damy Teng) daughter, and both are coming to the US in the fall to attend the CZT seminar. I just looked at the CZT list and there are now 19 CZTs in Taiwan! And more in the wings …
Hsin-Ya's inspiration for this tangle was the "famous silver jewelry" by Chrome Hearts, as shown in this photo she sent along.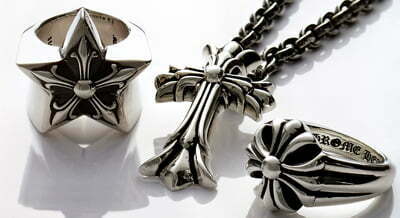 I'd never heard of Chrome Hearts so I went looking and learned why from Wikipedia: it's "an American luxury brand, founded in 1988 by Hollywood carpentry craftsman Richard Stark, that specializes in high-end .925 silver, 22k yellow gold and 18k white gold jewelry, leather, cashmere clothing and ebony wood furniture with gothic and punk rock motifs. It is known for its jewelry items which feature fleur-de-lys, dagger and floral cross designs. … Most of the Chrome Hearts products are handmade in Hollywood, USA."
Croscro is a very "neat and tidy" tangle. It can be drawn on a grid as Hsin-Ya demonstrates below, or the motif can be worked in a Zendala-type mandala circle or as a stand-alone design. When I first drew it for my example I used a small scale grid and it ended up being very cluttered to my eye. Also at this scale it was difficult to get enough space where the little "hooks" of Step 4 meet up. I'm showing these earlier examples anyway so you can see how Croscro can take on very different looks with different fills and shading.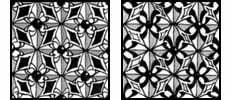 Hsin-Ya deconstructed the steps for Croscro and also included two of her beautiful drawings featuring her tangle for you to enjoy. Here are her step-by-step instructions for drawing Croscro.
This is her monotangle Zentangle® of Croscro. Just barely visible on this scan you can see where she's highlighted the central stroke of each "spear" with a glitter pen.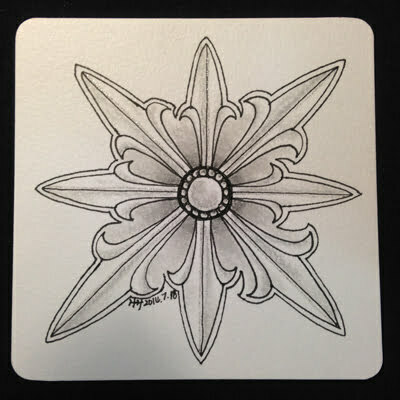 And a lovely Zendala-style ZIA version which appears to be done on a coaster.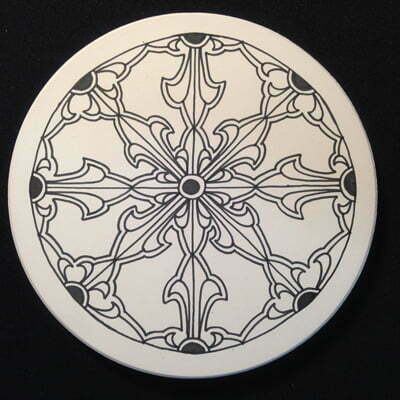 Check out the tag hsinyah for more of Hsin-Ya's patterns on TanglePatterns.com.
.oOo.

Enhance your Zentangle experience while supporting TanglePatterns:

CURRENT EDITION!

TanglePatterns.com TANGLE GUIDE, 2023 Edition

The 12th Edition of the TanglePatterns.com TANGLE GUIDE is an instant-download 103-page (50 MB) interactive digital eBook/PDF containing almost 1,900 tangles on the site from May 2010 through December 31, 2022. It's a great resource and a must-have digital tool for using the site. Visit the STORE > E-BOOKS page and help keep TanglePatterns.com online by getting your copy now!

"Linda, Thank you! I was relying on too few and getting stuck after 3 years of daily working with Zentangle. This has inspired me to 'begin again' with renewed excitement." ~ Barbara R.

See the BOOK REVIEWS page for more details on its features and view a sample page. Note: this is a digital product you download immediately when you place your order, nothing will be physically mailed to you.
GIFT ORDERS FOR ANOTHER PERSON: To give the TANGLE GUIDE as a gift, visit this page to place your gift order.
If you're new to Zentangle® and tangling, my TanglePatterns.com BEGINNER'S GUIDE TO ZENTANGLE is just what you need to get started. Also available en Français and en Español.

---

This is the only Zentangle book you'll ever need: the fabulous Zentangle PRIMER Vol 1. It's your CZT-in-a-book by the founders of Zentangle®. Visit the STORE tab on the top menu bar or click on the image. For more about the content and to read the rave reviews, visit the BOOK REVIEWS tab.
NEW! Now available in KINDLE format for $9.99. Spanish Edition here. Japanese Edition here.
"Absolutely the best Zentangle Book yet! As an accomplished artist I used to think I did not need instruction on this art form. How wrong I was! My tangling improved by leaps and bounds after reading this book. If you think you have Zentangle down then you need this book more than ever!" ~ Kris H

---

.oOo.