Today's tangle, Pineple, is another lovely one from Taiwan CZT Damy Teng.
As I've mentioned previously there are now 95 CZTs in Taiwan. If you're curious about how many CZTs there are in other countries, a few weeks ago I added a new page to the ZENTANGLES > TEACHING ZENTANGLE menu called LIST OF CZTs BY COUNTRY. It's an impressive list of countries from around the world with the USA and Canada currently leading in numbers and Taiwan in third place.
As we speak, Zentangle® founders Rick Roberts and Maria Thomas are touring Taiwan and they've just launched the new Chinese language edition of The Book of Zentangle. Exciting times in Zentangle-land!
Damy's inspiration for Pineple was this beautiful crochet design called "Crown of Pineapples". The Crown of Pineapples doily pattern is one "for crocheters with intermediate or advanced expertise":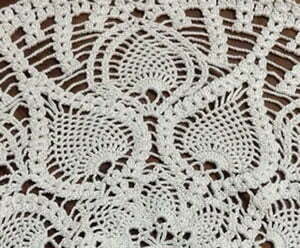 Luckily for us tanglers, Damy has deconstructed this lovely pattern so it can easily be drawn as a tangle. No intermediate or advanced expertise required.
"Drawn as a tangle" means that you repeat a series of elemental strokes in a certain structured way so you inevitably end up with a particular pattern without needing to know what the pattern you are creating is supposed to look like.
Usually the number of elemental strokes needed are 3 or less. Often, you only need one or two. By "elemental strokes" we mean a dot, a straight(-ish) line, a curve (like a parenthesis), a reverse curve (like an "S"), and an orb or circle.
It also has to be done without any underlying pencil structure. ~ from the Zentangle Blog

I've added emphasis to that last line because all too often designs that begin with pencil structures are incorrectly being called tangles. The word tangle was coined (used in this particular way for the first time) by Zentangle's founders: "we use this word as our replacement for 'a pattern that has been deconstructed so that it can be recreated according to the Zentangle Method'." In the Zentangle Method, tangles are further defined by their very special characteristics and as Maria says: A pattern is not always a tangle.
Here Damy illustrates the step-by-step instructions for drawing Pineple and demonstrates it in an elegant monotangle. The very clever bit of this tangle deconstruction is the little strokes of Step 3, they're what make the whole thing come together in an orderly fashion.
Check out the tag damyt for more of Damy's tangles on TanglePatterns.com.
In case you missed it ...
Zentangle is "not just the latest buzzword for 'that thing I was already doing years ago in the margins of notebooks'."
So if that's what you've been thinking, you don't know Zentangle yet.
For enlightenment on this subject please read CZT Sandy Hunter's eloquent article On Understanding Zentangle.
.oOo.

Enhance your Zentangle experience while supporting TanglePatterns:

CURRENT EDITION!

TanglePatterns.com TANGLE GUIDE, 2023 Edition

The 12th Edition of the TanglePatterns.com TANGLE GUIDE is an instant-download 103-page (50 MB) interactive digital eBook/PDF containing almost 1,900 tangles on the site from May 2010 through December 31, 2022. It's a great resource and a must-have digital tool for using the site. Visit the STORE > E-BOOKS page and help keep TanglePatterns.com online by getting your copy now!

"Linda, Thank you! I was relying on too few and getting stuck after 3 years of daily working with Zentangle. This has inspired me to 'begin again' with renewed excitement." ~ Barbara R.

See the BOOK REVIEWS page for more details on its features and view a sample page. Note: this is a digital product you download immediately when you place your order, nothing will be physically mailed to you.
GIFT ORDERS FOR ANOTHER PERSON: To give the TANGLE GUIDE as a gift, visit this page to place your gift order.
If you're new to Zentangle® and tangling, my TanglePatterns.com BEGINNER'S GUIDE TO ZENTANGLE is just what you need to get started. Also available en Français and en Español.

---

This is the only Zentangle book you'll ever need: the fabulous Zentangle PRIMER Vol 1. It's your CZT-in-a-book by the founders of Zentangle®. Visit the STORE tab on the top menu bar or click on the image. For more about the content and to read the rave reviews, visit the BOOK REVIEWS tab.
NEW! Now available in KINDLE format for $9.99. Spanish Edition here. Japanese Edition here.
"Absolutely the best Zentangle Book yet! As an accomplished artist I used to think I did not need instruction on this art form. How wrong I was! My tangling improved by leaps and bounds after reading this book. If you think you have Zentangle down then you need this book more than ever!" ~ Kris H

---

.oOo.