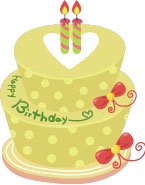 And I couldn't have done it without you.
Thanks so much to each and every one of you who help keep TanglePatterns going with your subscriptions and donations. Thanks too, for all your emails and comments of love and support. Thanks to Rick and Maria for Zentangle®, and to all my CZT colleagues for sharing their enthusiasm with tanglers around the globe. Special thanks to all the artists who share their tangle inspirations with us.
And thanks everyone, for allowing me the honor and the pleasure of keeping your Zentangle passion fueled with TanglePatterns.com.
For those of you interested in a little history, here are a couple of links to fill you in.
Looking forward to another year of fun, friendship, learning, and many more classy new tangles.
Now, let's all go have some cake …
 * * *
It's ironic that I had this ready to post yesterday and the server went down for several hours. My apologies to those who were trying to reach the site during that time, I'm hoping absence made your hearts grow fonder? 🙂
(PS – this light and yummy Margarita Spritzer helped distract me from yesterday's "situation".)