You know that funny TV commercial where the office gopher pops its little head up all over the place in a large maze of cubicles? That's just what I felt like when we assembled late last Thursday afternoon for Carole Ohl's hubby Daved Levitan to take a group photo of the graduating class of October 2011, 7th Zentangle® Teacher Certification Class, in Providence RI.
I'm in the very back row on the left side in front of the ventilation grate (in the pink circle) – and I wasn't quite as tall as several of the folks in front of me, so I kept popping up on my tippy toes. Felt just like that little gopher! Good thing Daved's camera took a zillion rapid-fire shots as I'm pretty sure I disappeared completely in a few of them :-).
Here we are with Rick and Maria, front and center. As Rick writes, this is "one amazing group of talented and passionate individuals!" I second that emotion.

Click this link for a larger image
Our classroom (the Ballroom of the Hotel Providence) had display tables across the back for classmates to share their Zentangles and Zentangle-inspired art (ZIAs). There was a LOT of beautiful eye-candy there and one of the most popular items was Sharon Payne's tangled high-heeled sneakers, which she's sporting in the front row of the photo. We egged her on to wear them until she finally gave in and put them on for the photo, check them out. Amazing, right?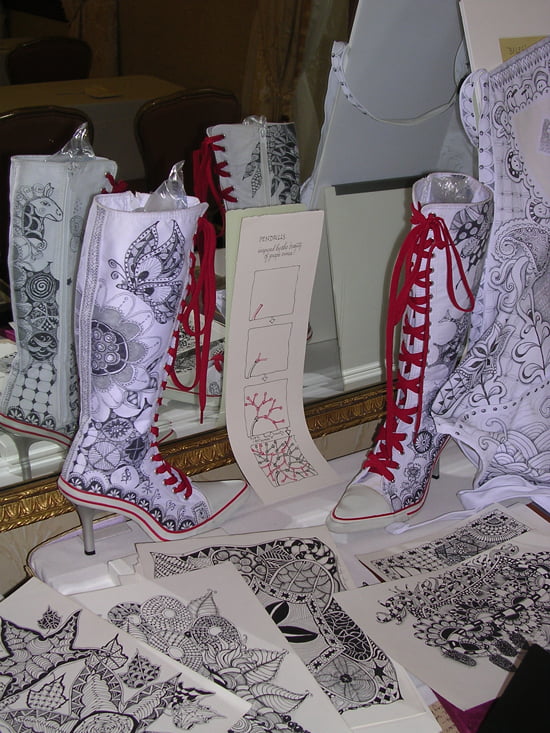 (This photo is one of mine, but the group photo is Courtesy of Daved Levitan.)